Looking for Christmas decors? To find out, read this article, as we explain to you all about the significance of Christmas decorations and some amazing Christmas decoration ideas that will transform your home. So, get on it and prepare for the holidays like it's supposed to happen. Here we have identified some best Christmas décor ideas you can do by yourself.
The importance of Christmas celebrations is evident, and the whole world immerses itself in this tremendous celebrative event. It's the time when all of humanity is feeling abundance with hope and care for each other.
Every time it's Christmas, we celebrate our traditions from which many customs and rituals have passed from parents to children for centuries, but we often do not ask ourselves why we do it or where they come from in reality.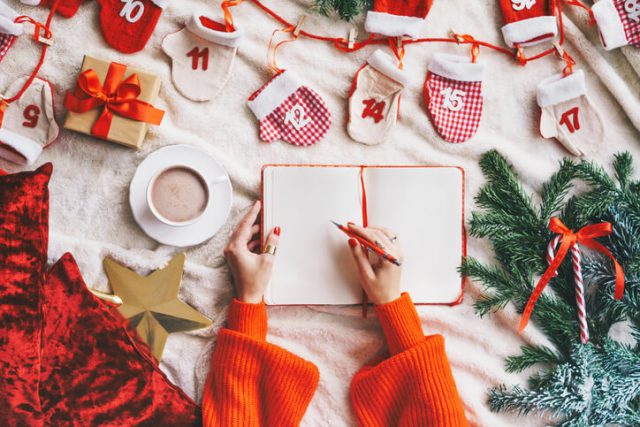 And to show the Christmas spirit people worldwide wear nice clothes, buy and receive gifts from each other, and of course, they decorate places and especially the children are excited about Christmas tree decorations.
1. Holly Trees
Like mistletoe, it is a perennial plant that remains green when most of them have lost their leaves, which is why it was sacred in ancient times. Custom advises us to go for hanging holly branches on the doorstep of our houses to ward off evil spirits. It is currently a protected species.
2. Ornaments
The ornaments we use to decorate the Christmas tree were created in the 18th century by the glassworkers from Bohemia; they are an evolution of the essential décor items with which our ancestors adorn their sacred trees, of which they have inherited their symbology.
The lights are now substitutes for the candles, as they represent purification, the light of the world (Christ). The horseshoe is a credit to show the power to protect. The jingling of the bells signifies happiness and the stars that attract domestic cheerfulness; balls and apples are auspicious signs of abundance, and pineapples are known as symbols of immortality.
3. Christmas Tree
For many ancient peoples, the Christmas tree –especially the oak tree– signified the spirits of life and symbolised fertility and immortality. The Germanic tribes celebrate Christmas around a fir tree, lit in an ancestral rite showing the end of short days and longer nights. Gifts for children are currently present at the foot of the tree.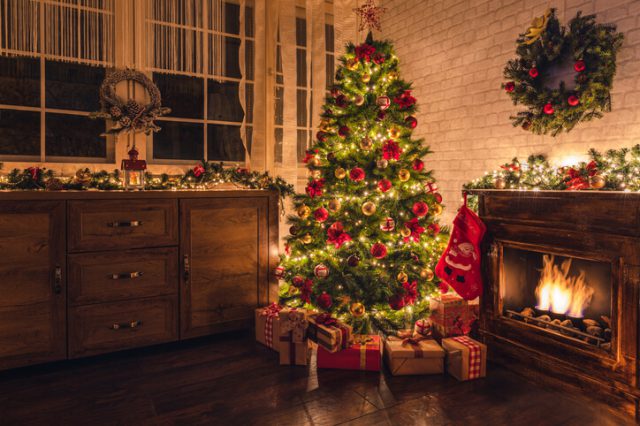 In the middle of the 8th century of our era, the rite got inclusion in the Christian regions. As per historical evidence from the 16th century, the Christmas fir tree was visible in Alsace, France. It came to England in the 18th century and became popular during the reign of Queen Victoria. Later it spread to other countries, such as the United States.
4. Mistletoe
Being a dependent plant of pines and oaks, with healing properties and closely linked to Celtic mythology. In Anglo-Saxon countries, mistletoe is placed on the doors of houses to bring good luck. Another tradition claims that hugging under a mistletoe branch on New Year's Eve brings happiness and fertility.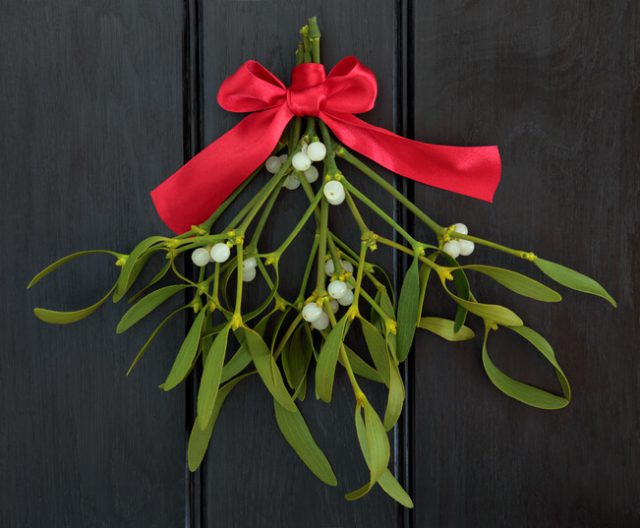 Christmas Bedroom Decor
Christmas bedroom décor gets vital if you're inviting guests to your place, it will show them how prepared you are to celebrate the Christmas spirit.
So, missing out on some of the best Christmas bedroom décor ideas will be missing out on a lot. Check out how you can make your bedrooms more exciting with great Christmas bedroom décor ideas.
1. String Lights
A string of lights on the Christmas tree, the mantel, on the shelf or decorating the wall will change the look of your Christmas decoration. You will see how the room transforms with the spell typical of these dates. What a magical Christmas idea!
We can also add garlands of lights and even Christmas trees in a bedroom. Enjoy these ideas and discover how to make the most of your bedroom on these dates.
And if you like this idea about the lights but do not want to fall into a classic decoration style, take advantage of the fluctuating lights. As you can find them online easily, you will also see many options. Create beautiful luminous trees at the foot of the bed, or dare to fill the room's ceiling with tiny lights that will look like stars.
2. Garlands
Garlands are often helpful to decorate stair railings, mantels, and even bookshelves or windows. On this occasion, a lovely Christmas garland decoration can be the perfect complement to your headboard.
If you also want to go a little further, you could roll it up with a light bouquet to give it a warmer touch at night.
3. Christmas Wreath
Christmas wreaths are widely used elements on these dates. Why not crown your bed with one of them? In addition, the most interesting of all is that you can make them yourself—a Christmas DIY to fill your bedroom with magic. Choose the plain green crowns with red motifs to complement it.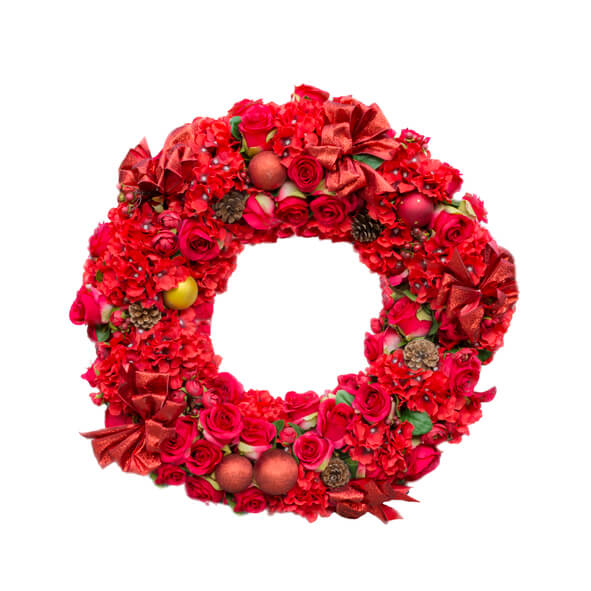 Place them at the front door, and it will be the most magical welcome, a delightful aperitif of what will come next. The natural ones, made with branches, berries and pine cones, will fill your house with the charm of the most authentic Christmas. You can even make a Christmas wreath step by step yourself.
4. Christmas Themed Bed Sheets
An economical and very striking form, the bedsheets convince us again. The reds must be present, especially for those who love the classic colours of Christmas. As for the motifs, look for patterns with snowflakes, stars or even the most famous Christmas animals like the reindeer. Lots of matching cushions will make your bed look very comfortable and cosy.
5. Holiday Themed Throw Pillows
Throw pillows are smaller than regular pillows, are generally helpful for decorating the sofas and couches and are supposed to be used for being comfy. It's not an expensive product and usually is available in every household.
All you need to do is get covers for them that will represent the colours of Christmas or even better if you can find covers with Santa, Elves, Reindeers prints on them.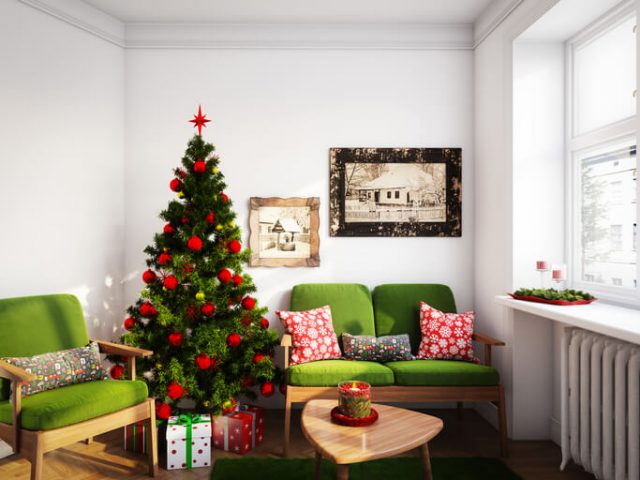 Christmas Living Room Decor Ideas
The most significant part of the living room decoration is Christmas table decorations in these holidays. All the residents in a house will sit at the table for the feasts, and if that table is too dull, you'll miss out on getting the maximum out of Christmas decorations.
We have some of the best ideas for you, making sure you never miss out on anything this Christmas.
1. Christmas Stockings
The Christmas stockings are usually visible in places like the fireplace or staircase. However, it can also be an outstanding source to decorate the bedroom. If your bed has a metal frame, you can hang them comfortably at the foot of it.
An alternative is to locate them on the head of the bed. Be that as it may, choose those stockings that fit the most with your bedroom decoration, and think that it is also essential that the sheets of the bed follow the same common design so as not to end up in somewhat strange compositions.
2. Fireplace Decorations
If there is a fireplace in your home's living room, make it the star of your Christmas decorations. Fireplace decoration is never complete without Christmas garlands; add some Advent stars, some candles and, of course, some socks in the most traditional style.
Decorate your windows with vinyl figures, stars made with artificial snow with templates or pendants, like the ones in this proposal. But let them be clearly visible from outside the window!
3. Mantelpiece Decorations
The mantelpiece is another place in the house that requires your attention and effort, so we have outlined some of the top mantelpiece decoration ideas. If you have guests, it will be wrong not to decorate it.
Hang some stockings, place some ornaments and garlands on the mantelpiece even better if you can hang some lights as well. It is all about what you like and feels comfy.
4. Throw Pillows and Rugs
Fun means throw pillows, as mentioned earlier as well, throw pillows and rugs are a readily available item within the house. Just try to use them to blend in your overall Christmas decoration ideas. It can easily save you money and allow you to decorate your home in a significant way.
Rugs, in particular, will play an essential part since kids love to sit and play on the rugs. It can also minimise the trash in your house since it is easy to clean up compared with sofas and beds.
5. Christmas Trees or Mini Tree
And if you want a truly magical Christmas, your house needs a tree that meets expectations. Whether natural or artificial, the important thing is that it is striking, beautiful, and the right size for the space you have. If there is less, opt for a mini one. But if you have room, don't skimp! You will see its effect and splendour.
It's the final moment or the icing on the cake, and this decoration indicates that our Christmas decorations are ready for Christmas and guests. The star that crowns the Christmas tree is usually the last decoration item that needs the whole family's attention. So, choose a striking, golden and elegant one, like the one we have seen in movies and get ready to relish the most magical Christmas ever.
Even if space is at a premium, don't give up on putting up a Christmas tree. Forget about the imposing and sculptural models and choose one of smaller dimensions that do not rob you of space at home. For added prominence, prop it up on a bench or side table (make sure it's stable enough). Then decorate it as if it were 2 meters tall. Do you see the result? Nothing to the envy of the largest specimens!
Christmas Decor for Your Dining Room
Christmas table decorations are essential for celebrating cosy and warm Christmas dinners. For this reason, we didn't miss out on giving you some of the best Christmas table decoration ideas. So, make sure your dining room is fully Christmas ready.
1. Christmas Themed Table Cloth
Your Christmas may be simple: some ornament here, a garland there. And, even if you don't like Christmas excesses, the table requires a particular role. It is where we meet with our family to celebrate these special dates. Beautiful tableware, a Christmas tablecloth and, of course, a Christmas centre will delight your guests.
The idea is great for the little ones to participate as they mark where each will sit at the table on a special day. Pick as many Christmas decorations and create personalised name tags for the diners. Then choose where each guest will sit.
If you want the Christmas table to be the protagonist, copy this idea: place several candle holders with gold or copper frames along with the table. Then, with a garland with natural motifs, surround each one. Your guests will be charmed by the magic that your Christmas decoration gives off!
2. Wall Decorations
It's Christmas, so why not try for magnificence in classic Christmas decorations, throw some lights and hang them off the walls. Place strings of flowers or artificial green plants and garlands. It is essential to cover all the blank and dull spaces in the house during these holidays. And walls, the critical part of the house, surround many areas.
3. Ceiling Pendant Decoration
If you have a ceiling pendant light, it can add to the finesse of your decorations in the house. Usually, ceiling pendant lights are already brilliant and attractive, so adding some decorations items to it and maybe hanging some shiny, flickering, and moving string lights really bring out the best of it and you as well.
4. Outdoor Christmas Decor
Are you one of those individuals who can't wait for the holidays to happen? If so, you will surely enjoy outdoor Christmas lights decoration ideas. If you haven't decided yet to do it, think about it. After a bit of study, you will see several benefits that you will gain after decorating your home for Christmas.
Why Outdoor Christmas Decorations
Perhaps one of the most obvious benefits that will come from decorating your home will be showing your support and appreciation for the holiday. If you celebrate Christmas, either for religious reasons or because you like it, you will surely understand the meaning and importance.
Your taste in Christmas shouldn't be embarrassing to you, you should celebrate it openly, and an excellent way to do this is by beautifying your home from the outside as well. Although the idea is that you express your personality and beliefs, you should also consider your neighbours when decorating your exterior.
1. Kids Love It
If you have kids, try to make sure to do so. Children of all ages love this celebration, but it is a known fact that children enjoy it the most. Outdoor Christmas decoration ideas will bring excitement for the whole family, and decorating your home for Christmas is sure to encourage your children.
You may even ask your children to help you with the decorating process, hanging things around the house, or making your decorations by hand.
2. Better Christmas Pictures
Another reason why Christmas door decorations are essential is because of the ornamental photos and videos that are usually a routine during the holidays, especially outside the house. It is not the same to have pictures and videos decorated for the occasion as photos and videos of a home for the rest of the year.
Decorate your whole house, but if your only reason for doing so is the photos, designate a particular area where you will take the pictures and decorate it. This precaution will make your task easier.
If you are scheduling a Christmas party, you will have to apply ideas to decorate your home. One thing is sure; a party is not a party if it does not have decorations. You will notice how the decorations give your home an entertaining and cosy effect. Depending on the type of decoration you choose for your home, they can lift the spirits of your Christmas party.
Conclusion
For things to go great and to make sure everyone enjoys your Christmas decorations with great calm and enthusiasm, the best thing you can do is start to plan them as soon as you can. Perhaps it is not yet the correct time to place out the famous Christmas tree decorations, but it is continually the right time to choose its details with which you can try to fill your home with Christmas magic.
Most of us can make small yet lovely things with our own hands even if we do not have professional experience, so we should try at least, it will become a good pass time activity. You can also find numerous ideas on DIY Christmas decoration items that are easy to do and add more personality and originality to your residence's Christmas decorations.
You can attempt some pictures with the little ones at home. Think about it! What is the healthier way to keep kids entertained on a rainy Christmas morning, especially when there's a deadly pandemic going outside? You can take benefit of containers and objects you already have at home, such as cookie moulds, candles, papers, trays and glass containers.
Indeed, you have several things that can aid you, and with them, you can create a much more personal decoration. Covering every corner of your house is not hard, nor does it have to cost you a lot of money. It would be top if you had a little time and a lot of inspiration. With these ideas to decorate your home at Christmas, you will surely be accurate this year.