When it comes to Christmas, age is just a number. No matter how old you are, there's something magical about Christmas that even a scrooge-hearted feels like a kid again as he starts enjoying these little moments of joy and happiness like a small child.
But the question is: what leads up to this euphoria that converts an adult into a child? A simple answer would be the fun activities involved during the Christmas festival, which spread like magic in the air.
On the eve of Christmas, you want to make sure that this memorable holiday is enjoyed and appreciated by your whole family. But planning an itinerary is not an easy job. One might find himself entangled between the Christmas activities for kids and adults and the creative ideas to make the event memorable.
To provide you with some relief, this guide will update you about festive Christmas activities to make your day much merrier. This beginners guide is a perfect To-do-List for Christmas. These games, crafts, and contests, along with a range of cooking activities, will impress everyone on the list and make your own Christmas much festive and colourful.
12 Fun Christmas Activities to Help You Enjoy Your Special Eve
1. Handmade Christmas Tree 🌲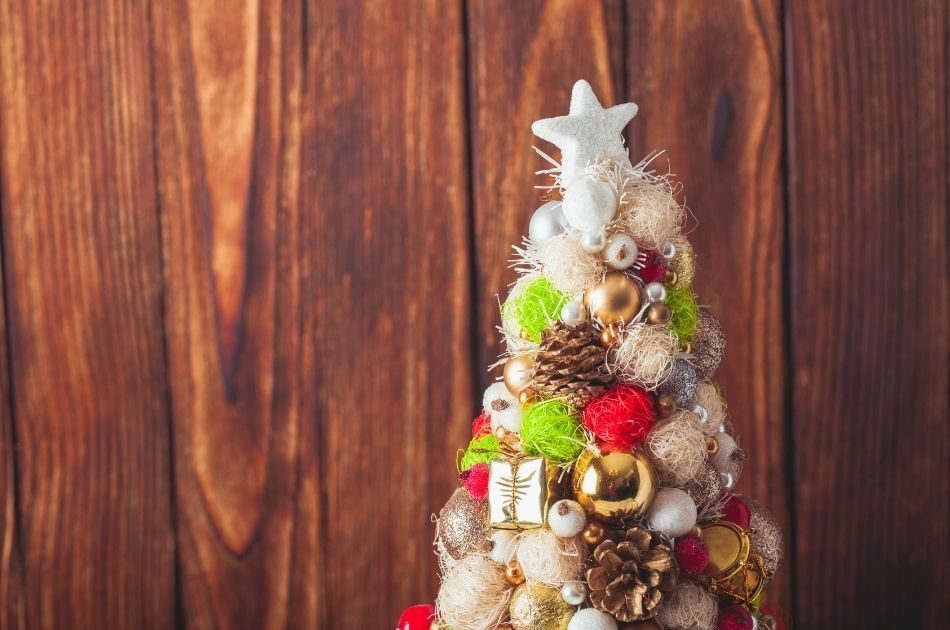 The Christmas tree is one of the most iconic symbols of the winter holiday. A small miniature Christmas tree is something both the kids and grown-up will equally love. Several Christmas trees placed around the house would add to the festive environment of your Home.
The Christmas tree is a quintessential element of Christmas and has become a cogent symbol of the festival. To complete this prerequisite of Christmas, start off by making your own small tree in the vicinity of your home or in the park with small crafts and paints. To do this, make a small base of the tree with either Styrofoam or a vine glass and later decorate the tree with the ornaments you like. In the end, you can attach small lights to the whole tree to further bring richness to the product.
Handmade Christmas trees are simple to make and can be recognized by even a small kid. So don't wait and start working on your craft right away.
---
2. Attending the Ceremony at the Church 💒
Do you know why people visit a church on Christmas? Christmas is a religious holiday, and seeing a church on the eve of Christmas can rejuvenate your religious belief. It helps in remembering the reason for the season.
 Christians have a tradition of gathering at Church on Christmas. The Midnight Mass is the name given to this famous tradition in which Christians gather for a service at their respected churches on Christmas eve. It is believed that this tradition started in the Western part of the world in 430AD under Pope Sixtus III. 25th of December has been chosen for this purpose for being the shortest day of the year.
This Christian tradition generally starts before midnight and depends upon whether the Church is Catholic or Protestant. Stories about Mary and Joseph, along with the meaning of Immanuel, are told to the listeners. Such sermons fervently induce a spirit of worship among each family member.
So, where are most of the Christmas services held? The most famous location for Midnight mass in London is Westminster Abbey. For people planning to travel abroad, Midnight mass is held at Bethlehem – a place widely believed to be the birthplace of Jesus. There is a limited ticket available, so make sure you buy them at the earliest stage.
---
3. Decorating a Gingerbread House 🍞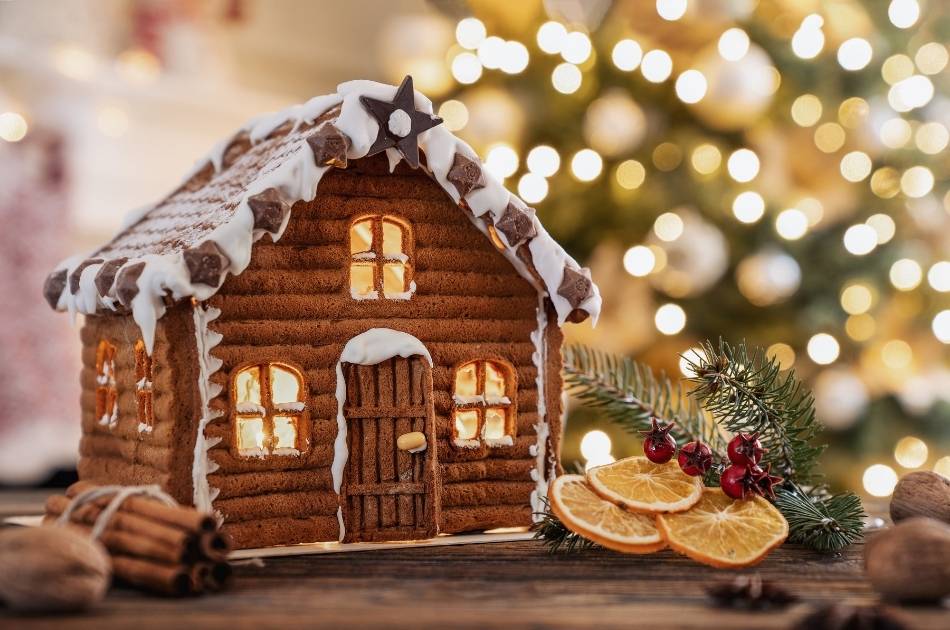 An easy way to enjoy your holiday season is to create your own gingerbread house. Decorating a gingerbread house is one of the important Christmas activities for each family member.
There are numerous themes and ideas to decorate a gingerbread house. Moreover, if you are looking for a DIY, easy, large, or mini gingerbread house idea, there are multiple options available on the internet to advance your house.
Before you start assembling your own gingerbread house, you should look at some tutorials on crafting a gingerbread house. These tutorials will help you formulate a baseline for a gingerbread house and the ingredients you need to make one.
To start working on this classic, you can either buy a gingerbread house kit from a vendor or bake the whole gingerbread from scratch. Decorating a gingerbread house is the ultimate baking activity everyone in your family will love. To increase the richness of your final product, you can sprinkle the house with some confectioner sugar to imitate freshly fallen snow.
 No matter what you choose, you and your family are going to love this small activity. Decorating the model will all your favourite sweets and cutting them during mealtime will revitalize your Christmas spirit.
So, make sure you make a new gingerbread house and don't forget to carve this masterpiece.
4. Build a Snowman ⛄ 
Thinking of Christmas transports you to an enchanting world of snowflakes, spellbinding beauty of decorations and a seductive aroma of delicacies. Celebrating Christmas without building a snow effigy known as "Snowman" seems to be incomplete.
The earliest documentation of snowman was found in a drawing of the Dutch novel "Book of Hours" written back in 1380 A.D. The image in the story represented a snowman facing away from the fire with a caption that refers to the crucifixion of Jesus Christ.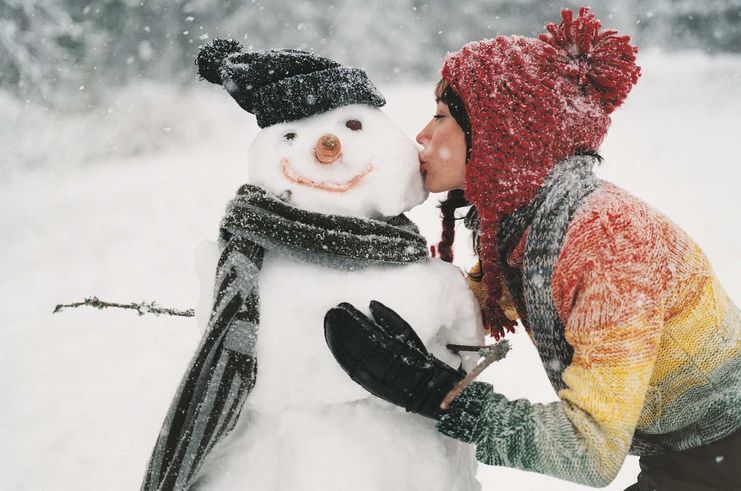 Throughout ages, snowman gained popularity and became a significant symbol for Christmas. Some of the greatest songwriters of all time have written their songs on the snowman.
Songwriters like Jack Rollins and Steve Nelson wrote their infamous song "Frosty the snowman", which became a piece of popular Christmas-themed music. By writing these songs for Christmas, they have captured the true spirit of the season.
So, to enjoy Christmas at its best, band together to craft one giant frosty snowman. You can also split into teams to turn this activity into a friendly competition. The winners can be rewarded with a red and white Christmas candy stick.
Christmas is near now, and you don't want to forget one of the super fun things about Christmas. Remember to have all your snowman craft kits ready and have a snowy Christmas this year.
5. Explore the Neighbourhood Christmas Lights 🎄
Christmastime is incomplete if your streets and buildings are not covered with twinkling lights. The colourful bulbs creating a pattern via their reflection adds glamour and beauty to the whole event. These lights have become a part of cultural identity, holiday cheer and a symbol of end-of-the-year celebration.
This tradition of lights has a history that dates to the pagan ritual of northern Europe. The custom of Yule, long first recorded in the 12th century, is thought to have served as a representation of hope that the sun would once again shine bright and end the darkness of December. The tradition of winter lights has come a long way to candles and LED displays to represent the same notion.
Travellers fly halfway around the globe to see the European Christmas lights and experience the exquisite bright display. Whether you live in London, Birmingham or Oslo, its Christmas would be incomplete without these twinkling lights. So why don't you pack everyone into your car and go out for some fun?
---
6. Ugly Sweater Competition 👕
Friendly competitions are loved by everyone. So why not incorporate some fun into your next Christmas party? An ugly Christmas sweater competition is an excellent way for your guests to enjoy the festival of Christmas and show off their creativity.
To organize the contest, you can send invitation cards to your friends and family members. The next thing is the criteria of judgement. Having multiple categories under which the guests can win can add fun to your event.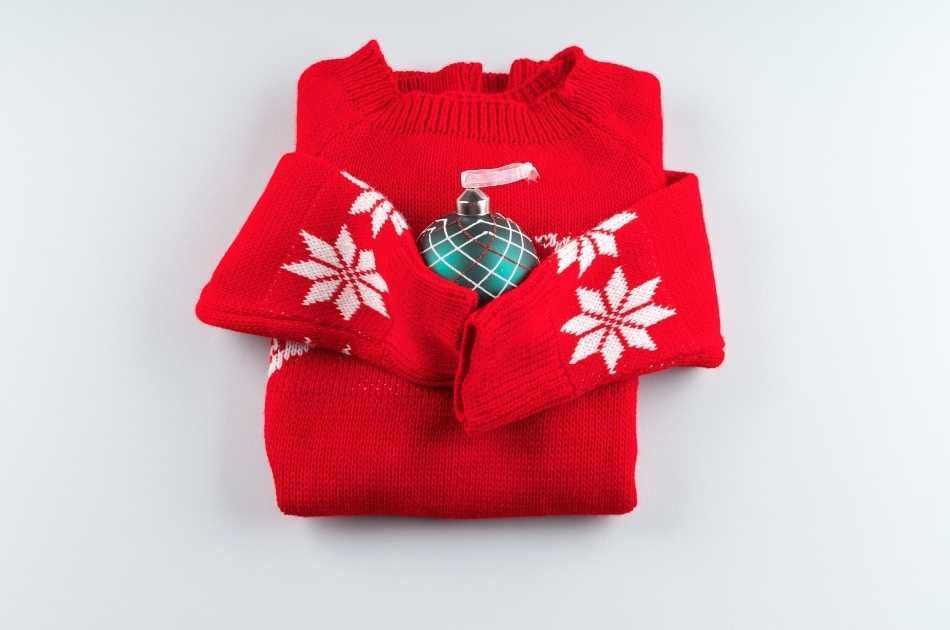 For instance, you can have a winner for the most offensive, most ugly or the funniest sweaters of all. Winners can be awarded $5 or $10 gift cards. It's fun to involve as many guests as possible and assign a sole judge of the whole party. The variety of guests will make it a fun activity and provide you with better options.
Incorporating such events into your Christmas party, you can keep your Christmas party's mood light and fun. Showing off the best of the worst Christmas sweater is a bonus no one would want to miss.
---
7. Make Your Own Holiday Card 💌
Make this season extra unique personalized that you can share in real-time. Instead of buying ready-made cards, why don't you make your own cards that can be passed from generation to generation? Handmade cards add a professional touch to your holiday note, and people love receiving them honestly.
You might wonder what to create, right? These self-made Christmas cards ideas can include fingerprint artworks wonder to more advanced techniques like calligraphy and sketching.
You can also take a family holiday photo and paste it on pre-formulated holiday cards. Honestly, everyone would love these ideas.
Holidays are a perfect excuse to connect with those you haven't seen in a while. It only takes a few minutes to create a personalized card, and with a little bit of creativity, you can wish them in the best feasible way.
You can also make your digital Christmas cards with the help of online software like Smile box, shutter fly, or paperless post. You can streamline your to-do list with these beautiful, customizable online holiday cards.
---
8. Host a Christmas Themed Party 🎉
Hosting a Christmas-themed party has become a tradition now. Regions around the globe have their own way of hosting such parties and celebrating the event to their utmost desire.
Natives from Paris would use sculptures of their iconic Eifel Tower, while Scandinavian countries would decorate their environment with their famous "Scandinavian Gnomes". This classy look gives a local touch to your Christmas environment.
So, depending on your geographical location, you can also decorate your party area with creative ornament, mini flags, and colourful ribbons to make your environment look appealing. This holiday-themed party is the perfect fun activity for each age group and will help you set up your mood. Take a break from all the glitz and glamour of life by inviting your friends and family members in their Christmas Pajamas.
---
9. Create a Holiday Video 📹
Christmas is coming, and now is the perfect time for you to create and send your holiday greeting to your loved ones. So why don't you try something new and send a video card on Christmas this time? These holiday videos make your eve unforgettable and represent the real heart of your company.
Digital cameras are a perfect tool to make your Christmas activities memorable by recording creative videos and composing them into a single.
You can also read our guide on Top 10 tech gifts for this Christmas holiday season to help you identify the right tech product for your holiday season. With the vast amount of templates available online, you can create your own video and share it in the blink of an eye. Video is a creative way tool for expressing your love to your friends and family members. So be creative and combine your shots and images into a single video file through editing software to show them your love.
---
10. Take part in the Christmas Scavenger Hunt 🕵️‍♀️
A holiday event means a time for fun and enjoyment. If you are looking for some effortless holiday outing, then go no further than the Scavenger hunt.
You will be able to explore the best landmarks of winter as you embark upon your journey to explore the city. Moreover, hunting ideas like Holiday Photo hunt, search for lights, cookies hunt, caroling hunt, and Elf hunter are the games that cater for each age group.
So, make sure to take part in the scavenger hunt and break out these games because Christmas is the right time to get festive and celebrate the event to its best.
---
11. Binge-Watch Christmas Shows and Movies 📺
Christmas is near, and honestly, it's the right time to dwell yourself on the vibrant aura of this big day. It's the time of the year when outdoor activities are restricted due to ongoing pandemics, and indoor celebrations are something to keep the Christmas festive alive.
So, to get yourself into the spirit, the easiest available method is to curl up your couch and watch a holiday movie. You can begin by watching classical-like Home Alone, Elf, How the Grinch stole Christmas , or National Lampoon's Christmas Vacation. Furthermore, Streaming websites like Netflix, Amazon Prime, and HBO max have their own movies that can help you get the Christmas spirit.
Adding these holiday movies to your binge-watch list will make your holiday season on the Suncoast. Holidays are all about fun, and you don't want to spoil them by wasting a second without enjoying them.
---
Interesting Read: 14 Best Entertainment Apps for Kids During This Holiday Season
---
12. Bake Christmas Cookies 🍪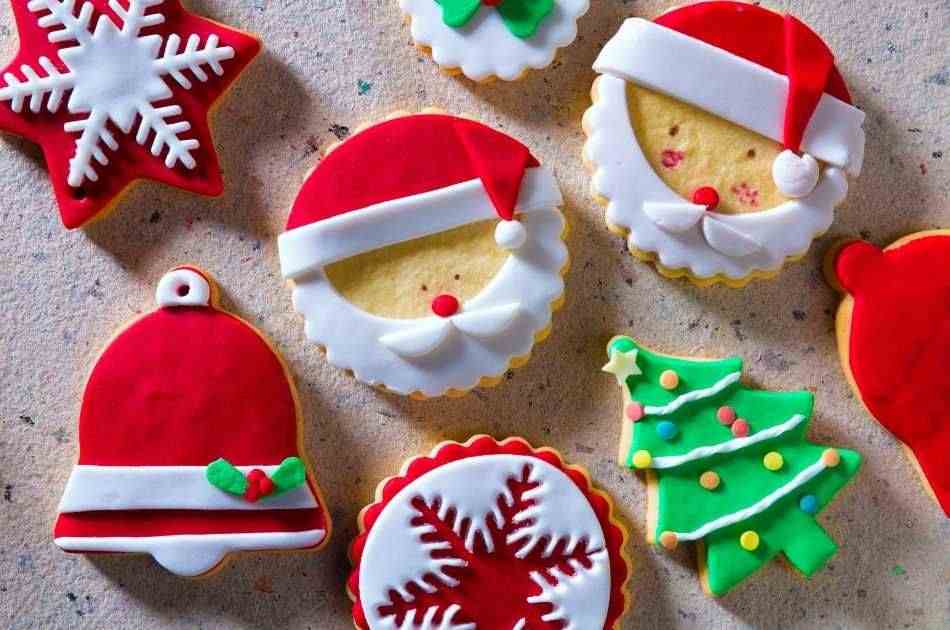 There is no better way to make your dinner table looks much merrier than baking cookies on the day of Christmas. From chocolate peppermint pinwheel cookies to crisp apple cookies, these top recipes of these cookies add flavour to your Christmas food party and sweeten your holiday.
Cookies have also become one of the most fun shapes of the holiday season, and you'd not want to miss them on your special day. You can incorporate the whole house into the entire process and convert it into a fun activity loved by all.
Whether you are searching for the recipe for Gingerbread man cookies or holiday monster cookies, the internet has a huge range of recipes for each tastebud. Even if you are not a pro baker, will simple guidelines, you can make your own cookies at your Home. So, make sure to bake these delicious cookies for Santa.
Conclusion 
In a nutshell, Christmas without these fun activities is incomplete. Whether you are young or old, Christmas is an event that has no age limits. So, don't waste any time and gear up your goods as December is around the corner now.
Start decorating your house, make Christmas cookies, binge-watch Christmas movies, host a Christmas party or create a holiday video and your own personalized Christmas cards to make your holiday season full of bliss and happiness. Having multiple categories through which you can celebrate Christmas will show your creativity.
Christmas comes once a year, and you don't miss the joys of this festival. In short, Christmas is marked with the exchange of gifts and happiness.