Christmas's arrival comes that time of year to decorate the house with lights, put up the Christmas tree, and sing Christmas carols. And what do they do in other countries? In this article, you will discover the traditions of other parts of the world.
Where Was The First Christmas Tree Put?
The custom of putting a fir tree at home during the winter solstice was widespread among pagan Europeans. In Scandinavia, people decorated their homes and barns with plant elements to protect themselves from evil spirits for the New Year. Since evergreens symbolize eternal life, these plant ornaments helped Europeans visualize the arrival of spring. Among the pagans, the worship of trees was prevalent, and they decorated living trees in the open air with candles and ornaments that represented the sun, the moon, and the stars on the tree of life.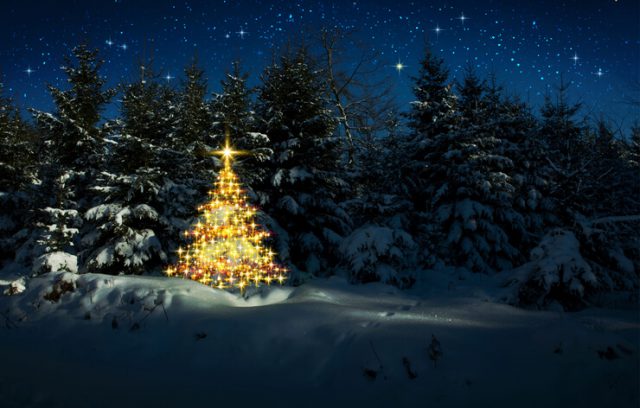 It is unknown when Christians began to use fir trees as Christmas trees. Still, in Latvia, the cities of Tallinn, Estonia, and Riga dispute the first documented use of a public tree during the Christmas holidays and New Year.
The British's typical Christmas traditions may seem strange to others, but the ones that I bring you today will also surprise you. Here you will discover the most curious Christmas customs and traditions in the world. It is exciting to know the celebrations depending on the countries. I'm sure more than one of the ones I'm going to tell you about, let's go there!
Although it is hard to believe it, many British Christmas traditions are not celebrated equally in the rest of the planet. There are even countries that do not even celebrate Christmas and others that take the opportunity to eat up to 12 different dishes on Christmas Eve (although we almost do it too).
Old Town Square Market, Staroměstské náměstí, Prague
The celebration of Christmas markets (Vánocní Thry, in Czech) turns out to be a tradition generally rooted in Central Europe, and uniquely in the Czech Republic. During the Christmas months in Prague, these markets flood the busiest squares and streets, serving as a roadmap for a possible visit around the city. Most of them open in the morning – around 9 am – and remain open until 10 pm.
Once in these markets, it is customary to find stalls with a variety of traditional food, with products ranging from sausages with bread (klobásy ) and roast ham, to mulled wine (svařák ) and Czech sweets – such as trdelník, a hearty traditional cake made with flour and cinnamon.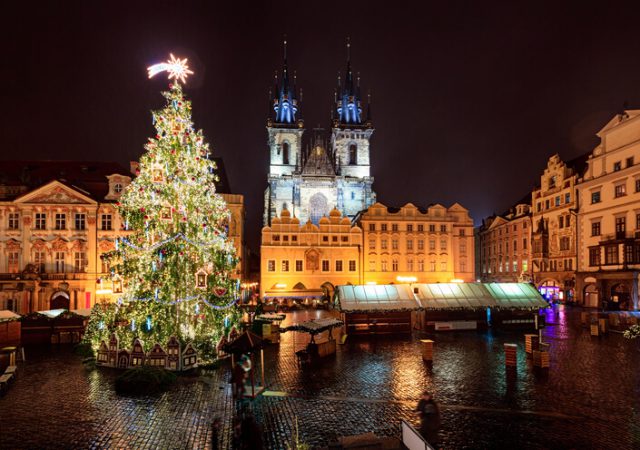 At the same time, handicrafts and decoration objects abound, such as Prague puppets, Bohemian glass, or decorations for the Christmas tree. Finally, given the cold that characterizes this era, there is no shortage of hats, gloves, and scarves, all stamped with genuinely Czech designs.
How could it be otherwise? The most famous square in the city houses Old Town Square, in turn, the best-known Christmas market. The nerve centre of Prague's old town, this square gathers a multitude of stalls with red awning every year, a much-appreciated nativity scene, and an impressive fir tree adorned with more than 100,000 light bulbs.
Such is the fame of this tree that every year, the line of people who want to take a photo gets a little longer. And, for the little ones' delight, every morning and every afternoon, the square hosts performances by children's choirs from all over the country.
Day of the Little Candles, Colombia
Every December 7, at night, Colombians take to the streets to fill them with light. It is an occasion marked by the lighting of millions of candles throughout the country on the feast day of the Immaculate Conception of Mary.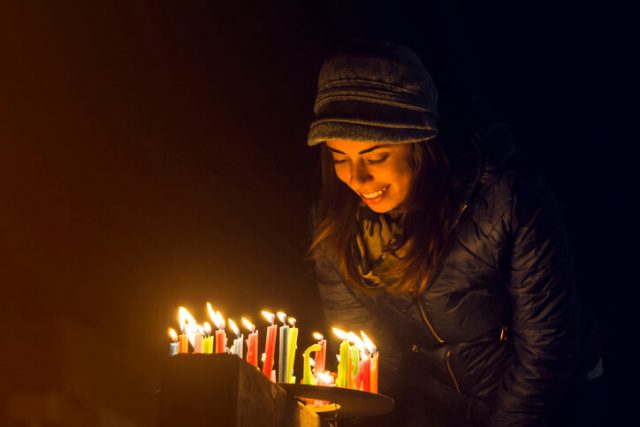 The candles and lanterns of all colours fill the night with which Christmas officially begins with magic. That night commemorates the moment when the Archangel Gabriel announced to Mary that she was chosen, from before her birth, to be the mother of Jesus.
A little history
Suppose you were not clear about the history of this date. In that case, we will tell you that it was proclaimed by Pope Pius IX in the Bull (known as a pontifical document) Ineffabilis Deus on December 8, 1854. Believers from across the globe lit candles to celebrate the decision when they took it, and since then, the tradition of lighting candles on this December night has continued.
In Colombia, a country in which the Catholic religion predominates, this tradition was maintained and has become a space where both children and adults meet with their families, taking advantage of the fact that the next day is a holiday.
There are places in the country that attract hundreds of tourists to this festival: Villa de Leyva, Medellín, Corrales and Quimbaya. Listed below are some of the towns that celebrate Las Velitas Day with the most festivities and why they have become must-see destinations during this season.
Caretta Illumination Show, Tokyo, Japan
We come to what, for us, is the most beautiful light show that Tokyo can offer today.
Shiodome (汐 留) is a district of Tokyo that opened to the public in 2002.
Its spectacular skyscrapers are home to many offices, the headquarters of Nippon Television, and a wide variety of shops, cafes, restaurants, theatres, hotels, and other attractions.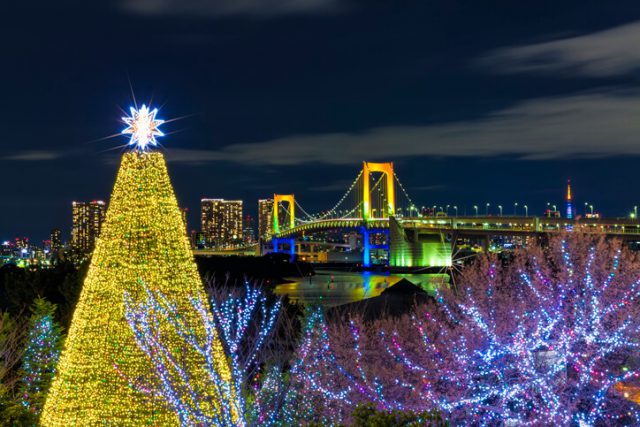 Caretta Shiodome is a complex of shops, restaurants and entertainment areas located in the elegant 51-Story Building, home to Japan's largest advertising company, Dentsu.
In Caretta, we can find a theatre for musicals, an advertising museum and a wide range of shops and restaurants, among which the famous "sky restaurants" stand out at the top of the buildings.
The Caretta Illumination light show runs from November 17 to February 14 of the following year.
According to many rankings, this lighting event is the best you can enjoy in Tokyo.
The success in recent years has been such that now this assembly is maintained until mid-February.
The show features approximately 250,000 LED lights and accompanying music. It runs every 20 minutes from 17:00 to 23:00.
A few extraordinary events also take place around the Christmas holiday.
Caretta Shiodome is closed on January 1st and 2nd.
Christmas Day at Bondi, Australia
A Christmas on the beach? In the best environment? Yes, and away from the madding crowd, thousands of miles away. This year, spend the mantecados and grapes festivities in Sydney, Australia, specifically Bondi Beach, possibly the most famous beach in the country. Why? Well, because it has everything you need to have a good time and is very close to the Australian capital.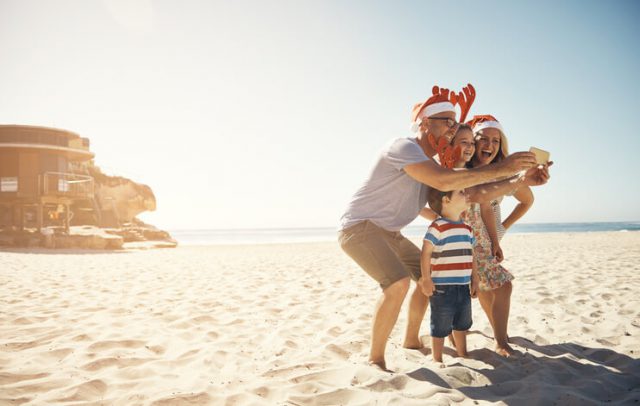 This beach, barely a kilometre long, fills up with the best atmosphere during Christmas. Throughout the day, people gather on the sand to experience this holiday. Sumptuous dinners and fancy meals? No, you come to Bondi with the most traditional, something normal, like any other day at the beach or barbecue, but considering that we come to celebrate a party.
Small boats and sailboats are ready to offer tourists parties by tube on the beach this Christmas day. They are not very expensive either, since many people here are backpackers who pitch their tents nearby. Who had thought of sleeping? You come to Bondi Beach at Christmas to experience the second summer of the year.
Throughout the day, groups are playing in the sand. At night some prefer to stay on the same beach, a little more relaxed now, or those who keep up their rhythm and go to the Bondi Pavilion. Music and neon lights until dawn.
If you haven't had enough, you can stay a few more days and ring in the New Year on the same beach. Fireworks and parties with the prominent and most famous DJs of the moment are guaranteed.
Hyde Park Winter Wonderland, London
Admission to the Winter Wonderland venue has always been free. Besides all that, Winter Wonderland has many paid attractions (a giant Ferris wheel, several roller coasters, a horror house, etc.).
You will need to reserve them to get tickets since the shows usually sell out. Still, although you can also book tickets for the attractions, it will be possible to buy tickets for these attractions once you are inside the venue.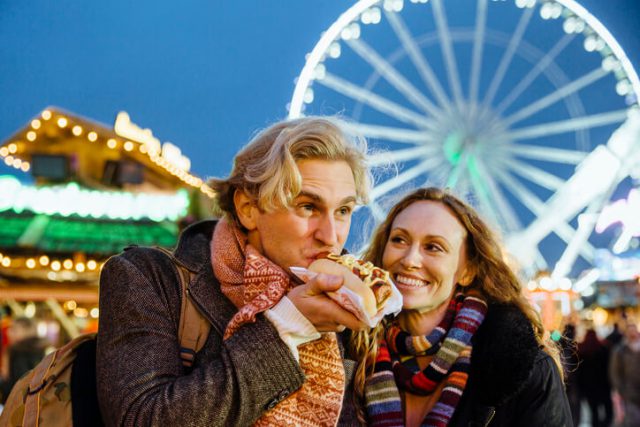 There are four different doors to enclosure this year, and each one is of a different colour to quickly identify them: Gold Gate, Red Gate, Green Gate and Blue Gate. There are general entrances, such as the blue door closest to Hyde Park corner. Red Gate is a special entrance for families, which gives direct access to the area for younger children.
Winter Wonderland features one of the city's largest Christmas markets, with more than 200 wooden stalls meticulously decorated with hundreds of Christmas lights. Here you'll find an extensive selection of handmade gift items such as candles, jewellery, decoration items, clothes, toys.
Here you will undoubtedly find gifts for the whole family and friends. Still, surely you will also buy a little something for yourself!
Krampus, Austria
The Krampus celebration in Austria starts with a village parade and transforms into a complete festival. It is so prevalent in Austria that school psychologists and administrators consider banning the creature because it is so scary for children. Located about halfway between Innsbruck and Vienna is the largest celebration of Krampus globally, located in Klagenfurt, Austria.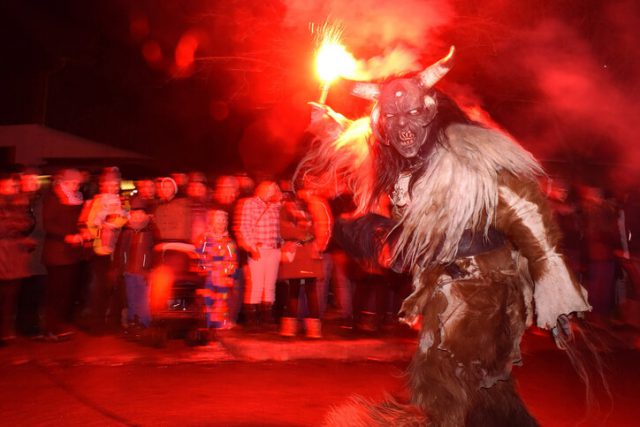 Brace Yourselves – the Krampuslauf is Coming
Krampi, the world's largest concentration of them, descend upon Klagenfurt annually for a parade through the streets that eventually transforms into a party. Typically, Krampus-dressing men are in their teens and twenties, and as is the tradition of the universe, when large groups of young men go out in different costumes, they tend to get drunk. However, the Krampuslauf is not all boozy, demon-clad testosterone. The Krampus costume contest is viral at the event, with some of the costumes pretty amazing. Many women also dress up as Perchta, a Germanic goddess of fertility; as a result, a Perchtenlauf (Perchta run) is now part of the Krampuslauf.
Interesting Read: 80 Best Christmas Quotes of All Time You Should Read
Weihnachtszauber Christmas Market, Berlin, Germany
A magnificent white tent city enchants with its atmosphere, exquisite offer, and unforgettable performances.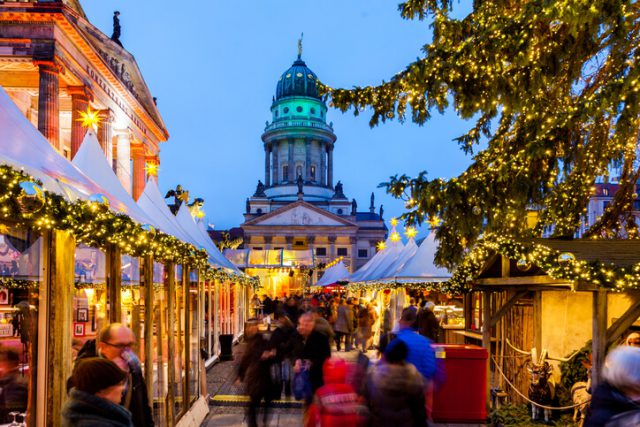 Christmas princes, magicians, clowns, acrobats and of course, Santa Claus cavort during a splendid glittering world. Connected angels walk through the streets on stilts and enchant with Christmas carols in ten languages with heavenly pleasure. Comfortably heated tents hold unique gift ideas and sophisticated culinary delights, and the stage presents a unique international program.
The Market
Discover something special: look over the shoulder of artisans, enjoy culinary temptations and artistic performances – Christmas couldn't be more beautiful!
Shows & Programm
Acrobats, stilt angels, choirs, music and dance groups with renowned artists inspire Berliners and their international guests with an entertaining Christmas program in capital city format!
Culinary Temptation
In addition to traditional delicacies, the Christmas Magic Gendarmenmarkt also has something extraordinary to offer: Top chefs present culinary delights from exquisite snacks to sophisticated gourmet menus. Enjoyment and relaxation in the heated, cosy dining area.
30 Rock Christmas Tree, Manhattan, New York
One of New York City's most important Christmas traditions is yet to come: the lighting of the Rockefeller Center Christmas tree.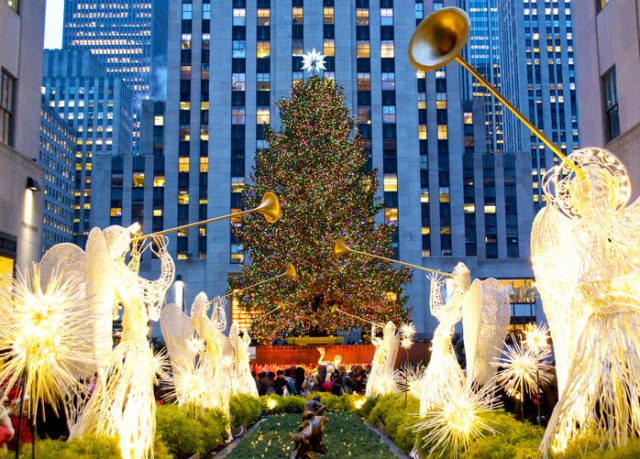 For nearly nine decades, the Rockefeller Center Christmas tree has stood as one of the best-known Christmas insignia to New Yorkers and visitors alike. That is why here we share everything you need to know about the event.
Lighting the Rockefeller Christmas tree in NYC
Last year, the tree, a Norwegian fir, came from Elkton, Maryland. The tree arrived at Rockefeller Center on November 13, and during these days, it was prepared and decorated to be ready next December.
According to The Associated Press, the tree is about 85 years old, 79 feet tall and weighs 12 tons. The tree was decorated with more than 50,000 multi-coloured lights and crowned with a 900-pound star with 70 peaks covered in 3 million crystals.
Lighting ceremony
The Rockefeller Center tree lighting ceremony began at 8 pm ET on Wednesday, December 1, 2021, and was broadcast live on NBC as part of the 'Christmas in Rockefeller Centre special. You can see the lighting of the tree on streaming websites that have NBC.
Unlike 2020, the event was again open to the public, and there was free attendance. You can see the lighting of the tree between West 49th Street and 50th Street, and Fifth Avenue.
The tree will be lit up every day from 6:00 am to 12:00 am. On Christmas Day, the tree will stay lit for 24 hours and on New Year's Eve, the tree has illumination from 6:00 to 9:00 pm. After the Christmas celebrations, the tree goes to Habitat for Humanity.
Santa Claus Village, Finland
Around the Arctic circle, the warmth and happiness await you in Santa's hut deep in snowy Lapland. His natural home is at Santa Claus Village in the city of Rovaniemi. There, you'll find the Main Post Office and the Santa Claus Office, Santa's Reindeer and the House of Mrs Claus, SantaPark, and Christmas House Santa & Exhibition. Over 300,000 visitors visit the village annually to meet Santa and surprise their friends with a unique Christmas postcard with the Arctic Circle postmark.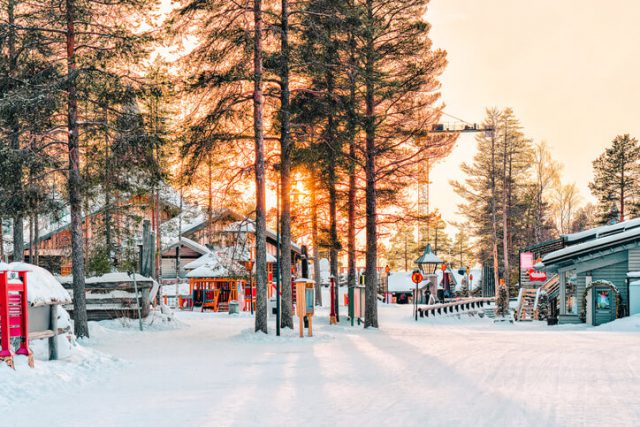 Grand Opening of the Christmas Season
Even though Santa Claus Village remains open throughout the year, the best time to visit Finland occurs in early November, when the Grand Opening of the Christmas Season takes place. The whole Finland Christmas town celebrates this heart-warming event. Besides, on December 23, Santa Claus departs from Rovaniemi for the world trip to meet with kids and share goodwill and caring with them.
Arctic Circle Husky Park
After visiting Santa's hut, you can try husky sledge rides with authentic, purebred Siberian Huskies. Huskies adore running as fast as possible, offering you an unforgettable riding experience. You can stroll along Husky Park in the summertime, see how the dogs live and how the trainers feed them. Over 100 friendly dogs are waiting on you to show you the winter wonderland.
Snowman World (December 6, 2021–March 31, 2022)
Snowman World is a beautiful place located in Santa Claus Village on the Arctic Circle, Rovaniemi, Finland. It's a winter zone full of enjoyable activities for kids and adults. There, you can visit Ice Bar and Ice Restaurant, slide down daring hills, and take the best out of this holiday season. Snowman World is open every day from 11 am to 7 pm.
The busy winter season continues into late March or even early April. Come and spend a fantastic evening singing carols with Santa, enjoying fresh gingerbread biscuits baked by Mrs Clause, and watching furry reindeer having fun in the snow outdoors.
Strasbourg, Capital of Christmas, France
Strasbourg, the Capital of Christmas, enjoys an exceptional reputation. About two million visitors flock to the Alsatian capital to discover its wonders every year. For more than a month, Strasbourg has had a festive and spiritual spirit that is unmatched in Europe. The Christmas market takes place in over a dozen places, all located on the Grande Île.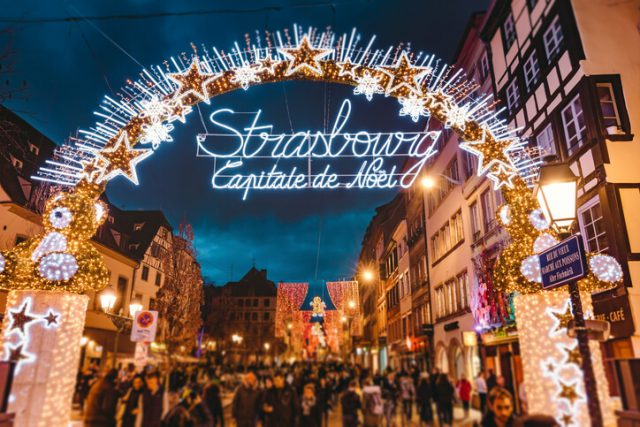 A City that Dazzles
During the five weeks of the Christmas market, since night falls, the city is decked out with sublime illuminations that give it a magical dimension. The giant fir, in Plaça Kléber, is its highest expression. With a height of thirty meters and wonderfully decorated, it impresses with its presence and its majesty. The symbol of an Alsatian tradition dating back five centuries is the ambassador of a city bathed in light.
The Historic Christkindelsmärik
Place Broglie, at the foot of the Opera, in this square where the parasol-shaped bananas are perfectly aligned, is one of the historical places of the Christmas market. The Christkindelsmärik (market of the baby Jesus) has been installed there since 1870. This corner of the market is unique. There are Christmas decoration stalls of exceptional richness and the traditional mulled wine with cinnamon, cloves, and citrus aromas.
The Time of Meaning
Even though the Christmas market's whole period, the brightness and magic dominate the outside, Strasbourg also lives inside. All places of worship, Catholic, Protestant, Orthodox, are open to the public. Concerts, Christmas carols, exhibitions take place. Different events abroad occur throughout the city. The people also come to participate. The moments of encounter are intense and full of goodwill.
When you have booked your accommodation and chosen the means of transport to come to Strasbourg, the only thing left to do Is pack your suitcase. To fully enjoy the Christmas market in Strasbourg, do not forget to bring:
- warm clothes: a lined jacket, an oversized scarf, gloves, a hat and thick socks. You have to bundle up well because Strasbourg is usually very cold in December.
- comfortable shoes: the best way to visit the Christmas market is to walk around it. Take comfortable shoes because you will indeed walk a lot.
– a phone or a camera to immortalize the best moments.
Conclusion
Many things make us love Christmas; food, family, friends, and lots of other Christmas traditions. What makes these holidays even more delightful is that countries around the world have developed their own Christmas traditions. We have chosen a few that are especially interesting and beautiful. You can adopt and adapt them for your parties.
When Christmas arrives, some people come home to celebrate the holidays or prepare to spend a vacation abroad in every corner of the world. Whatever the case, the Christmas period is a precious time for reflection, joy, and generosity full of sacred and different traditions in every part of the world.