Christmas 2021 is just down the road, so many of us have already started thinking or decorating our homes for the festive season. Everyone wants the Christmas spirit to remain in their houses for as long as possible. If you're one of them, you can make easy DIY Christmas decoration items that'll take you very little time and be more cost-effective.
As it is already an expensive time of the year, you need to decorate your home with style but without splurging.
Your countdown to the 25th should be adorned with the best DIY home decorations to décor your house for the perfect holiday. Here are some great ideas for you to decorate your way with some budget-friendly Christmas décor ideas and get through the holidays with zeal and spirit.
Decorate Your Home on a Budget
Great Britain spends a lot every year on Christmas home decorations; on average, 29.16 British pounds are spent on decorations.
The countdown to Christmas has started with much flare and glare. It's by far the most festive and awaited holiday season. Each day is filled with joy, friends, family and presents – what's not to like? But spending all your money on the festive décor and thoughtful gifts isn't necessary.
If you opt to create some stylish and seasonal home decorations yourself, you'll most probably end up saving a ton of money while having fun in the process. Some of the elevated DIY Christmas decoration ideas that are guaranteed to save you money without compromising on a gorgeous and decked-out holiday home are given below
You can either go with modern and stylish décor, traditional or even go totally bold with glaring and adorning your house with the below list of DIY Christmas décor ideas that look high-end but still cost you way less.
The holiday season is all about spreading smiles, sharing gifts, festivities, and family gatherings. More than anything, Christmas is the best time to bring smiles to the cute little faces around you. Find exciting and entertaining apps for kids during the holiday season.
When Can You Start Planning Your Home Christmas Decorations?
Many people decorate their houses for Christmas only a few days before the festivities. Though it might be a prevailing solution, you are depriving yourself of a long and lasting enjoyment cycle by preparing for your celebrations at the very last minute. So, if you're planning some impressive and innovative decorating ideas for the holidays, make sure to give yourself some time to prepare and then enjoy to the fullest
Preparing your home a week or two before the "Feast Day of Christ" is a great idea. That allows you to design carefully and accommodate any unexpected corrections. While the main thing, you can enjoy your hard-worked adornments for a long time.
---
Interesting read: Stay connected during Christmas in long distance relationship
---
1. Christmas Tree 🎄
A Christmas tree is an essential and fitting decoration for any home. It not only brightens the room but is a tradition that should be carried forward – to ornate it together with the family. There are multiple ways and objects to decorate the tree with:
Glittery Ornaments
Different coloured lights
Ornamental wreaths
Crochet angels
Wood ornaments
Painted walnuts or pineapples
These can be done in classic gold colours, silver, green or red to fit your preferences and what is in vogue for the current year.
There are many Christmas tree ideas – there's something for everyone's liking and style. If you don't have enough space for a traditional Christmas tree, you can choose a miniature version. You can go with a custom-made wooden tree, a corner tree for houses with little spaces, a tree with ribbons, a hanging tree, or use flowers to make an appealing Christmas tree.
When you make a tree yourself, you can develop creativity while spending time with family and coming up with inexpensive DIY Christmas decoration ideas.
---
2. Alternative Advent Calendar 📆
Track your days until Rudolph and his buddies come dashing across your roof to light up your Christmas even cuter. Make sure your family has an advent calendar fitting your lifestyle to make your mornings extra special. It can be fun spending some time with your family to craft an alternative advent for Christmas 2021.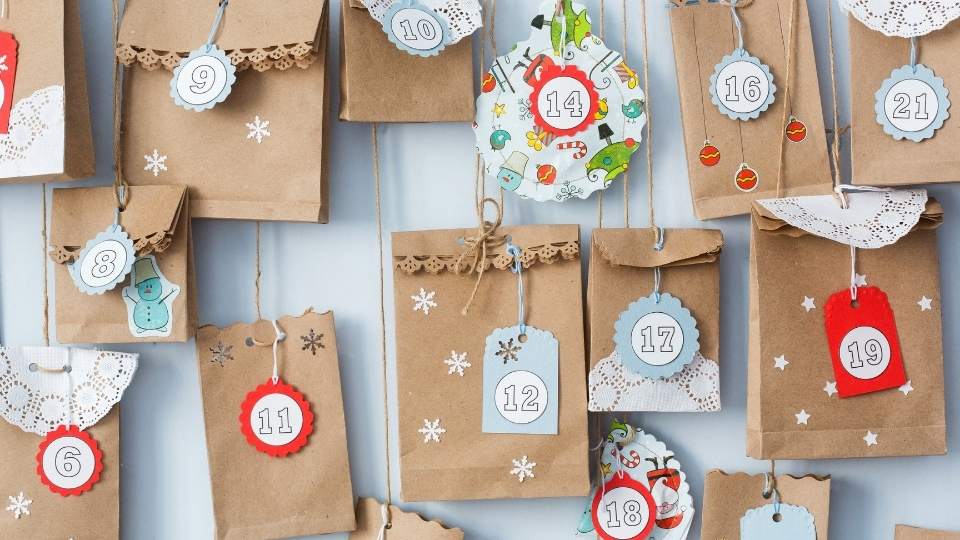 Some easy DIY Christmas decoration ideas from "Noel notes" to unique wall hooks stuffed with seasonal treats can make your countdown more exciting. Crafting a homemade DIY advent calendar is a lovely idea to gather the whole family to kick off the festive celebrations in style.
---
3. Christmas Table Decorations 🎇
Do you like natural themes like the forest or the rustic countryside? You can also use them to create your own unique composition during the holidays. Such ornaments are not very demanding, and you can make them in no time.
You will need cloth napkins, some live plants, large candles. Prepare the napkins for your guests by tying them with a piece of string and sticking a pine twig on top. You can also use a piece of lace ribbon.
You can decorate your Christmas table by spreading a burlap or lace tablecloth on its surface. Don't forget the candles. Small candle holders look great, but you can achieve an even better effect by using long candles in the candle holders.
A vintage Christmas ladder advent makes the most of free wall space with pretty ribbon boxes. Fill the mini boxes with treats, tie them with the ladder and watch expectations climb every day.
Add a magic flair with conjurer's cups. Place small gifts and toys under the paper cups while decorating the cups with numbers, pinecones, paper shapes and bottle brush trees to set the festive countdown going.
Countdown the remaining days to Christmas with style secret Santa bags. Spruce the calico bags with some foliage and baubles while printing numbers on each bag to make each day worth counting.
---
4. Hallway Decorations 🎆
Decorating the hallway can give a charming look to the space, especially at Christmas parties. The atmosphere can be tuned to fit the festivities with lighting and ornaments.
Utilise the ceiling to fill the space with ornaments and amazing lights to make walking the aisle more tempting. Furnishing the lights and decorations on either star or tree trunks would make the hallway more beautiful.
If there is enough space, you can try placing some Christmas characters to awaken the holly spirits within, such as small deer, some snowmen, or a Santa Claus.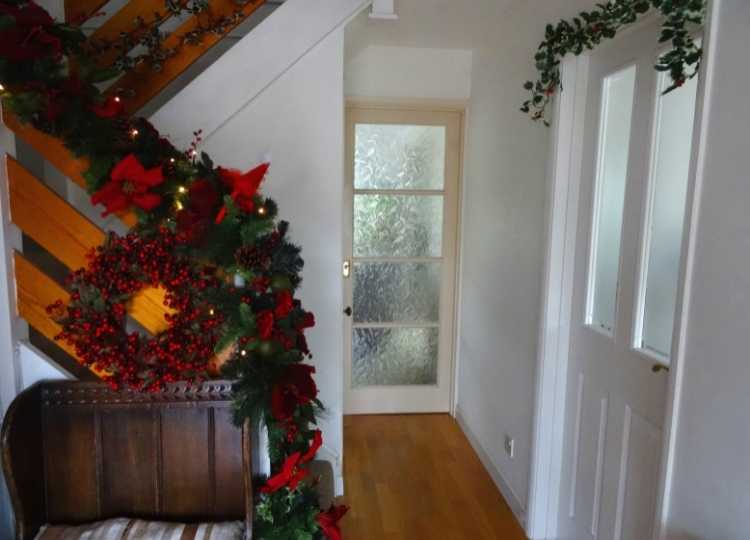 Like a landscape? Transform a dull space into the most eccentric attraction in the house. Craft a wallpaper depicting the oceanic waves or a forest motif with some artefacts hanging from the wall and ceiling.
Give a stylish look to your hallway with a visual trick to reduce the tube feel—structural elements such as panelled doors, sloping ceilings and lots of natural light filters through the roof.
You can also give your hallway a natural feel with a hand-painted mural of plants. Against a white background, put a black and green plant motif while a few pots hang here and there to add a fresh touch to the space.
---
5. Christmas of Lights 🌟
Lights are the custom that goes back to when Christmas trees were adorned with candles, symbolising Christ being the light of the world. Not only the tree is decorated with lights, but lights can be used in almost every decoration of your home. Every year towns and cities around the UK spend on average 292 pounds on Christmas for every thousand people on lights and decorations.
You can decorate a series of lights with garlands, put the lights series to give shelves a better embellishing. Create centrepieces by using glass bottles and bouquets adorned with lights.
Though photography is your thing and you love to relive the moments with your loved ones, you can prefer to go with a series of lights surrounding the printed photos. That way, you can give life to your memories and walls.
Also, you can schedule a family union to celebrate the moments and let them be a part of the decorations throughout the season. It will showcase a family dynamic throughout the season that you can renew every year and make it a tradition.
---
Bonus Read: 12 Fun Christmas Activities To Do With Your Family This Holiday Season
---
6. Plaid Pillows 🛌
Do you love plaid throw pillows? We as well because nothing beats the cosy vibe the Christmas plaids create. Adding some plaid pillows to your bedroom, entryway, or family room can boost the decorative flair according to the season.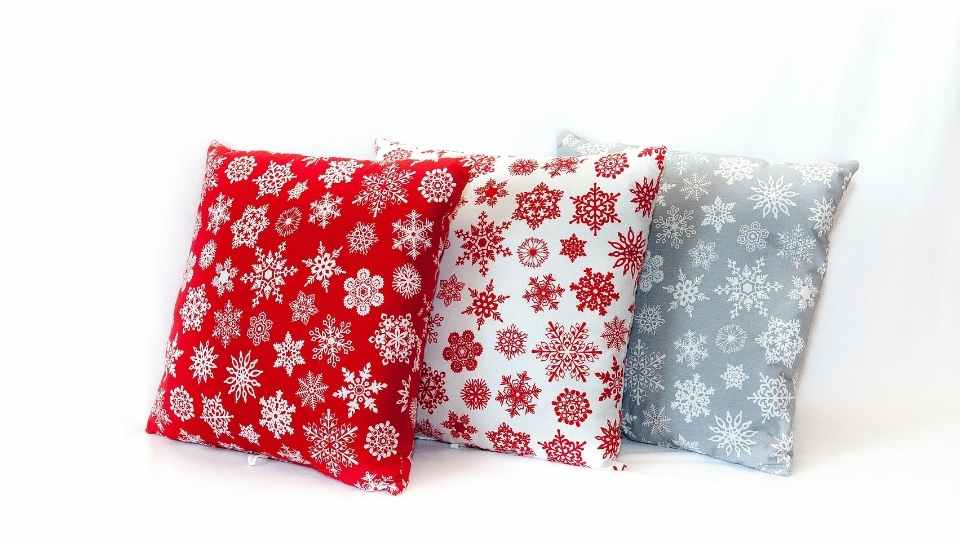 You can use farmhouse plaid pillows because they're budget-friendly, fun, and trendy to decorate your house with. Finding fabulous vintage and plaid-inspired pillows is easy and can easily win over many hearts throughout the season.
A rustic Christmas tree-inspired pillow is a must for the vintage, and the cabin look can garner tons of compliments. While the black and while supper affordable buffalo check tree pillow will look perfect with your favourite leather chair or the slipcovered sectional.
---
7. Christmas Sweaters 👕
Christmas is all about connecting with your family and friends, sipping hot cocoa, and sharing stories. Celebrate your holidays wearing the trendy ugly Christmas sweaters because they're interesting, fun, and in vogue. You can save yourself a trip to the store to buy a fashion brand's sweater that is ugly by every means. And make yourself a silly and funniest all-around DIY ugly Christmas sweater.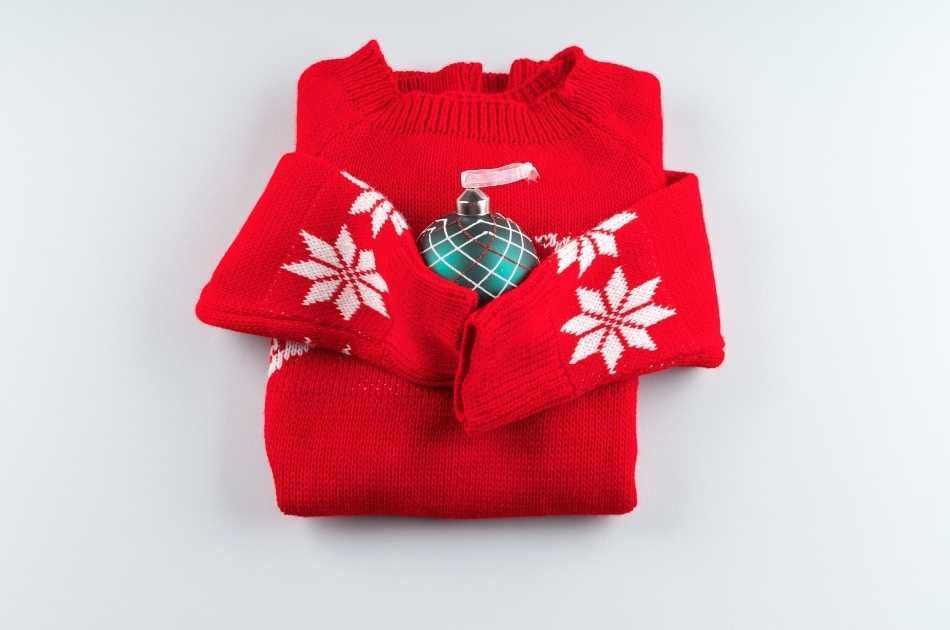 Though you might not have that many in-person parties, it doesn't mean you can't DIY your favourite new ugly sweater for a virtual Yuletide bash. In fact, it is a perfect time to craft your new fabulous ugly Christmas sweater.
DIY Starbucks cups onto your ugly sweater and show your devotion to coffee.
Craft a sweater featuring tiny knit Christmas lights for all the crochet fanatics.
Make a statement by wearing matching ugly sweaters with your partner.
You can't go wrong with a classic ugly Christmas tree sweater.
---
8. Picture Frames🖼
There's no better time to inspire your creative and artistic inner self with some beautiful pieces of art. Whether you're a novice or a professional wanting to craft family or friends picture frames, it's fun to complete in no time while giving your home a new look.
You don't want to buy some boring frames from the store that'll most probably cost you a fortune and still be dull and unenticing. Crafting unique, beautiful, and inexpensive photo frames can elevate and stylise your house to the next level.
Craft a floating frame that would make the artwork look floating instead of squished behind the glass.
A wooden hanging picture frame to display your prints adorably without spending much.
Go a bit more stylish with clothespin frames. A unique way to hang photos using plywood, picture strips, and a clothespin.
Create custom frames without using any power tools or spending a fortune but still get a perfect frame for your memories.
---
9. Floating Stars ✨
They have been one of the deco accessories that stand out the most at Christmas for a couple of years. But far out of style or forgotten, they are still present in Christmas decorations one more year.
---
10. Candle Holders 🕯
Making a DIY Christmas candle holder is very simple, and you only need a few bottles and a little paint.
The Advent wreath is a Christian tradition that marks the four weeks that elapse during Advent. The wreath includes four lit candles each of the 4 Sundays before Christmas, but it has its origin in pagan rituals like almost all traditions.
The candles provide a perfect warm light to create cosy environments that invite you to sit and enjoy the moment.
Vases, jars or even yoghurt cups can be used to make a candle holder embellished with ornaments to add a great look and feel that surely will surprise your guests.
Easy wine glass candle holder is a stunning and inviting look.
Mason jar DIY Christmas candle holder filled with decorative ornaments.
Showcase your craftiness with DIY Viano svietniky Christmas candle holders.
Tea light holders or illuminated snowman candle holders can add a charm to your house.
---
11. Decoration with Sock 🧦
Socks give us a lot of play at Christmas. Do you want to have a fun space to leave Christmas gifts?  You no longer need to worry about not having a fireplace to hang your socks. This Christmas craft can be as big as space or family members are, and you will only need a piece of fence to make it.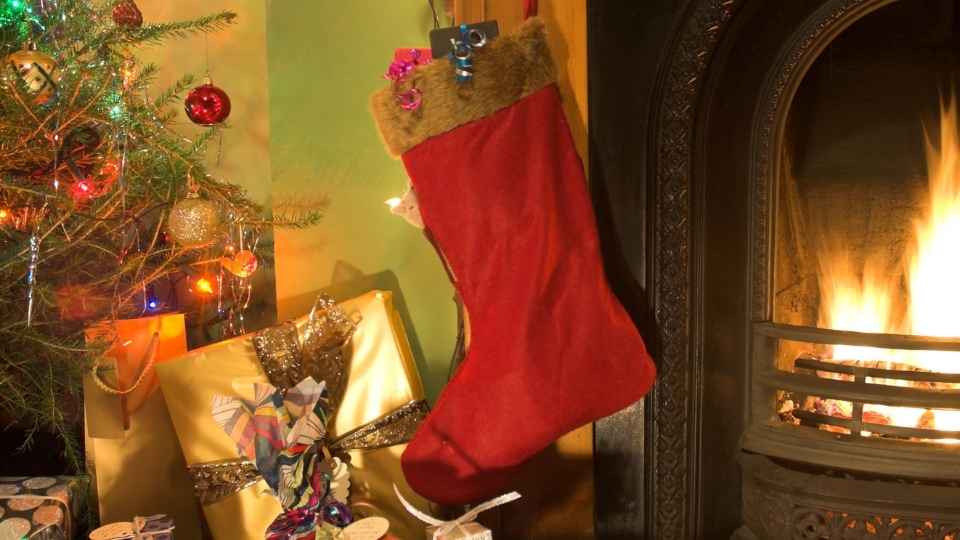 Hanging Christmas socks by the fireplace is one of the most popular Christmas customs that we usually see in the typical movies of that season.
However, the fireplace is not the only option to hang them. For people who don't have a fireplace (like me), they can choose to hang their Christmas stockings on doorknobs, windowsills, or the head of a bed.
Hang the Christmas stockings along the stair rail with thick garland and twinkling lights for staircase Christmas decoration.
Create a fun and colourful Advent calendar with your children's socks.
Create balls for the Christmas tree-lined with socks.
Craft a funny-looking Olaf or a snowman made with toilet paper rolls and socks.
Cute and warm looking candle holders can be made with socks and a bit of decorative flair.
---
Conclusion
"Put up a Christmas tree? Ugh, impossible. It doesn't fit here". If the Christmas decoration has always remained at the doors of your house because the meters prevented it, use our advice to dress small spaces for Christmas. First of all, calm down. Christmas does not have to be excessive or super voluminous. There are a few more snug decorative options that will fit like a glove on your floor, no matter how small.
With stylish and low-volume decorations, the tree will fit in any corner. How about decorating the windows with a garland or a handmade crown? It does not subtract an inch at home and decorates both inside and outside.
The coffee table, the dining room table or the furniture in the hall are perfect for hosting an original centrepiece with candles that will also create magical and enveloping points of light.
Do you have little ones at home? Why not hand-make an Advent calendar to decorate their room playfully?
And that the meters are not an excuse not to open the house door to Christmas this year!