VoLTE or Voice over LTE is the innovative voice technology that enables you to make voice calls over the LTE/4G mobile network. It's the technology using which our phones and carriers transmit our voice during a call. Generally known as 4G Calling, when you make or receive a call, your phone stays on 4G.
All major UK carriers have voice over capability on LTE or what most of us know as 4G. Most likely, the service is available in your area. You could already be using it if your phone supports the technology. Setting VoLTE up on your phone is easy and worthwhile if you have a supporting carrier and phone.
Many of us think 4G is only about downloading, web browsing, and streaming, and in fact, it is primarily. But it can also help improve voice calls, which is known as VoLTE. Let's dive a bit deeper into knowing everything about it and how you can benefit from the services offered by different network providers in the UK.
What is VoLTE
Voice over Long Term Evolution (Voice over LTE) is a technology where your carrier allows you to make a phone call over your LTE/4G connection instead of the legacy voice networks. For example, mobile operators used 1XRTT for voice calls and depend on LTE for data. That is the reason where users couldn't use data and voice simultaneously.
Before, 4G was only used for surfing the internet. And when you made or received a phone call, the network would automatically switch to 2G or 3G. Also, you might recall a delay of a few seconds before the recipient's phone actually rang. With the advent of VoLTE, that delay is gone.
Traditionally, on a 2G or 3G network, data and calls are separated and cannot work at the same time. Such that during a phone call on a 2G network, an incoming text message will only arrive after you finish the phone call.
However, on a 4G LTE network, both calls and data will work in unison. That means you can receive a text message even during a call.
How VoLTE works
As delineated in GSMA standards, VoLTE is the procedure of packetized voice over the Internet Protocol (VoIP) and transporting both the signalling and media components through a 4G packet-switched data path.
The standard is in contrast with the delivery of voice using circuit switch methodologies that need 4G handsets to use a secondary 3G radio. That requires network operators to continue supporting the inefficient access infrastructure and licensed spectrum.
The GSMA Association's Permanent Reference Document narrates the application of the IP Multimedia Subsystem (IMS) for the transfer of voice and short message service traffic. IMS serves as the foundation, and the VoLTE uses the Session Initiation Protocol (SIP) for registration, authentication addressing, call establishing, and termination. For RTP media and bandwidth negotiation, the Session Description Protocol (SDP) is utilised.
VoLTE uses a variety of technologies integrated together to make voice calling clear and crisp. A simple breakdown will look like this:
Your mobile device connects to a nearby cellular tower
When you place a VoLTE call, it is carried like a regular voice call to the tower
The cellular tower uses VoIP technology to transfer your call to the recipient
Alternatively, the recipient answers the call using their VoIP/VoLTE device
How to use VolTE on Your Smartphone
All major carriers support VoLTE technology, and almost all the new phones in the market support it. You can check whether VoLTE is enabled on your device or not. To enable VoLTE on your smartphone, follow the simple guidelines below.
Enable VoLTE on Android
Android devices come in different Operating System flavours, so the specific steps might vary depending on the OS flavour your device is running. Make sure your device is updated and is running Android 6.0 (Marshmallow) or above.
The general steps to activate it on your android device are below.
Go to the device Settings
Tap on the Connections setting. Then go to Mobile networks
Enable or disable the VoLTE calls toggle button
Enable VoLTE on iOS/iPhone
On your iOS devices, you can enable or disable it using the following steps.
Open the Settings app and go to the Mobile Data option
Select the Mobile Data Options
Then Voice & Data
You'll see the VoLTE toggle button, enabling it to enjoy high-quality voice calls
Upgrade to a VoLTE Enabled Phone
You should always have the VoLTE on. However, if you have an older phone model that uses the 3G or even some early 4G phones, your device might not support VoLTE at all. To avoid service disruptions, you should upgrade your phone to a newer model. In case you're wondering which phones support VoLTE, you'll actually be amazed to find a new phone that doesn't.
Benefits of VoLTE
Most latest smartphones support VoLTE, and network providers around the world support the technology. In case your mobile phone doesn't support VoLTE, update your software version, and it might bring the feature.
To know if your smartphone doesn't support it, you can observe that you can't use voice and data simultaneously.
VoLTE helps you use both data and calling. So, you can use your data for calling and browsing at the same time. It's one of the outstanding features that improve voice call quality over the world. Some of the main advantages of VoLTE are here.
Improved Call Quality
VoLTE offers you a significant improvement in call quality. Using the 4G VoLTE, you can communicate clearly with crisp and clear voice calls. It provides improved and innovative voice communication services across smartphones, wearables, and other smart devices.
Previously with 2G and 3G, the voice quality was not high definition or mostly suboptimal at best. VoLTE offers three times better call quality than 3G and more than six times 2G technology. Altogether you get a much richer call experience with VoLTE.
Better Network Coverage & Connectivity
You will be shocked to know that VoLTE calls connect twice as fast as 2G or 3G signals. Similarly, today 4G networks are widely available all over the world with much better and improved signal quality.
4G operates on an 800 MHz spectrum with a much greater reach than 2G and 3G networks. The 4G spectrum can penetrate large objects, which previously caused problems for the signals and depleted the strength and quality of signals.
This means that you will have a strong network connection even if you're in the basement or on the top floor. Voice over LTE runs on the 4G spectrum to offer superior coverage and improved connectivity, with wider and consistent coverage.
Better Battery Life
Without the VoLTE active on your smartphone, the 4G network switches to 3G whenever you make a call. That causes the smartphone to use more battery than usual. Once you activate Voice over LTE, your phone won't switch to 3G even when you're on a call, saving battery in the long run.
Multitasking with Faster Data
VoLTE enables you to use both call service and mobile data at the same time. When you make a call, the network won't switch to 3G, allowing you to keep using 4G for all the other functions. It can come in pretty handy if you're multitasking, such as web browsing during the call or downloading an app.
Video Calls
Theoretically, it's even possible to make video calls over VoLTE with very little consumption of data. Generally, you have to download third-party apps like Google Meet, Skype, Zoom, etc., for video calling.
However, with 4G VoLTE, you don't need any third-party application. 4G VoLTE compatible mobile devices have inbuilt support for video calls in their system.  Skype or similar apps offer high-quality video call services using the VoIP system. You can expect similar quality calls when using VoLTE but without hitting your battery life as much as Skype calling does.
VoLTE availability in the UK
Almost all the major UK's carriers offer VoLTE and a few MVNOs (mobile virtual network operators).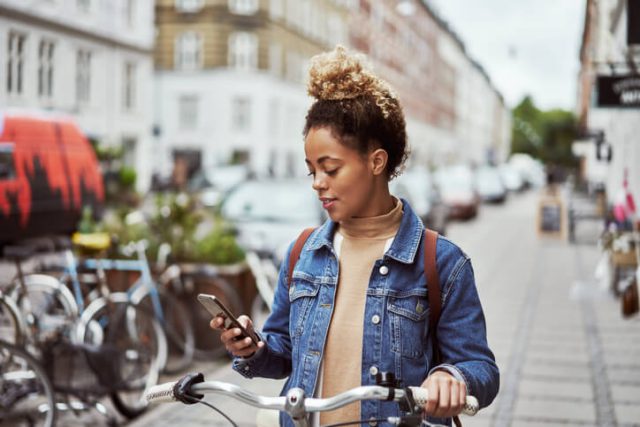 Once you have made sure your phone is compatible, you need to check whether your network supports the service and that you're in the coverage area. Assuming you have the supported phone, latest software, and it's available in your area, you should have access to voice over LTE. The following UK Networks offer VoLTE.
EE
O2
Three
Vodafone
Asda Mobile
iD Mobile
BT Mobile
Sky Mobile
Smarty Mobile
Virgin Mobile
VOXI
Talk Home Mobile
Talk Home Mobile is powered by the UK's largest and fastest network – EE. Therefore, Talk Home users can enjoy high-quality VoLTE services. Most of the high profile handsets are supported all over the United Kingdom.
Future of VoLTE in the Wake of 5G
As operators worldwide are preparing to deploy 5G standalone networks, the somewhat slow rollout of voice over LTE can gain ground. It can play a key role in voice over 5G applications.
Voice over LTE technology has been around for more than ten years. But the adoption has been slow. Only approximately 30% of mobile operators that have launched 4G also have deployed commercial VoLTE services. This trend is about to change significantly with the rollout of 5G over the next few years. According to the GSMA Intelligence report, VoLTE: 5G will provide the long-awaited boost. Driving further the customer adoption and data traffic as the industry seeks globally interoperable voice and communication services.
Several factors are changing that will accelerate the pace of VoLTE launches, such as limited smartphone support. The future of operator provided voice services relies on IMS technology to support both VoLTE and voice over 5G (Vo5G).
Conclusion
Today, global VoLTE adoption continues to increase. However, you need to consider data connection usage and the associated charges, as data is being used to make calls. These calls can eat up your data allowances.
But on the other hand offer superfast call setup, seamless switching, wider coverage and clearer calls. Your phone remains in the LTE network allowing you to use data services along the way. it offers an innovative and improved voice and communication service across a multitude of smart devices. That can serve as a base for improving business and people collaboration services due to its high mobile voice quality. It's a telecom grade service for consumers, businesses, and industries deployed with cloud-based solutions. That offers a peek into the future of communication.