Are you struggling to cope with all the robocalls and spam calls you get on your mobile or landline phone? Use technology to stop the unwanted annoyance of robocalls and spamming telemarketers.
The Privacy and Electronic Communications Regulations 2003 legally addresses all your electronic communication woes in the UK. However, you can also do a few things on your own to stop getting these troubling calls.
Both the Android and iPhone phones come preloaded with features for blocking particular phone numbers. Similarly, each mobile carrier has its own blocking tools for the clients to stay safe. At the same time, third-party apps like RoboKiller, Nomorobo, Truecaller, Hiya: spam phone call blocker, are there to assist you in blocking dubious telemarketing automated calls.
You can register your mobile and landline phone number on Telephone Preference Service (TPS) opt-out service, though that doesn't guarantee you'll get away from all the scamming or telemarketing robocalls. Let's dive into each option and get you out of the vicious scam calls.
What is a Robocall?
A robocall is an automated call from a computer program playing a recorded message. For example, if you answer your phone and hear a recorded message instead of a person, it's a robocall. If you are getting too many robocalls trying to sell you something or scam you, chances are the calls are illegal. Most of them actually are scams.
The internet makes it easy and cheap for scammers to call you from anywhere in the world.  You need to hang up right away. If you press any numbers, you may even get more calls. Use call blocking and report it to the relevant authorities.
What is Caller ID Spoofing?
Scammers use ID spoofing to show any name or number on your caller ID. Therefore, don't trust the caller ID you see on your mobile or telephone screen. How scammers use spoofing.
Using automated calling software, the scammers set up robocalls.
They can change and update what to display on your caller ID. It could appear to be a local number or a unique name.
These scammers can make millions of calls over the internet within minutes.
How to Block Numbers on iPhone
Robocaller system's cycle through thousands of phone numbers where many include the same telephone prefixes as your own number. To efficiently block these numbers on your iPhone, follow the steps:
Open the Phone app and go to the Recents tab.
Click the Info icon next to the number to show its details.
Now, tap "Block this Caller" and then "Block Contact."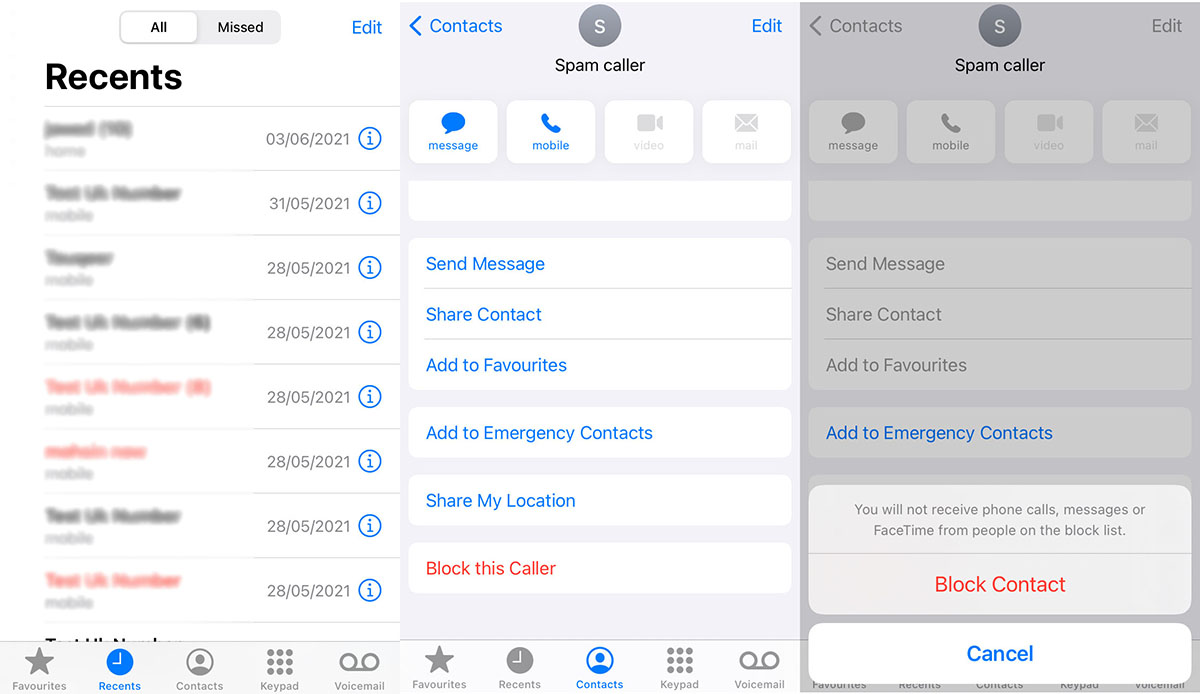 The spam number is now blocked.
Silence Unknown Callers on iPhone
With iOS 13 and higher, you can be more strategic and take a practical approach to curb spam calls. The operating system comes with the Silence Unknown Callers feature that will automatically silence all calls from unknown numbers. Every unknown number is sent directly to the voicemail. Also, the caller number will appear on your Recents list, so you can check the number's legitimacy and return the call if you want. To enable the feature, follow the step:
Open the Settings app and go to the Phone app.
You'll find the Silence Unknown Callers toggle button under the call silencing and blocked contacts section; enable it.
How to Block Numbers on Android
If you're using an Android mobile device, the steps for blocking phone numbers can vary based on your device and the operating system version on the phone. However, notwithstanding the version of the OS or the phone manufacturer, you should be able to find the block or report as spam option in the details of the number. The general steps are like:
Open your Phone app.
Go to the Recent calls tab or call history.
Find the number you want to block and tap it to show its history and options.
In the options, you will find the block and/or report as spam.

Block Unknown Callers on Android
Some Android phones come with the feature to block all unknown callers. The feature allows you to check all unknown calls by default, releasing you from the stress of constant nagging nuisance calls. The process, however, will vary among different devices and is usually found in the Phone app settings.
You can find the number blocking feature and block all unknown numbers or manually add a particular number in the blocked list.
Best Call Blocking Apps
What are the best apps to stop robocalls or spam calls forever? If you're among the ones affected by "the robocall scourge," call blocker apps can assist you in getting out of the spammers' circle. However, before you select an app to assist you in blocking unwanted calls, you need to keep app security and privacy in mind.
Nomorobo
Nomorobo app tries to crack down on robocalls and other nuisance telemarketing calls by scanning a blacklist of known phone numbers. The app blocks any spam calls and sends them directly to voicemail. It also comes loaded with message filtering, protecting you against spam text messages and helping you report a robocall.
Hiya: Spam Phone Call Blocker
Hiya app can warn you against robocalls or scam calls by using its extensive database of known scammers. The app scans phone calls associated with fraud, illegal, and spamming telemarketers. Hiya can even scan spoofed calls that use local numbers to escape the normal blocking techniques. It allows you to type a phone number into the app and see its source, if it's a suspected spam number or not.
TrueCaller
Truecaller is the ultimate call blocking app as it creates a directory of known spam numbers. So, when you receive calls that your phone doesn't recognise, the app will check its databases to identify if it's a robocall. Millions of nuisance numbers are added daily by the community. The massive database is available to search through, so if you're getting irritating calls on your phone, you can use the app to check which company is calling you repeatedly.
RoboKiller
RoboKiller goes a little further and not only blocks spam calls but also wastes the spammers' resources. The app's Answer Bots feature automatically answers a spam call with pre-recorded nonsense designed to frustrate and waste their time. You can create a custom bot response. It has a substantial database of known spammers, while you can add specific numbers to the blocked list yourself.
Frequently Asked Questions
What does the law say in the UK?
The Information Commissioner's Office (ICO) in the United Kingdom enforces the Privacy and Electronic Communications Regulations (PECR) 2003. The PECR sits alongside the Data Protection Act and the UK GDPR, offering UK citizens privacy rights regarding electronic communications. The PECR covers the way organisations make direct marketing telephone calls to people. The ICO has the power to penalise any company that breaks the law with up to £500,000.
According to the law, live marketing calls should not be made to anyone who has registered with Telephone Preference Service (TPS) and the Corporate Telephone Preference Service (CTPS). Except when the registered user has explicitly told the caller that they wish to receive such calls.
The law stipulates how pension schemes and claim management services can make live calls. There are strict regulations; for example, if a pension company wants to advertise and make a live marketing call to you, only a manager of the scheme, a trustee or a firm authorised by the Financial Conduct Authority can make calls. However, only when you have already agreed to receive such a call.
How to avoid scams and marketing calls in the UK?
To stop scam and nuisance live marketing calls, you can:
Register your number on Telephone Preference Service (TPS). It's a free, opt-out service that records your preference on the official register. You can register both landline and mobile numbers to stop getting live marketing calls.
You can register with the Corporate Telephone Preference Service (CTPS) if you are a company or a corporate body.
Thoroughly check privacy statements when you give your phone number.
Explicitly tell organisations and companies that you don't want them to market to you by phone.
However, if you originally agreed that a company could make live marketing calls to you, and subsequently, you register with TPS, your initial consent to the company still remains. So, first, you need to withdraw your consent to receiving marketing calls by contacting the company directly.
What can you do to stop receiving nuisance calls?
When you receive spam calls, you should tell the caller directly that you don't want to receive any further marketing calls from them. The company should immediately stop calling you.
However, if you continue to receive the nuisance marketing calls and spam texts after you have explicitly asked them to stop, you can report your concerns to the ICO, UK. Similarly, suppose you have registered with the TPS and still receive nuisance calls after 28 days of registration. In that case, you can complain directly to the TPS or report concerns directly to the ICO.
Robocalls or Automated Marketing Calls
Robocalls and Automated Marketing calls are almost the same, used for different purposes. Let's dig deep into it.
What does the UK law say about robocalls?
The Information Commissioner's Office (ICO) enforces Privacy and Electronic Communications Regulations (PECR) 2003. The PECR extensively covers the way organisations and individuals make automated direct marketing calls. You should only receive robocalls if you have previously agreed to the company that they can make these calls to you.
What can you do if you are receiving automated calls?
Some automated calls you receive might ask you to phone a premium rate number. The UK's Phone-paid Services Authority regulates services and products charged to users' pre-pay account or phone bills. You can contact the PSA authority to report these robocalls or get information about the premium rate number ranges that PSA regulates.
If you ever receive robocalls or automated marketing calls, you can report them directly to the ICO.
What can you do if you receive silent or abandoned calls?
Silent or abandoned calls are the ones where you answer the phone, and there is no one on the other end. Abandoned calls can be quite irritating as you rush to answer the phone and get a terminated call. And instead of a person on the other end, you get the system playing information message from the company that is trying to reach you. It can be frightening, especially for people living alone.
What causes silent calls?
The majority of the silent and abandoned calls are not deliberate but are usually caused by the technology utilised. Companies use automated calling systems generally known as diallers to maximise the amount of time calling agents spend speaking to consumers.
But, for example, when the dialler makes a call and there is no agent to handle the call, you might get an abandoned call. Similarly, when the diallers mistakenly detect the voice to be an answering machine while you were answering the phone, it cuts off the call, and you get a silent call.
Altogether, a silent call is where you receive a call but hear nothing and have no means of learning whether anyone is present at the other end or not. If you regularly receive silent calls, you need to contact Ofcom on 0300 123 3333 or lodge your complaint to Ofcom silent and abandoned calls complaint monitoring.
Ofcom has published a strict policy statement and aims to reduce the number of abandoned and silent calls. The UK's communications regulator (Ofcom) can take enforcement action against the culprit if someone repeatedly makes silent or abandoned calls,  including a fine of up to £2 million to the caller.
How do you block robocalls?
If you are constantly receiving silent or abandoned calls, do the following.
Try to identify the caller:
You'll get a Calling Line Identification number on your telephone's display whenever you receive a call from companies using an automated dialer. Using that, you can obtain the caller's telephone number by dialling 1471.
Otherwise, in the case of an abandoned call, the automated message should disclose the organisation's name and give a number that you can call to opt-out of receiving any further calls.
Complain to Ofcom
If you continue to receive abandoned or silent calls, you need to collect as much information as you can, including:
The name and number of the caller
How many times have you received the calls by the same number?
The time frame or the period during which you are receiving the calls.
In case you are unable to identify the caller, you should contact your phone company. Phone companies mostly have a nuisance calls team that can advise what can be done regarding the issue.
Whichever way you feel comfortable, lodge your complaint to Ofcom.
Calling the Ofcom consumer contact team at 0300 123 3333
Complain by filling the online complaint form
Send your complaint through post: Ofcom, Riverside House, 2a Southwark Bridge Road, London, SE1 9HA.
We hope our guideline helps you stay clear from all the scammers and robocall marketing intruding on your life's comfort.