Nowadays, our mobiles are stacked with hundreds of apps, including dozens of streaming platforms and many gaming apps. With so many resources at our fingertips, staying glued to our screens for hours and consuming loads of data is an understood thing. It's really important to check your data usage before you breach the limit.
So, if you're guilty of draining your data allowance before the month's end or subscribed to a limited plan, it's better to check your data usage regularly to stay in line with the monthly allotment. Monitoring data usage will help you use less data and avoid overage charges.  
Before telling you how to check your data usage on Android and iPhone and the benefits of monitoring data usage, let's tell you what mobile data is. 
What is Mobile Data? 
The internet supported by your mobile carrier, which you can access on your smartphone even when there's Wi-Fi, is known as mobile data. It lets you go online from anywhere and anytime, like during the commute, in remote areas, during shopping, etc.  
Many users even prefer mobile data at home if their Wi-Fi is poor or they have subscribed to an unlimited data plan. After the discontinuation of 3G, 4G has become the default mobile speed. While people in large cities in the UK have started benefiting from 5G. Soon, it is set to become the default.  
Why Check your Data Usage? 
Monitoring your internet usage on your smartphone is necessary to ensure that you don't run out of data before the end date. Hence, it will keep your monthly bills in check. A lot of data users purchase mobile plans or data bundles that are limited.  
Based on the deal you're buying, you may be capped with a certain amount of internet to consume monthly, like 50GB, 75GB or 100GB. Whatever the price or data allowance you get, it is always beneficial to monitor your internet consumption.  
Benefits of Monitoring your Data Usage
You get to know how much data you really need every month or which package plans suits you best.

 

Based on the data usage, you get an idea of whether to upgrade your current plan or downgrade it.

 

Constant monitoring of how much you've used and how much is left lets you avoid any additional fees charged for going over the limit. 

 

By monitoring data usage, you're ensuring you save money by only using what you require. 

 

Lastly, keeping an eye on your data consumption lets you choose the best deal. 

 
Monitoring Data Usage on Smartphones 
Now that you're aware of what mobile data is and the benefits of monitoring data, let's tell you how to check mobile data usage on a smartphone.  
How to Check your Data Usage on Android? 
Google Pixel or Stock Android Phone 
If you own a Google Pixel or any stock Android handset like Nokia or Motorola, these are the steps to check your data usage.    
Go to the 'Settings' app.

 

Scroll to the 'Network & Internet' menu.

 

Select 'SIMs'.

 

And then 'App data usage'.

 

You'll see a graph of mobile data usage.

 

You can even see the data usage cycle by selecting the cog wheel.

 
Samsung phones & tablets 
Checking how much internet you've consumed on Samsung Galaxy phones & tablets is a bit different as they come with One UI skin. Here's how to do it.  
Enter the 'Settings' app.

 

Select 'Connections'.

 

Here, you'll see the option 'Data usage'. Tap on it.

 

Now, go to 'Mobile data usage'.

 
Now, you can view all your required details like billing cycle, data usage limit, data usage warning limit and total consumption by the apps on your phone.  
Oppo, Realme and OnePlus 
All these phones use the same software with a few minor changes. So, to check your data usage on these phones, follow these steps.  
Go to the 'Settings' app.

 

Find & select the 'Mobile Network' option.

 
To view the graph and usage statistics, tap 'Data Usage'.

 

You can also go to 'Data usage by app' to view which apps consume how much data. 

 
Xiaomi 
Open the 'Settings' app.

 

Select the 'Connection & Sharing' option.

 

Here, tap on the 'Data Usage' option to view different options regarding data consumption on your phone. 

 
How to Check your Data Usage on iPhone?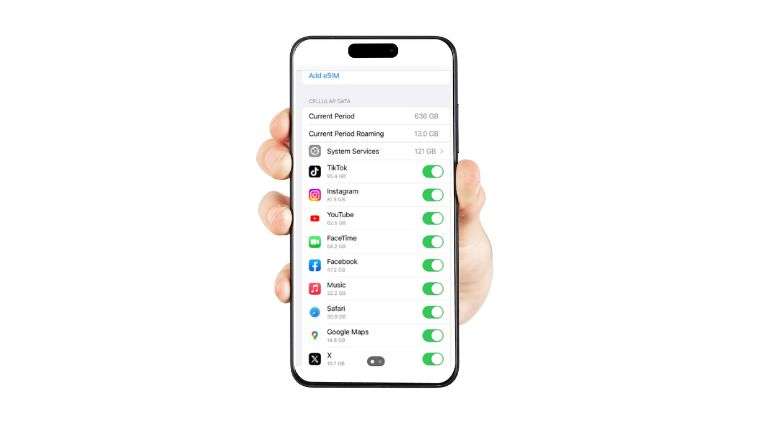 Now that you know how to check internet usage on Android, let's tell you the process to check your data usage on iPhone and iPad.  
Go to the 'Settings' app.

 

Select the 'Mobile Data' (Cellular data) option. 

 

After entering, you can view the data usage of the current period. Moreover, you can also check the consumption for every app present in the phone. 

 

If you don't have an idea regarding the current period, scroll down and check the date & time for the last reset. 

 

Tap on Reset Statistics, and it'll start showing data consumed from the current date & time. 

 
What uses up Mobile Data? 
Suppose you don't have an unlimited data plan or don't always connect to the Wi-Fi for data intensive tasks like downloading, streaming or intense gaming sessions. In that case, your data allowance will finish much more quickly before the month ends.  
So, either stay connected to the Wi-Fi at home or in the office or monitor your data usage regularly to keep an eye on its usage. Otherwise, all activities will suck mobile data for their functioning. Here are some of the things that use most of your data.  
Social Media 
Our phones are always filled with various social media apps like Facebook, Twitter, Snapchat, WhatsApp, Skype, and many others. We use them for multiple hours throughout the day. Hence, these apps use a lot of data to post, refresh, share and update.  
Streaming Music 
We love to hear music, don't we? Be it the commute, a party or even when in our bedroom with our headphones on. Everyone loves music, but it comes at a cost. Music streaming apps like Spotify consume data when streaming or downloading songs.  
Video Streaming 
YouTube, Netflix, Hulu, Disney, and Amazon Prime are all leading streaming platforms known as data hogs. So, if you have a small or moderate-sized data bundle, you must be careful while streaming your favourite movies and TV shows. 
We all have become addicted to video streaming, especially in high definition. The higher the video quality, the more data it will require to play. 
Downloading 
Downloading heavy files, apps, movies etc is also known to drain data rapidly. So, before downloading, ensure you're connected to the Wi-Fi or only download when connected to a Wi-Fi. This way, you'll experience fast download speed.   
Gaming 
Intense gaming sessions consume a lot of data. If you don't check your data allowance, you could quickly run out of it. Games like PUBG, Asphalt or any other games with picture-perfect graphics will surely dent your data plan.  
Internet browsing 
Internet browsing doesn't soak up a lot of data. However, browsing non-stop, checking and sending emails continuously, reading online or switching tabs could consume a huge amount of data.  
How to Reduce Monthly Data Usage?
Now that you are fully aware of how to check data usage on Android & iPhone and know which activities use most of the mobile internet, let's tell you how to save mobile data so that you don't incur additional charges.  
Connect to Wi-Fi at home, office or anywhere when possible. 

 

Download heavy files like movies, TV shows and apps when connected to the Wi-Fi instead of streaming on mobile data. 

 

See which apps consume the most data. Use them only when connected to the Wi-Fi. 

 

Check which apps update and use data in the background. Stop background data activity and auto-app updates if they aren't necessary. 

 

Close data-intensive apps as soon as you're done using them. 

 

Always update apps on Wi-Fi.

 

Enable data saver mode or low data mode.

 
Looking for an ideal mobile data plan? 
Do you also bank on mobile data and searching for a package plan that fulfils all your requirements? Talk Home has got you covered. We lead the UK market thanks to our customer-friendly package plans designed with you in mind.  
Experience 5G blistering-fast connectivity and speeds like never before. You can choose from a range of affordable PAYG Plans, Monthly Rolling and 12-month plans. Moreover, you enjoy a comprehensive country-wide 5G coverage that lets you stay connected with loved ones 24/7.  
That's not all. With Talk Home as your network provider, you don't need to stress about rising prices and ever-increasing phone bills. Our Locked-in prices mean that you have control over your expenses, and won't have to incur additional charges even if prices of data, calls and texts increase. Explore our incredible, value data plans and choose the one that suits you.  
Conclusion 
Most Brits use mobile data as it is convenient and allows you to stay connected anywhere anytime. However, if you don't have an unlimited package plan or don't check your data usage, you could incur additional charges at the end of the month.  
Ensure you monitor your data allowances – how much you're allowed to use, how you've used and how much remains. Many networks will notify you regarding your data consumption via texts or push notifications. Still, it's better to be vigilant and keep the data usage in check to ensure you don't run out of data and pay extra.