In the UK, transferring your number from one operator to another is simple. It is as easy as dialing a PAC code, making it feasible to switch operators while keeping the same number. The process ensures that you keep getting calls on your number without telling your new number to everyone.
So, what is PAC code? Porting Authorization Code (PAC) is used to switch operators. The process usually takes one working day, meaning that you will get transferred to your favorite service provider within one working day -without any costs. Too good of a deal to have? Continue reading the blog to learn how to use code to switch your network.
What is a PAC Code?
PAC code (Porting Authorization Code) is a nine-digit code for switching your Service provider within the United Kingdom. For example, if you are a giffgaff customer and want to switch your number to Talk Home Mobile, you can use the code to transfer your network without changing the number.
Want to learn How? There are three simple steps involved:
Get a PAC Code from your current mobile operator: The first step is to get a code from your service provider. This will be easy! You can search the internet for the PAC code of your network provider or call their customer support for assistance. You can also drop them a message to get your PAC code. There are no costs involved for this service.
Order New SIM Card: Once you have the code, you need to call your new service provider and order a new SIM card. Initially, you'll be given a temporary number to test the services. Once satisfied, you can transfer your old number to this new SIM card.
Give PAC Code to your New Network: The last step is to give the code to your new service provider so that you start using their services. You can submit the code online or call their customer support to provide it.
How Long Do Number Transfers Take?
After providing the code to your new network, you will have to wait for one working day before the number is transferred.  The duration might be extended to two days if you submit the PAC code late in the evening. The best thing is that you'll still be able to receive calls and text messages while you wait.
On the day of transfer, you will lose coverage for sometimes, both on the new and old Network. When you experience such a thing, restart your phone to enjoy the services of your new network provider.
Getting a PAC Code
You must be wondering what is my PAC code if you are looking to switch your network. The first step in changing your network is getting a code from your service provider. This nine-digit Code authorizes the transfer of your phone number to another network. The nine-digit Code consists of three letters followed by Six numbers.
You can easily get a PAC code from your service provider via their website or text to get a code. Below are the methods to help you get a PAC code from your current service provider.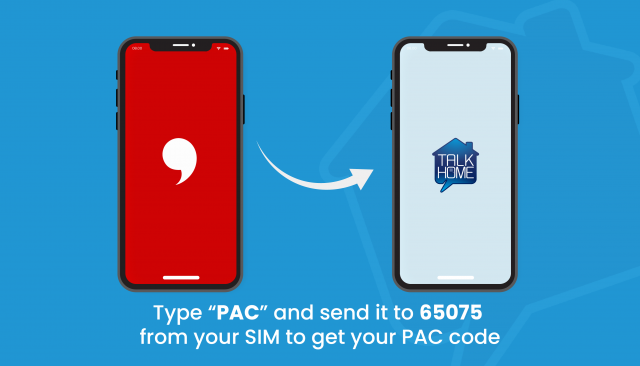 How to Get PAC Code
Network Provider
How to Get
Talk Home Mobile
Type "PAC" and send it to 65075 from your Talk Home SIM.
BT
Log in to the My BT website and go to Mobile > Thinking of leaving BT

or text PAC to 65075 by SMS text message

EE
Log in to the My EE website and go to Menu > Account settings > Leave EE

or text PAC to 65075 to get a EE PAC Code by SMS text message

GifGaf
Log in to the My giffgaff website and go to My profiles & settings > Get a giffgaff PAC Code

or text PAC to 65075 to get a giffgaff code by SMS text message

O2
Log in to the My O2 website and go to My details > Thinking of switching from O2?

or text PAC to 65075 to get an O2 PAC Code by SMS text message

Sky
Log in to your Sky Account and go to My Account > Mobile > My Number

or text PAC followed by your date of birth (in DDMMYYYY format) to 65075

Three
Log in to your My3 Account to get your Three PAC Code

or text PAC followed by your date of birth (in DDMMYY format) to 65075

Virgin Mobile
Log in to your Virgin Mobile Account to get your Virgin PAC Code

or text PAC followed by your date of birth (in DD/MM/YYYY format) to 65075

Vodafone
Log in to the My Vodafone website and go to Account settings > Mobile switching.

Or text PAC to 65075 to get a Vodafone Code by SMS text message.
Legal Obligations
Your current service provider is legally bound to give you a PAC code within 60 seconds of your request. So don't let the second thought overcome you and apply for your PAC code to switch your network.
Getting a PAC code on call is quite a hustle. Thus, we recommend getting the code through a text message. Secondly, making a call might allow them to convince you to stay, and you might not be happy hearing their rebuttals when you have made up your mind.
The code is valid for three days after its issue. You must write it down somewhere safe and secure. You do not have to cancel your contract when switching service providers; this will automatically be done when the code is used.
To be safe, you need to check if there is a fee for early exit; text INFO to 85075 to find out if the fee applies to you for ending the contract.
Usage
Once you have the PAC Code, you need to order a SIM from your new service provider. Make sure to research and choose a provider that gives you the best deal.  Most service providers allow you to order your SIM through their websites. When ordering, you also have the option to use your code straight away.
If you choose this option, your SIM card will be registered on your New SIM. We wouldn't recommend using this option since it will not give you the leverage of a temporary number, which you can use to test the services of your new service provider.
Validity & Expiry
The validity of the this code is for thirty days. For instance, if your code was issued on 1st Feb, it will expire on 31st.  Let's assume your code was given, and you didn't use it; you must wonder what will happen now.
Well, nothing happens if the code expires. Your old mobile network continues to work, and you will be charged for the plan you had previously subscribed to. You may use the standard cancellation process if you want to cancel your plan.
You can always ask for the code again if you wish to switch your network.
Interesting Read: Is Your SIM Card Not Working? Here's What You Can Do
Special Cases
Some Special scenarios you might encounter when switching your network are listed below. Be sure to review every section; yours might be on the list.
Transferring Within the Same Network
A PAC code can only be used when transferring from one service provider to another. You cannot use it to process when switching between plans on the network. Instead, you should contact the customer support of your network and ask them to change your plan.
Your Network provider might refuse to switch your plans, especially if you are a new customer. In this scenario, you may use the code to change your network and choose a service provider that matches your requirements.
Transferring a Pay-As-You-Go Number
Follow the normal PAC code process when transferring as a pay-as-you-go customer. However, you should know that you cannot transfer your credit from one mobile network to another.
Any remaining credit on your old network will be forfeited on the day you transfer your Mobile number. Therefore, using your credit before transferring your number is always a good idea. You may also choose to donate the credit to charity. You can check your favorite charity to see if they accept credit as a charity.
Transferring Ownership of Your Number
The PAC Code process can be used to transfer ownership of your SIM Card. Be aware of the privacy implications of moving your number to someone else. They might receive your calls or messages, including bank verification codes.
Canceling Your Old Mobile Contract
When you use the PAC code to transfer your phone number to another network, your old mobile network account will automatically be closed. This will happen when the PAC code is used, and the number is successfully transferred.
Other Things to Know
Some other things you might also be interested in including:
You cannot Swap phone Numbers Between two accounts.
You cannot transfer a number that has been lost.
Businesses can transfer up to 25 Phone Numbers using the PAC code.
Transferring the landline numbers has different methods compared to Mobile Numbers.
Troubleshooting
Instant Messaging Apps
Your instant messaging apps may continue to show your temporary number even when you have used the PAC code. You can choose "Change Number" in these applications to overcome the problem.
WhatsApp: Change phone number from settings
Messenger: Change your phone number from the settings
Snapchat: Set up a new Phone Number.
Line: Change your number from the settings.
iMessage & FaceTime on iPhone
After transferring your phone number with a PAC code, you might encounter problems with iMessage and FaceTime. To resolve this problem, disable iMessage and FaceTime first. After doing this, go to your device's settings and enter your correct number.
Once done, restart your phone, and you should be able to use iMessage and FaceTime.
Other Number Transfer Issues
If your number didn't transfer as planned or you are facing other issues while transferring, it is the responsibility of your new mobile service provider to resolve the issue. Contact their customer support to get the issue resolved.
One-Time Passcodes
You may have to pass additional checks even if your number is successfully transferred. This extra security is used to protect your online banking and shopping activities. This security check is an anti-fraudulent mechanism to stop scammers from intercepting one-time passcodes. You may expect it to last for a couple of days.
FAQs