Have a look around your social circle and try to figure out who would dispute the idea of saving money. Very few, if any, correct? That's the case for most of us. But despite being aware of the significance of saving money, most of us fail to pull the right strings. That's as unfortunate as it is ironic. And if you talk about the reasons, there could be endless. Perhaps the worst of all is that many of us fail because we lack the knowledge of how to save money. It's as simple as that, period.
63% of expats have increased their disposable income since moving abroad, and 65% feel optimistic about the year ahead.
Source: Expat Explorer Survey 2021 
Decide Why You Want to Save Money 
Then there's another angle to it. Many of us aren't very clear about our reasons to save money. And it's not easy doing something consistently without understanding why you're doing it. Let's be very clear and specific about one thing. Saving money and committing to it for long is not a child's play.
So, you must have a complete understanding of why you're about to choose a difficult path. To ease you through this, we're sharing our list of the most common reasons to save money. Since this blog is about saving as expats, our reasons also focus on that.
Saving Contributes to Your Freedom
When you move to a new country, you're vulnerable to so many things in so many ways. And chipping in a bit of cash here and there seems to be one of the best ways of creating some much-needed space for you. Why save something for later instead of spending on your most imminent needs, right? Allocating some money each month to savings can be very tough under such circumstances. Increased buying power makes it even more challenging.
When you move to a place like the UK as an expat, You do so for better education and/or better employment.
In the UK, USA, or other western countries, the fact is that you get plenty of opportunities for both. It contributes to increased buying power. And your urge to spend on the things you haven't had earlier makes saving even more difficult.
You've to change your thinking perspective to get the motivation to save money. You need to consider that though your paycheck enables you to spend money on what you want for now, does it give you the fundamental freedom to do what you want? An honest and logical answer would be "no, it doesn't". This freedom comes when you've enough money saved in a bank.
"When you have money available in the bank, you can do what you want without stress," says Eric Roberge, CFP® and founder of Beyond Your Hammock. "If you're wondering why you should save money, imagine giving yourself the freedom to choose what you want to do, rather than feeling stuck in a particular situation or position because you rely on the paycheck. It has nothing to do with the money and everything to do with giving yourself flexibility and choice in your life", Eric further says.
Saving Grants You Financial Security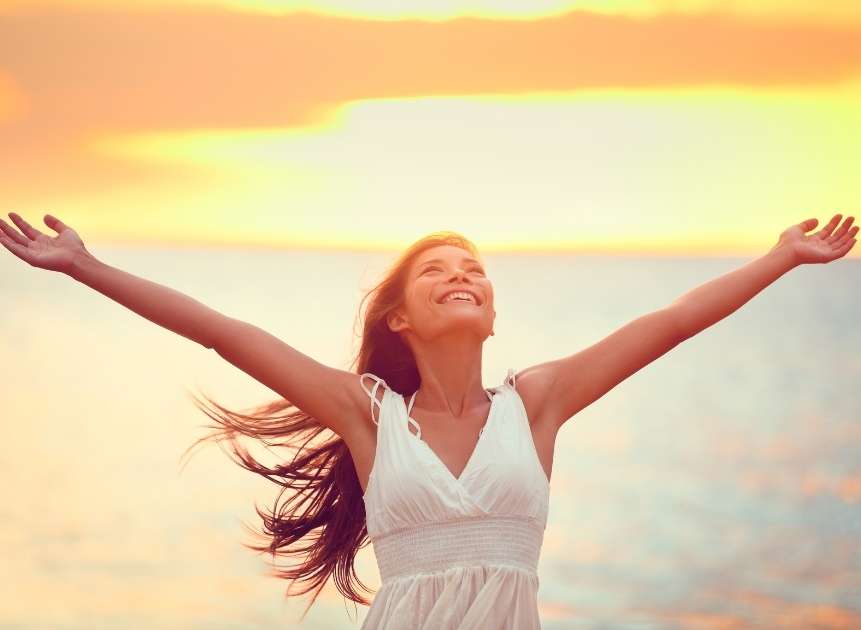 "Make hay while the sun shines" sounds familiar? It must, 'cos if not, you may lag something you'll find challenging to catch up later. Yes, you guessed it right, savings. Now let's get back to the proverb. Will it be more understandable if we swap it with something like, "sunny skies are the best time to save for a rainy day"?
One way or the other, the point we're trying to make is that you should start saving money as soon as possible. Creating an emergency fund with no minimum balance can be one of the most convenient ways of contributing to your savings.
Living a comfortable life is what every sane human wants to have. But it's much easier said than done, especially if you can't factor the time into this equation. While you're young, you've almost everything in abundance, including energy, passion, drive, will, and physical strength to do something. Everything starts to dwindle as the years go by.
So, when you start saving early, you're increasing your odds of staying financially secure in the later years of your life and enjoying the same lavish lifestyle that you're living now. Being financially secure means not worrying about generating money to meet your expenses. And that fantasy of yours can come true if you start saving money in a time when you don't have to put it away immediately.
It's even better if you can save money in both a liquid savings account as well as a brokerage account. While the savings account lets you have cash handy for unexpected expenses and emergencies, a brokerage account empowers you to invest in something for the future.
Saving Enables You to Take Calculated Risks
When you have different ways to save money at your disposal, your cash reserves start building. And what can you do with those cash reserves? Many things, of course. Getting to power to take calculated risks can be one of the best things you get with plentiful cash reserves. It's no secret that life gives everybody a chance. And when you get yours, you can make the most of the moment if you've some cash reserves up your sleeves.
For instance, you may get a chance to invest in a property in your vicinity whose owner is forced to sell it on an urgent basis to tend to an emergency. You can tap into your savings and offer to buy it at a lower price than the current market rate for such a property. Now it won't be a matter of if. It'll only be when and how much. Can you get us a better analogy for a calculated risk than this? And this is how your ability to take calculated risks grows when you've enough savings to back up your ventures.
10 Best Money-Saving Tips for Expats in the UK
So, here's your list of the top money-saving hacks, which can be your best bet for saving money as an expat in the UK:
39% of adults (20.3 million) don't feel confident managing their money. 
11.5 million have less than £100 in savings. 
Source: Fincap UK Survey
Make a Budget to Save Money
They're not wrong when they say the simplest is the best, more so when it is a piece of advice. And in this case, it's none other than making a budget for your monthly expenses. In fact, confining this advice only to expats seems a bit unfair. Whether expats or not, creating a budget should be our priority if we want to save money each month.
It is also a fact that some people start getting uncomfortable at the idea of making a budget, perhaps wrongly believing that they would need a degree or certification to do so. It can't be far from true. Creating a budget is just a way to keep track of your expenses.
All you need to do is write down every expense you expect to have through the month. And make sure you pay those expenses before spending money on other things. This way, you'll be forced to spend your money on things that matter the most. And setting your priorities right will help you value the remaining money more than ever.
When you control spending on unnecessary items, you start gaining control of your finances. It results in creating a surplus, which is what increases your likelihood of saving.
We've already highlighted the fact that many expats get inclined to a lavish lifestyle. It is primarily because of the increased income (especially when they convert the sum to the currencies in their native nations) and increased access to a whole range of amenities they didn't have earlier.
That's what makes a lifestyle change imperative for expats interested in saving some money. And if you're also interested in knowing how to save money fast, adapting to a simpler lifestyle can be one of the best ways to do so.
Adopting a simpler lifestyle can help you save money as long as you're willing to make the necessary changes. Spending less time and money on your daily commute can make a huge difference at the end of the month.. And imagine the positive outcomes if you continue this for long enough. You may consider moving close to your work. While it will help you save some quick bucks, it will also help you save an immense amount of time and energy, which you can use to generate other income streams for you.
Find a Cheaper Place to Live and Save Money
This tip on saving money as an expat in the UK stems from the previous one. If you aren't willing to find a cheaper place to live, it means you haven't fully understood the concept of adapting to a simple lifestyle in the first place.
It becomes even more essential if you live in an expensive metropole like London. Many believe that home rents can be the most significant expense for all expats. So, you need to ensure that you take care of your housing expense as a top priority.
There can be different ways of finding the most viable accommodation for yourself. This won't be an easy task, as it depends on several factors, including your age, marital status, employment status, etc. Being socially active as an expat can solve many of your problems, including finding the best place to live.
There can be different options for you if you're a student, starting from university student halls to private student halls and rented accommodations. Make sure you weigh the pros and cons of what you choose thoroughly before finalising living in the UK as a student.
Irrespective of your status as an expat in the UK, there would always be different options to choose from. All you need to do is run through their pros and cons comprehensively before finalising one.
For most expats, family is the primary reason behind them moving to a new part of the globe in the first place. So, staying in touch with family and friends back home always remains the nucleus of the expats' lives. So, we had to share something that can help you cut costs while talking to your family and friends.
We recommend installing an international calling app, buying an international calling card, or using the best SIM-only deals in the UK. Most people prefer the Talk Home App, one of the fastest-growing international calling apps that offer international top-ups and in-app credit transfers in addition to the cheapest calling rates for over 240 destinations around the world, starting from 1p/min.
However, if you want to make a better-informed decision on the topic, don't forget to go through the best option for international calling blog.
Consider Buying Second-Hand Where Possible
Though this doesn't sound like moving to a country with better income generation possibilities, it can be the best way to save money. But you should consider these two factors to make up your mind about doing this. First, there's no point in taking your belongings to a new country.
Second, do you really need to buy brand-new items for a rented place you're most likely to move in?
If you have a "no" for an answer to both these questions, you better consider buying second-hand stuff. Furniture, electronic devices, treadmills, or electric bikes will never be cheaper than brand new ones. So, why not buy something that's pretty new and costs less than half as much as buying it new?
It may also help you socialise effectively with the expat community, ultimately getting to some of those who may be leaving the country soon and are ready to sell the used stuff at pretty low prices. As mentioned earlier, they also won't be thinking of taking everything with them anyway. So, it can be a win-win situation for both parties. May, June, and July are the months when you'll be seeing most of the expats moving from the UK. Make sure you're around them when they leave and sell their stuff at lower prices.
Moreover, your expat community can guide you to the best second-hand options available in the local market. Moreover, a friend should accompany you to ensure you're not being lynched for what you want to buy. Local flea markets usually have great options, and bringing along someone who has some previous experience buying there can help.
Save Money on Your Groceries
Doing your groceries wisely can be one of the best shopping hacks to save money, especially if you're living in a place like London. It's quite an expensive place for shopping for food and stuff. However, the recent years have a rise in various cut-price stores, making it possible for an expat to cut on their grocery-shopping expenses. Not to mention, the German-based stores like "Lidl and Aldi" give you a reasonably cheap option for grocery shopping nowadays. It also forces local brands like "Tesco" and "Sainsbury's" to price match and lowers their prices significantly to sustain in the market. You can also shop online and look for exclusive deals and bargains, which are pretty abundant nowadays, again. It also saves you some hassle, time, and money in travelling to and from the conventional stores.
Dining out is a simple little fun we won't recommend you miss out on. But we can surely advise you on cutting costs while doing so. You'll be amazed to see the number of restaurant voucher codes on websites like Groupon and Voucher Cloud. They offer different deals, such as free courses, 2 for 1 meal, or even a percentage discount on the final bill at many restaurants across the UK.
There's another excellent way of saving money even if you've some reservations about signing up for any such discount websites. Many restaurants also offer loyalty schemes. Instead, you can sign up for any of those and get the deals' notifications right in your inbox.
You'll have to learn to do things yourself if you want to save money anywhere, particularly in the UK – welcome to the DIY (Do It Yourself) club. It's correct that the temptation of hiring a professional to do plumbing or wiring sounds irresistible and sensible. But this isn't going to help you save much-needed money in a new and strange place. You'll not only have to develop the required skills to take care of minor issues in your home and workplace, but you'll also have to learn the right time to call in the professionals.
You need to be very fair with yourself in this. Do you really need a car? This question becomes more relevant for someone living in a place like London. It's pretty strange but true that when you start settling in London, you realise that many people don't own a car. And you know very well that many of them can easily afford one. Then why not? Well, because it's pretty expensive to have a car in London.
Some of the most basic expenses you're exposed to when you own a car in London include the vehicle tax, MOT, and vehicle insurance. Even if you've no financial issue paying these taxes, driving around in London is painful. How about paying over £10 daily (£11.50 nowadays) as congestion charges for going into the centre? It hurts, right? Oh, and don't forget to add unbelievably high parking charges into it as well (that's if you're lucky enough to get a parking space). Did we mention how slow the traffic moves in peak hours? Or are you feeling intelligent to guess it by now? That's not all, though. Fuel prices in the UK are amongst the highest in the world.
Are you wondering, what's the alternative then? You will find that the UK and London offer one of the best public transportation systems, including tubes, buses, trains, ferries, and aeroplanes. If you ask us how you can save money as an expat in the UK, we will recommend using public transport whenever possible. 
Let's consider this as an extension of the last point. The basic idea is to cut down on your travel expenses to help you save more money while you're sacrificing so much staying away from your family. Again, there are more options for those living in and around London than those living farther away from there. But the fact is that the UK transportation system allows you to cut your travelling costs significantly, only if you're willing and ready.
For instance, if you want to travel by air or by train, you can book in advance and get great discounts on your tickets. If you're planning air travel, try Skyscanner, one of the best travelling apps. It not only helps you find cheap flights but also showcases different types of deals, consolidating your air travel so smoothly that it's simply unbelievable.
And for cheap train travel, you won't get anything better than the Trainline, definitely one of the best travel apps in the UK. From offering e-ticketing or mobile tickets to keep you safe from dangers like the COVID-19, it has some innovative offers like Flexi Season Ticket and SplitSave.
Flexi Season Ticket is a new type of ticket designed especially for UK travellers who have flexible schedules and travel quite often. You can get them as a bundle of 8 Day Passes to enjoy unlimited travel between any two locations.
SplitSave is a feature designed especially for people looking to get the cheapest train tickets for longer journeys. You can schedule and buy tickets on the go, up to 15 minutes before the departure, paying instantly and securely.
We know that's making you happy. So, why not make you even more comfortable. Just go through our compilation of the Best Travel Apps to ease your trips and save money doing so.
Conclusion
Saving money can improve your life in many ways, from financial safety to stress relief. All you need to do is identify your reason to save money that motivates you to pursue that goal, which this blog is all about.
As an expat in the UK, this article provides you with a blueprint for saving and making your life better.