Internet Download speed determines the number of megabits (Mbps) consumed by your server every second to transfer data to your phone/laptop. The data can be in many forms, such as documents, photos, audio, video, and texts. All the apps we use nowadays – Facebook, Instagram, and YouTube – require internet data to operate.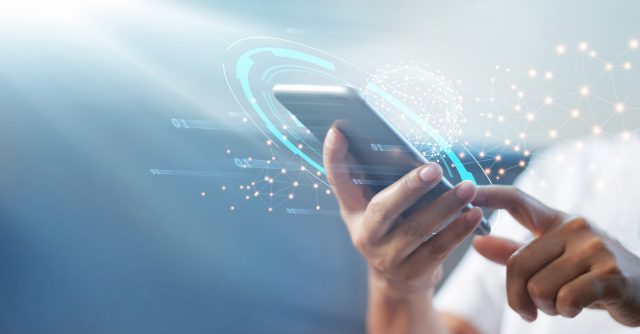 Your internet download speed going low can result from multiple factors such as excessive users on a single network, low-speed data plan use, outdated devices, heavy data consumption, etc. In this article, we'll explain the essentials of a good download speed and draw a comparison between average 3G, 4G, and 5G download speeds in the UK.
Good Download Speed: Explaining the Term
The overall speed of the internet is usually measured in terms of its download speed. According to the Federal Communications Commission (FCC), the internet connection can be classified as "broadband" or "high-speed" only if it provides a download speed of more than 25 Mbps and an upload speed of more than 3 Mbps. Although most people will call it a good internet speed, it is still not that fast, given the daily technological advancements.
On the high end, download speed in the UK can reach up to 1000 Mbps (1 Gbps) even in residential areas. Various internet service providers offer even 2 Gbps, while AT&T offers 5 Gbps. For user convenience, we've compiled different download speeds and how much load they can handle.
Internet Speed
Works Best For
0-5 Mbps
·        Checking emails

·        Streaming music on a single device

·        Google searches

5-40 Mbps
·        Video streaming on a single device

·        Facetime or Skype video calls

·        Single-player online gaming

40-100 Mbps
·        HD video streaming on multiple devices

·        Online gaming for multiple players

·        Downloading heavy files

100-500 Mbps
·        UHD video streaming on multiple devices

·        Downloads large files swiftly

·        Multi-player online gaming

500-1000+ Mbps
·        Doing almost everything on more than one device
How to Check Internet Download Speed?
Now that you've got an idea about a speed range suitable for your usage, it's time to determine whether you're actually getting the required speed as promised by your internet provider.
The price range for a good broadband connection in the UK is less than £45 per month. These monthly plans offer between 50-500 Mbps as per their price. Although 50 Mbps – the lowest offered range – is also a good speed for average domestic use, the users still complain about speed issues.
You can find multiple websites like Fast and Speedtest that offer free internet inspection for all your devices. Here's what you need to do.
Connect internet on your laptop, PC, or mobile phone
Open your internet browser
Navigate to Fast.com or Speedtest.net
Click on "Go"
If your internet speed is a little above or below what the service provider promised, that's fine. But if the speed is abnormally lower than what you pay, you should contact your internet provider and ask for a fix. Usually, internet speeds can vary throughout the day. Therefore, we suggest performing speed tests simultaneously for 24 hours before reaching a conclusion.
What's the Average Download Speed in the UK?
According to World Broadband Speed League 2021 report, the UK ranked 43rd out of 224 countries for average broadband speed. The result was calculated by performing 1.1 billion speed tests in one year.
The report further defines that the average download speed in the UK revolved around 22 Mbps. However, the report doesn't assure the calculated result as the final verdict. As said, the same research was carried out by Ofcom and Ookla, and their results were entirely different. Ofcom recorded the average download speed in the UK as 54 Mbps, and Ookla's final result was 61 Mbps. Such variations in results might happen because of different research methodologies used.
Average 3G Download Speed in the UK
This chart shows the average download speed in the UK for each operator on a 3G network.
| | |
| --- | --- |
| 3G Network | Avg. Speed |
| Vodafone | 5.24 Mbps |
| O2 | 4.76 Mbps |
| EE | 7.78 Mbps |
| 3 | 6.95 Mbps |
| | |
Average 4G Download Speed in the UK
This chart shows the average download speed in the UK for each operator on a 4G network.
| | |
| --- | --- |
| 4G Network | Avg. Speed |
| Vodafone | 20.07 Mbps |
| O2 | 15.16 Mbps |
| EE | 29.02 Mbps |
| 3 | 22.55 Mbps |
| | |
Average 5G Download Speed in the UK
This chart shows the average download speed in the UK for each operator on a 5G network.
| | |
| --- | --- |
| 5G Network | Avg. Speed |
| Vodafone | 122.1 Mbps |
| O2 | 143.9 Mbps |
| EE | 149.8 Mbps |
| 3 | 105.5 Mbps |
| | |
What is a Good Upload Speed?
Upload speed is usually responsible for rapidly sending and uploading data – files, pictures, documents, audio/video – from your device to the internet. Moreover, upload speeds are also responsible for smooth video calling, online gaming, and VOIP calling.
Upload speeds affect how others see and hear you on the other end of a video conference or online game, similar to how download speeds affect the picture and sound quality when streaming a show on your TV. When using programs like Skype or Zoom, slow or inconsistent upload speeds are frequently the source of unpleasant frozen screens and broken audio.
Upload speeds of 5Mbps or above are generally regarded as "excellent" when using a cable connection on a single device. It will support most activities requiring data uploadings, such as HD video calls and online gaming. However, if you're using a Wi-Fi connection, the optimal upload speed should be more or equal to 10 Mbps.
Performing a speed test will make you aware of your upload speeds. If you've noticed unnecessary lagging and excessive freezing while video calling or Facetiming, there isn't even the need to perform a speed test since your upload speeds are already low. That's why you're experiencing the lag.
How to Increase Your Download Speed?
Knowing that the number of users and devices connected to the same network affects your internet download speed is crucial. If you normally use 3 to 4 devices on the same network simultaneously, your internet consumption is moderate to high. You should limit your internet speed to 25 Mbps in such a case. Buying a connection lower than that might cause speed issues.
However, if you experience lagging issues even with high-speed internet availability, there might be several other reasons. Follow these tips to increase your download speed.
1. Restart Your Device
Turning your device off and on solves most of the minor issues. Always restart your phone if you don't know anything else. Sometimes, your phone lags when it tries to manage so many apps opened simultaneously. It also results in slow downloading speeds. Giving your phone a quick restart allows it to close all the pending functions. After turning your phone off, rest for a few minutes before turning it on again because it will give some time to the processor to cool itself off.
2. Enable and Disable Aeroplane Mode
Turning Flight Mode on and off will reset your smartphone's internet connection, much like restarting your device. Your smartphone's cellular data and Wi-Fi are turned off when you put it in airplane mode. Turn it on and off several times before turning it back on to see if the network improves.
Swipe the notification bar and find the Aeroplane button from the settings menu. After a little pause, tap it twice to turn it on and off.
3. Reset Network Settings
When you reset your network settings, your device's connection settings are erased, giving you a fresh start. After resetting,  choose between 4G and 3G, depending on your preferences. However, you will have to re-enter your old Wi-Fi password and other saved information since everything will be erased after the reset.
4. Close All Data Draining Apps
Sometimes, slow internet speed can also be caused by heavy applications running on your device. We often minimize the apps rather than closing them completely. With many apps running unnecessarily, your device's computing speed and internet speed are affected.
Always close your apps when they are not in use. Especially the apps that consume background internet data. Using one application simultaneously will divert the entire speed to that particular application. This way, you will not only save your internet data but also increase the download speed.
5. Change Internet Browser
Google Chrome browser on Android and Safari browser on iPhone are way heavier in size than most of the other internet browsers. You can try different light and quick browsers to determine how fast they respond on your phone. Remember to download only the verified and trusted apps.
6. Update Your Device's Firmware
Keeping your device updated saves you from multiple hassles. Internet speed is affected if your device is not running on its latest firmware. Since the applications on the Google Play Store and iOS App store are continuously updated and synced to the latest firmware, it's better to update your phone when the update arrives.
7. Use Alternate Services
If you're a UK resident experiencing download speed issues in your area, try Talk Home's PAYG SIM for uninterrupted, super-fast 4G internet data and tons of calling minutes. Talk Home offers internet data plans best suited for every budget. Moreover, the SIM works hassle-free in almost every corner of the UK since it is powered by UK's largest network, EE. The cherry on top is that you can order their PAYG SIM totally Free.
Quick Wrap Up
It's really frustrating seeing your internet speed getting leggy and fluctuating. It hurts even more if you're watching your favourite show, playing your favourite game with friends online, or doing an important task from the office. These simple and quick fixes will help you understand your internet consumption range and how to increase your average download speed without changing your internet service provider.
FAQs
What does Mbps mean?
The abbreviation for Mbps is "megabits per second." It's a metric for how much data can be sent over the internet in a given time. In other words, bandwidth refers to the speed at which your internet connection downloads data. It refers to the fastest speed at which data from the internet can be downloaded to your computer/laptop or mobile device.