Most of us hate carrying around a lot of "stuff" with them while out exploring. Typically, a purse or a day bag suffices, with a smartphone and a smaller camera. Let's admit, there are days we completely forget to pull out our camera and end up snapping everything with my iPhone or the latest Android.
Modern technology has seriously stepped up the photography game of the average consumer. Beautiful high-res photos are literally a "tap of the screen" away on a device small enough to carry in your pocket.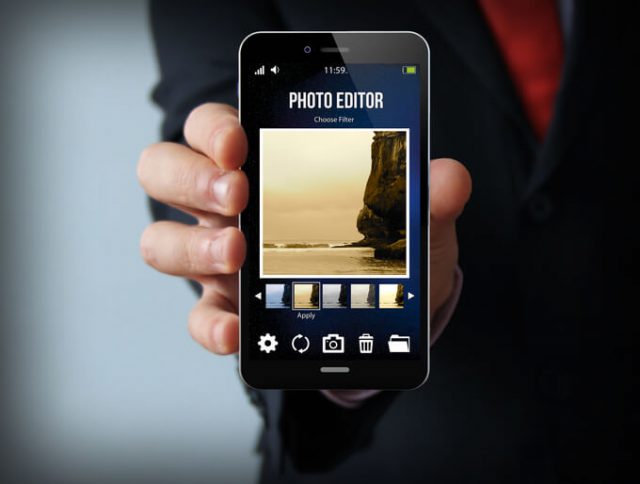 Aside from actual photo apps, there are also countless smartphone apps made for photographers shooting with professional DSLR cameras. And this blog is all about introducing you to those handy apps that can take your photo sharing to the next level.
So, let's have a look at some of the best photo editing apps for travel photographers on the go:
1. Snapseed
Platforms: iOS & Android
Overview: There is a reason this app is on top of our list of best photo editing apps. This handy editing app has become the go-to for photographers looking to adjust the basics of a photo like cropping, colouring, sharpness, and distortions. The app can seem confusing at first but is an easy, effective and very powerful editing tool.
It allows you to take full control over the editing of your photos and, except for the basic tools, Snapseed supports a wide variety of more advanced options such as double exposure, curve control and filter adjustments.
Using swipe gestures, you can manually or automatically enhance your photos in several ways, and this is also useful to adjust the dimension and rotation if your horizon is not as straightforward as it should be.
Pros
The software is free to use. Lots of the video editing software out there is very expensive, so this is a good option if you are low on funds, or just wish to try the app
Comes with several professional-grade presets, and editing tools. This can be useful if you are inexperienced, and want to have most of the work is already done for you
The software is tried and tested by amateur and professional photographers alike, so you know you are getting a tried-and-true program
Cons
There is a slight learning process, even though it is considered user friendly
Not for complete beginners, it does help to have some initial experience, though there are several videos that can assist with learning
2. VSCO
Platforms: iOS & Android
Overview: This app is best known for its preset filters, a similar concept to the filters on Instagram, but much more varied and easier to manipulate. The extensive range of free and not-so-free filters for VSCO has been created to help photographers easily discern their personal style. VSCO is often used in conjunction with Snapseed to get the best end result on an image.
Not only is VSCO one of the best photo editing apps, but it is also a photo-sharing app. Similar to Instagram, enthusiasts can edit photos and post them on your VSCO profile. This allows you to create personal albums with specific themes.
Pros:
Attractive, simple design
Good editing tools for exposure and colour
The lack of like counts and comments staves off trolls and competition
Cons:
Most filters require a paid account
Dark-mode not available
No web editing or desktop apps
No commenting
3. Canva
Platforms: iOS & Android
Overview: This all-in-one photo editor app can help you create any type of visual images for your business, media platform or marketing campaign. There is a premium, yet affordable, paid plan to unlock for ultimate usability, but the free download is still well known as one of the best photo editing apps.
Canva thrives as a graphic design tool with several templates, stock images, vectors and icons that you can use to create any visual piece when you don't want to use one of your own photos.
The user-friendly interface is easily managed by swiping and finger movements. You don't have to be a design pro to get the hang of this photo editor app.
Pros:
Ample of creative templates for Flyers, Posters & Banners
Attractive and user-friendly Interface
Regular Updates and supports big Applications Like Instagram, Twitter and Facebook
Cons:
Less cloud storage in the free plan
Animation and vector design is missing
4. Magic Hour
Platform: iOS
Overview: If you're into travel photography, you will know when we talk about the ultimate pursuit of mastering that perfect golden hour look. Although this "look" is mainly related to outdoor photography, since the rise of social media started, this look has become a popular scene for portraits as well.
Not really a photo editor app, but if you're into taking photos outdoors, Magic Hour saves the day (literally)! This photography app helps photographers to identify when golden hour (the best light of the day) occurs and also tells users how long this time range will last in your specific location.
Pros:
Tons of filters with thumbnail previews
Make your own custom filters
Slightly better camera
Cons:
The same crop is applied to every image
5. Ribbet
Platforms: iOS & Android
Overview: Ribbet is a lesser-known photography app, which is a pity, as this is one of the best photo editing apps recommended by experts when it comes to being the most effective and straightforward.
The interface and design are similar to Snapseed (in terms of its uncomplicated swipe-navigation). However, Ribbet is labelled to be a faster and more convenient photo editor app when it comes to filters and retouching.
Filters are instantly loaded, and the retouching tool lets you make all the fundamental adjustments like whitening teeth, and partially correcting skin imperfections.
Pros:
Ribbet allows you to resize or crop your photos. This lets you change their size or scale and cut off parts you do not want
Ribbet has many special effects that can be added to your photos to bring life to them. Your photos will look much better with the colourful features that you can add to them
Ribbet works on most major computers. No matter what system you are using, you should be able to get online and get on Ribbet to make the edits to photos that you need
Cons:
Ribbet does not have a library that you can pick photos from to practice your editing skills on
If you are going to practice editing with Ribbet, you have to use your own photos
Ribbet could have more special effects and font types than it does
6. Adobe Photoshop Lightroom for Mobile
Platform: iOS & Android
Overview: A classic on the list of best photo editing apps. Adobe programs are more known for their computer versions, but we are forever grateful to the genius who invented the related mobile app.
Although its features and tools are on the pro-end side, it is relatively easy to figure out, and there are many downloadable mobile presets to take your travel photography to the next level. Best of all…for free!
If you're more comfortable editing on your laptop than on your mobile phone, it's super easy to transfer the image to your phone and share it on your social media platforms. By signing in to the same cloud account on both your laptop and your phone, you can easily transfer images through the app.
Pros:
Quick management of a large number of photos
Colour correction of several photos at the same time
A large number of tutorials
Many useful presets
Supports almost all RAW formats
Cons:
Inconvenient catalogue system
Inopportune photo export
You should have the latest smartphone model to work with many RAW files
Weak portrait edit capabilities
7. Afterlight
Platform: iOS & Android
Overview: This easy-to-use editing app offers quick and simple editing tools for when you're in a hurry. It also has a wide range of filters to use, but the textures in Afterlight are what make it fun to play with.
The different textures can create a variety of looks on your images for a particular style you might be going for. The variety of frames to border your images in Afterlight are also unique to this app, creating a wallpaper effect, or something perfect to share on Instagram.
Pros:
User-Friendly
Easy-to-Create Photo Filters
Included Preset Filters Save Time
Community Filter Sharing
Text Overlay Tool
Selective Hue Adjustment
Selective Lightness
Cons:
Unnecessary Features and Tools
Lack of Frame Options
8. TouchRetouch
Platform: IOS / Android
Overview: If you've captured the perfect shot but have one annoying object that's detracting from the entire scene, you can use TouchRetouch to remove it. The app just requires you to use your finger to 'colour in' the object that needs to be removed and then you hit 'go', and it's gone.
It may be a bit tricky to remove objects that really requires detail, but if you're looking for a quick fix, this is one of the best editing apps you will find!
Other than removing pesky wires or misplaced props, you can also use TouchRetouch to make objects appear like they're hovering in a scene or remove the supports holding something up for a little fun.
Pros:
This retouch app is a handy and easy-to-use editing tool that results in almost par with Adobe Photoshop
TouchRetouch app supports a wide range of picture formats; this means that you can access and edit more photos with this retouch app
Cons:
To edit out specific objects from your photo using the app's retouch tools, you need to master the TouchRetouch cloning tool, which requires a lot of patience and the right judgment to choose which patterns are applicable to blend your background naturally
Also, unlike editing apps like Photoshop Fix or Adobe Lightroom, the TouchRetouch app does not have functions that let you correct the lighting of the image or adjust image sharpness and contrast
9. Pixlr
Platforms: iOS & Android
Overview: Pixlr is initially known as an online editing tool for computers but recently launched the mobile app version. If you're looking into more detailed editing, PIXLR may not be ideal. This is one of the photography apps that focuses on users with limited editing skills, but who also want to be part of the creative sphere.
That being said, if you're looking for an easy, simple all-in-one app with the essential editing tools, PIXLR is your friend. The start screen greets you with an option to take your own photo, upload a photo, make a collage or use built-in templates, how easier can it get?
Pros:
Professional photo editing features free of charge and editing quicker and easier without needing expensive computers
It works well even on weaker and mobile devices
Social media templates make it easier to edit photos for social media posts
Cons:
Sometimes ads that are displayed while working can be distracting and annoying
No drag-and-drop functionality
10. Moldiv
Platform: IOS / Android
Overview: Similar to Canva, Moldiv is an excellent option for creating collages and therefore made our list of the best photo editing apps. It takes a few simple steps to create your masterpiece. Your creativity is spoiled for choice when it comes to effects, templates and vectors.
Moreover, the app's built-in system also gives users the option only to select their photos, where the system chooses the position, size and colours depending on the overall tone and saturation of the added images.
One tool that particularly shines above all is the scissors. This tool makes it possible to modify the boundaries of the internal images of the collage. This comes in handy if you don't want to add an entire photo to the collage and lets you cut out the specific part you want.
Pros:
Variety of innovative filters, stickers & templates
Intuitive collaging interface
Cons:
Lack of template customization
A lot of ads in the app
11. Instasize
Platform: iOS & Android
Overview: With over 130 filters for photo and video, it's one of the most comprehensive photo editing apps on the market. Resize your images, add borders (they are the OG for the Instagram white border trend!), make custom layouts, and even retouch your photos in one powerful tool.
We feel like they are constantly coming out with new features! Our next goal is to use their video editing tools to make engaging Reels for upcoming Instagram stories.
If you're looking for one app to use for both image editing AND short-form video, Instasize is definitely for you.
Pros:
Really intuitive design, easy to use. A huge platform of features, for both photo and video editing
Beauty tools
Variety of editing tools available in the free version
Resize options for social media profiles
Cons:
Advertising in the app
The relatively expensive premium fee
Only 10 filters in the free version
12. Adobe Lightroom: Photo Editor
Platform: iOS & Apple
Overview: Adobe Lightroom: Photo Editor is one of the most powerful mobile editing tools out there for professional photographers.
With the ease of use from desktop to mobile versions, you can download your own presets on both devices and get the same editing results wherever you go.
Along with custom preset creation, Adobe Lightroom: Photo Editor has several advanced photo editing tools like tweaking tone curves, gradient, and effects to make a photo exactly how you want.
Pros:
Built-in file management/cataloguing system
An organization with collections and galleries
Fast and easy photo books, slide shows, and web galleries
Non-destructive editing that preserves file data
Easy and fast syncing of editing steps
Snapshots and Virtual Copies are perfect for exploring editing options
Cons:
No layers or blend modes
Minimal graphic design elements like adding text elements or making advanced collages
Limited editing options
13. Canon Camera Connect
Platform: iOS & Android
Overview: If you own a Canon camera with Wi-Fi capabilities, which is basically everything newer than a Canon 5D Mark III (even the new entry-level Rebel T6 has it!), you have the ability to transfer raw photos directly from your camera's memory card to the camera roll on your phone.
We love to pull photos from the memory card to edit and share with our Instagram followers as close to real-time as possible.
Cannon Connect also acts as a live viewer if your camera is on a tripod. You can snap the shutter from your phone, or even use it to capture the perfect selfies!
Pros:
Immediate access to photos, the ability to transfer files without an intermediary device
Remote shoot with live view imaging of the camera from a smartphone.
Acquire location information from a smartphone and add it to the images on the camera
Cons:
Photos can quickly take up memory on phone because of huge raw file image sizes, only for Canon users
14. A Colour Story
Platform: iOS & Android
Overview: Have you ever wanted to share a photo of a delicious meal with friends – but couldn't get a good shot because of poor lighting and dull colours? The filters of "A Color Story" are supposed to help and turn a snapshot into a colour intensive picture. All in all, all tools are easy to use.
They include options for adjusting brightness, clarity, contrast, (colour) curves, saturation, temperature and other photo elements. Users can also crop or rotate photos, adjust shadows and hues or add vignette effects.
In addition, the creators of "A Color Story" have developed a desktop app to simplify the editing process. The desktop version offers Lightroom presets and Photoshop actions that make these time-consuming editing steps more efficient.
Pros:
Includes over 20 free tools
Offers a desktop version with Lightroom presets and Photoshop actions
Cons:
Requires purchase of most filters and effects
Many displays within the app
15. PicsArt
Platforms: iOS and Android
Overview: PicsArt is a free mobile editing app available on iOS & Android. The app is very simple to use bringing the fun back into editing as even beginners can use it with more ease than Photoshop.
There's a large variety of filters, stickers, and artistic text that you can apply to your image and make a boring picture stand out with more creative flair. If you want to combine an image with another you can easily do that and erase part of the second image to blend the two images nicely.
This is perfect if you like how the subject looks in one photo, but the background is more suitable in another. You can also easily remove the background and change the colour or pattern with one of the many filters you can choose.
Pros:
Loads of photo tools and effects
Drawing tools
Active social network
Highly adjustable filters
Layered effects
Shares to social sites
Cons:
Ads clutter interface in free version
Encourages gaudy images
Occasionally slow
Conclusion
There are many more photo editing apps in the market not mentioned in this list but are definitely a must-try. The apps on this list are not ranked in order of their best performance. Because as you noticed, these apps are the best in their own different way.
Some of their features may overlap, but one app always has that extra helpful feature that makes it special. Do your research, figure out which app works best for you, and be the best photographer.