We're here with a list of some of the best money-saving apps UK residents can use. These include a variety of open banking autosaving apps that manage to round up and save your spare change digitally. They do so through fair exchange rates, free ATM withdrawals, and other options.
So, you're right whether you're interested in knowing about the best money-saving apps for android or searching for the best money-saving apps for iPhone.
What Are Money Saving Apps?
Autosaving apps use smart technology to assess what you can save and then ease the process for you, i.e., transfer money from your bank account to a virtual savings account. The intention is to start building savings without you noticing that money is running out.
This write-up covers everything important you need to know and all the best options.
How Do They Work?
Money-saving apps offer several features and benefits that can help you increase your savings and improve your overall spending. Depending on the type of storage application you want to use.
Automatic savings apps help you save money by regularly depositing small amounts into a special savings account or rounding up purchases and automatically saving the difference.
Their debit cards also offer a range of benefits, including fair exchange rates, free cash withdrawals at foreign ATMs, and more.
Most money-saving applications require you to connect to your bank account to gain easy access to your money when you set your savings goal, set money aside, or make payments and withdrawals abroad.
If it starts making you uncomfortable, you can always ask the app to save less or return money to your checking account when you need it.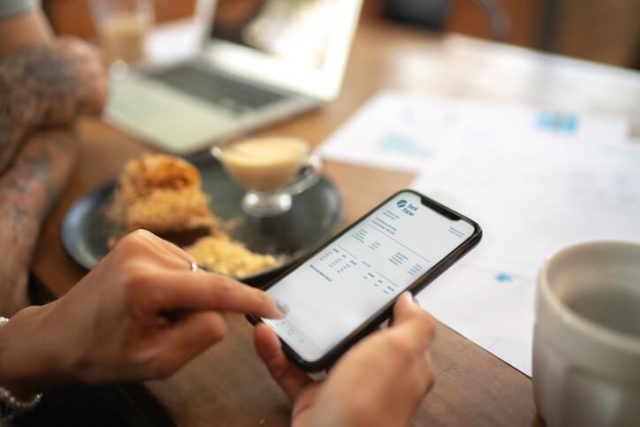 10 Best Money Saving Apps
So, here's the real deal, the list of best money-saving apps that actually work.
1. Talk Home App
Available Platforms: App Store | Google Play
Best For Students and expatriates who want to save money while communicating with their families and friends in their home countries.
Talk Home Mobile is launched as an MVNO (mobile virtual network operator) through EE, the UK's largest mobile network. It offers its services without contract or agreement. You do not need a credit check or a minimum registration period if you are a new user.
Talk Home offers its customers monthly plans with minutes, text messages, and data that they can use anywhere in the UK. Likewise, there are many national and international calling plans and data plans to choose from, which are remarkably cheaper than mainstream networks.
As Talk Home uses the best network in the UK, its quality remains unquestioned. In addition, users can also send mobile top-ups to their loved ones in more than 200 countries worldwide. Many experts also see it as one of the best student money-saving apps.
Pros:
• Crystal clear phone calls
• Best price for international calls
• Allows sending messages to anyone in the world without having the app installed on the other end
• Covers over 250 destinations worldwide
• Automatic contact syncing
Cons:
• No video call
• You cannot share your current location
2. Plum
Available Platforms: App Store | Google Play
Best For: Round up purchasing, auto-saving, and investing, offering up to 0.40% AER (Annual Equivalent Rate).
Plum assists you by calculating how much you can afford to park aside and automatically saves for you.
This app lends you an overview of your financial situation and analyses your expenses to keep track of your finances. Plum also identifies if you pay more on your bills and can automatically switch to a better service provider to save extra.
If you find that your app saves too much or too little, you can always alter the amount. You also can withdraw your money from the app whenever you want.
Plum has some great deposit features like Round-Ups, Pay Days, Rainy Day Savings Rule, and 52-Week Saving Challenge.
Pros:
• If you are interested in automated investments or want to capitalise on your savings, Plum Plus or Plum Pro may be for you
• Allows you to save money easily and automatically
• Intuitive features make it easy to use
• Budget functionality to prevent over-spending
Cons:
• Doesn't allow you to access your money instantaneously – may take up to 24 hours
• Customer service time is limited
3. Chip
Available Platforms: App Store | Google Play
Best For: Autosaving, investing, and setting savings goals, offering up to 0.70% AER.
The Chip allows you to save money by analysing your banking transactions, identifying changes in reserves, and automatically deferring them.
By adjusting your security level, you can decide whether you want to do things steadily or drive at full speed and save money faster. It allows you to review and tweak individual transactions before the Chip moves your money around.
You can even skip it altogether.
This app's technology learns from your improvements and adapts your future savings accordingly. It offers several nice deposit features like Save Streaks and Payday Put Away. The app also allows you to withdraw your money whenever you want, assisting with auto-savings comprehensively.
Pros:
• User-friendly application
• Automatically save money
• Funds saved in Instant Access Accounts
• Easy way to save
• Provides cost analysis
Cons:
• Lengthy application process
• To reap higher interest rates, you must refer friends
• Deposits limited to GBP 600 per month
4. Moneybox
Available Platforms: App Store | Google Play
Best For: Round up purchasing, auto-saving, and investing, offering up to 0.25% AER.
Moneybox helps optimise your savings by rounding up your card transactions to the nearest while saving the difference. (For instance, if you spend £3.20 on coffee, Moneybox will automatically save you 70 pence).
You can choose to deposit your money in a 45-day Notice Account or a 95-day Notice Account. And if you want to pause savings or think that the app is parking in more than you're comfortable with, you can turn off rounding at any time.
You can withdraw your money using the app once a month.
Pros:
• Suitable for beginners
• Offers several reward options
• Different types of saving and investment accounts
• Provides many learning resources
• Convenient user interface
• Offers different allocations of several risk-based tracking funds
Cons:
• Costs can be a problem for those starting small investments, as costs can be more than monthly profits. You can earn more money with a high return current account
• It may be some time before you see a significant return on your savings
5. Starling Bank
Available Platforms: App Store | Google Play
Best For: Rounding up and setting savings goals with AER up to 0.50%.
Starling Bank's "Saving Spaces" feature works like a virtual piggy bank, allowing you to set savings targets and save money from your principal balance.
You can customise your savings account with a picture and a name to incentivise your savings, using the Round-Ups feature to put your loose change in a place that gives you profits. You will continue to earn your savings up to the applicable account limits.
Pros:
• Application-based banking with various money management functions
• Interest on the current account balance
• Overdrafts and loans on-demand in the application
• Suitable for international transfers and overseas spending
• 24/7 live chat support
Cons:
• Currently available only to UK residents
• Offers opportunities only with the companies that Starling works with, which means you won't always be getting the best price
• There is no bank branch, but you can use the Post Office for cash deposits and withdrawals. However, you will not receive any personal communication with a Starling Bank employee
6. Monzo
Available Platforms: App Store | Google Play
Best For: Rounding up and setting savings goals with AER up to 0.70%.
Monzo Bank offers you a saving market in the Monzo app, where you can choose between a growing number of service providers and competitive interest rates that suit your savings goals.
With Monzo, you set savings goals, round off your extra change, and automatically save the difference in a piggy bank.
Pros:
• Has a banking license (deposit guarantee, standing orders, direct debits, etc)
• Seamless functionality and user experience
• Excellent customer service experience
• Easy to set up
• Serves great in budgeting
Cons:
• Restricts you with daily spending and withdrawal limits
• A £1 fee for depositing cash at your local PayPoint
• You can deposit no more than GBP 1,000 in cash every 6 months (GBP 500 if you are 16-17 years old)
7. Raisin Homepage
Available Platforms: App Store | Google Play
Best For: People looking for the savings account marketplace offering an AER up to 1.80%.
Raisin UK is a free and convenient savings account marketplace that puts you in touch with many banks offering deposit-guaranteed savings accounts at competitive high-interest rates.
With Raisin, you can sign up to open as many savings accounts as you want and manage everything under one roof for free. After registration, you can choose from a wide range of savings accounts without filling out a new application every time you create a new savings account.
Users can choose from various easily accessible savings accounts, notice accounts, and fixed-income bonds.
Pros:
• Various savings products are available with an on-demand form, requiring the paperwork only once
• Raisin does not impose any tariffs on its customers
• Facilitates savings management. It gives you a view of all the accounts you have set up through Raisin in one place and you always have a clear perspective of what is happening
• FSCS protection is available at all stages of the process. Starling and the partner banks with which Raisin UK cooperates are safe for your deposits
• Exclusive savings offers with a welcome bonus of up to GBP 200
Cons:
• Not a complete market. Not all banks, mortgage lenders, or savings providers offer their savings accounts through Raisin.
• No physical branches, which means it doesn't work well for people who prefer to manage their savings in person
8. Monese
Available Platforms: App Store | Google Play
Best For: Rounding up, travel, money and savings pots, offering up to 1.80% AER.
You can save money using Monese in interest accounts and saving pots. Savings accounts offer you a viable way to save money, keeping it separate from the main account, but not earning any interest.
You're allowed to create pots in multiple currencies and withdraw money from them whenever you want. You can also round up your loose change and save the difference in up to 10 different pots. account.
If you're interested in saving with interest, Monese offers you a marketplace partnership, allowing you to open an interest savings account. These interest-bearing accounts have FSCS protection, so you can be sure that your savings are protected.
You just need an ID and a selfie photo to open a Monese account. No credit check is required. Monese also offers travel money, international transfers, and multi-currency accounts.
Pros:
• Fast installation, simple and hassle-free application, excellent user experience
• Offers a UK bank account without proof of permanent residence or credit history
• Premium subscription with more privileges
• Categorises and notifies on spending
• Dual currency accounts
Cons:
• No banking license (no deposit guarantee)
• Monthly ATM withdrawal limits, wire transfer limits, and spending limits
• Poor customer support (if the chatbot can't respond to your request, personal support is very slow)
9. Revolut
Available Platforms: App Store | Google Play
Best For: People interested in viable auto-save and invest opportunities, round-ups, and other savings goals. Offers up to 0.65% AER.
It is one of those personal finance and money management apps that help you save money by instantly planning, saving, investing, and withdrawing money. With Revolut, you can fund your account on the go with one-time transfers or do it effortlessly with scheduled payments and backup sets.
Revolut rounds your card transactions to the nearest pound and saves you the difference thanks to the rounding feature. The money deposited into the Revolut Savings Treasury is protected by the FSCS up to 85,000 GBP and is deposited with a trusted partner bank. Revolut also allows you to withdraw money in over 30 currencies, including cryptocurrencies and commodities, lending you 1% cashback when you upgrade to Revolut Metal.
Pros:
• Its growing list of features includes virtual cards and cryptocurrencies
• Premium subscribers have travel insurance and other benefits
• With a virtual bank, you can have up to 29 international currencies in one account
• Starting up and setting up an account is easy
• Free ATM withdrawals wherever you are. This is very useful for people travelling abroad
• It is possible to buy health and travel insurance
Cons:
• You may be charged exchange rates plus 0.5 – 1.5% on weekends
• Some services are only available with a premium subscription
• While some regular downloads are free, some downloads come with a fee
10. Currensea
Available Platforms: App Store | Google Play
Best For: People interested in saving on foreign exchange fees while travelling abroad.
With the Currensea app, you can save money on exchange rates when you travel abroad with your Currensea card.
Depending on the Currensea plan, you can save from 85% to 100% on exchange rates worldwide. It easily connects to your bank account through Open Banking without requiring you to pay in advance, top-up, or create a new bank account when you register your card.
Each Currensea plan offers free cash withdrawals of up to GBP 500 per person each month. And it's GBP 750 per month for Elite members.
Pros:
• Reduces spending abroad. Currencies are sold to customers as a viable savings opportunity on foreign transactions fees compared to those charged by major banks
• Allows handling in 180 currencies. You can use the card in any country that accepts a Mastercard
• Quick registration process and free ATM withdrawals
Cons:
• Doesn't support every major UK bank. While the card resorts to open banking technology to connect to quite a few high street banks, it won't work with digital service providers like Monzo and Starling
• Charges when ATM withdrawals exceed GBP 500 per month abroad
Are Money Saving Apps Worth the Hype?
Money-saving apps have immense potential for improving your spending and saving habits. They offer a variety of savings incentives, from auto-save features such as rounding to goal setting and regular spending statistics to help identify areas where you can reduce your spending.
So, if you do your research before choosing a money-saving app, you will make the most of it.
Conclusion
If your spending instinct overcomes your saving instinct easily, these money-saving apps can help you considerably optimise your behaviour. They are also a great choice if you are just starting to build up your savings.
Instead of charging a large lump sum, like some traditional savings accounts, these apps regularly invest small amounts in your savings, so the task requires less effort.
Once you've saved some money, you may want to consider transferring it to a high-return savings account. Even if interest rates are falling in the current economic environment, you can still get a higher interest rate if you park your savings in certain banks. And with these handy apps by your side, you can expect to get a lot of work done without much effort.