Are you struggling and questioning how to maintain a long-distance relationship? With your love on the other end of the world, distance can take its toll. That's why most people think it's never going to work and discourage it. But who says love is easy!
The distance certainly can complicate things or even be seemingly unachievable, but it can also make it more exciting and alluring. With the extra distance, simple things become sweet and adorable, like eating together, holding hands, walking together, or smelling your lover. Everything becomes much more in a long-distance relationship.
Long-distance dating comes with surprises, sometimes strong affection and sometimes crumbling senses. Taking control of your long-distance relationship with the tips and tricks below.
💌 How Technology is Changing Long-Distance Relationships?
With technology by our side, long-distance relationships are easier than ever. Technology has improved the way we work, live, and even how we love. The concept of dating and relationships has significantly changed since the advent of the internet.
You no longer have to solely rely on physically meeting someone to share and care for your loved ones. Many people today find love online with bridging distances. The days of letters, romantic novels and travel are gone. You can communicate with anyone, anywhere in the world, within seconds.
Technology makes it easier to keep the spark alike and navigate the complex minefield of love in a long-distance relationship. It makes it easier to manage and endure while still being able to feel the love and embrace of your partner while being miles or even continents away.
Long-Distance Relationships – How to Stay Connected
No matter how much you love each other, at some point in time, you'll be wondering if your long-distance relationship will survive the distances. And how you can bridge the gap with effective communication. We've delineated some tips and tricks you need to employ to make your relationship work out in the long term.
Smart Devices Make Communication Easier
Smartphones, tablets and softphones make communication way simpler and quicker. Similarly, these devices' accessibility, reliability, and affordability allow lovers to always stay in touch.
Audio & Video Calls to Stay in Touch
International calls and video chat can be a great way to connect and speak face-to-face like you're next to them. Whether you use FaceTime, Talk Home App, Skype, or WhatsApp, you can communicate seamlessly via audio and video call. Share international text messages, audio or video messages on the go to share your life with the one that matters the most.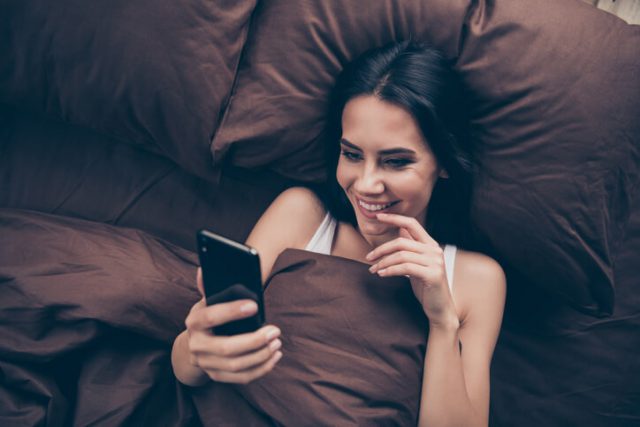 Smart technology has revolutionized how we communicate and manage long-distance relationships, making it easier and less stressful.
👨‍❤️‍👨 Dating in Long Distance Relationships
Dating apps can be a starting point for couples looking for long-distance relationships. However, couples can face many challenges in long-distance relationships. These can include different time zones, poor cell service or Wi-Fi connection, and the pain of going through long periods without seeing each other.
Maintaining long-distance relations might not be easy, but it isn't impossible. And on the way to facing the challenges, you are likely to build a strong foundation for a healthy relationship. Follow the tips and tricks below to make your relationship work.
Avoid Excessive or Way Less Communication
In long-distance relationships being too sticky and possessive can have terrible repercussions. You don't have to communicate or stay in touch 12 hours a day to keep the relationship thriving. A lot of people think they need to compensate for the distance by interacting more throughout the day. That can't be more wrong. And can take things down the wrong path. Thereby, both the lovers would get tired of "loving" due to its restrictions and constraints.
It should be determined between the couple if less is more or constantly pinging is the way forward. Generally, you wouldn't want to exhaust yourselves and keep the flame going.
An Opportunity to Avail
If you see it as an opportunity for both of you to learn and test your love for each other. As the quote goes:
"If you want to live together, you first need to learn how to live apart." – Anonymous.
Instead of thinking long-distance will ruin the relationship and pull you apart, you need to be positive. Believing that the experience will bring both of you closer with a stronger bond.
Always "Be There"
Turning towards your partner indicates you respond to your partner's emotional calls, resulting in a satisfying relationship. Emotional calls mean any attempts from one partner to connect with each other. Essentially an emotional call really is asking each other, "Will you be there for me?"
In a long-distance relationship, it might seem difficult to respond to each other's emotional calls. Where you can't physically be there for each other, but long-distance couples can be more intentional in responding to each other's attempts to connect virtually.
Set Rules & Expectations
During a long-distance relationship, you need to clarify what you expect of each other. Setting ground rules will allow you both not to be surprised by the others' behaviour. Such as if you two are exclusive or can go on dates? What is the commitment level? Or how long can the distanced relationship be acceptable? It's much better to be open about everything with each other to survive geographic separation.
Keep the Sexual Tension
Sexual tension is one of the key factors impacting a relationship. You need to keep the sexual desire alive like a glue that's keeping both partners from drifting apart. Sex is both a physical and emotional need. You need to keep the flames burning with flirty and teasing messages filled with sexual innuendos. Sexy jokes and puns can also do well.
Constantly Remind your Partner that You Love Them
Doubts, jealousy, and insecurities can grow wildly in long-distance relationships for the simple reason that you're spending all your time out of touch. Therefore, making regular verbal assurances is always recommended to help minimize negativity and clarify where you stand as a couple.
The next time you talk to your partner, tell them how much you love and appreciate their companionship. You can also eliminate any uncertainties about where you stand by asking something like, "I love you and wish we could be together today."
Do Stuff Together
Interdependent relationships are healthier and more successful. That means you and your partner do things in sync together while being able to maintain our own separate identities. Having a shared experience with your long-distance partner augments the cohesion of your relationship.
In today's digital age, you can play online games, watch movies on YouTube, or do other engaging activities. Sing for each other on Skype and make international calls while your partner tries to cook something new. You can also take a walk together virtually while video calling or buy each other gifts.
Address Issues both Remotely and In-person
Strong relationships can stand through all weathers. You need to evolve and learn healthy ways to talk and resolve conflicts when you are oceans apart. Problems can intensify if you ignore or are not willing to address sensitive topics.
Struggling to adopt and bring up complex topics can take time and effort, but it's crucial to the health and longevity of your long-distance relationship.
Look On the Brighter Side of Long-distance Relationship
Though it might not seem anywhere near positive to be away from the person you're madly in love with. You might not be able to change the circumstances, but you can change your attitude. Long-distance relationships can be frustrating but beneficial in some ways.
You can devote your 100% attention to your spouse when you're together. However, you can focus on classes, work, or spend time with friends while keeping the love going when you're apart. Focusing on the positive side can help you during days when distance is really getting on you.
Plan to Merge Both Your Worlds
It can be heartache to be apart from the person you love. You'll need to craft to join your worlds together in your long-term relationship. Whether you need to change jobs, university, have an engagement, or wedding. You need to ensure that you take the right next step at the right time for both people.
The hope of joining your loved one and being together long term can help you ride out the most challenging days of you being apart. Hope is a man's biggest strength and can go a long way towards making the loved one seem not quite far away.
👫 How Long-Distance Relationship Is Different from Friendship?
Almost two-thirds of the couples start off as friends and sustain a platonic relationship for extended periods before sparking a romance. The study participants report their current or recent romantic relationships began as a friendship. Getting into a romantic relationship with a close friend comes with special perks.
In the book "The Psychology of Friendship", Mahzad Hojjat says, "the best friendships are built to withstand thousands of miles." Being friends, you're already familiar with your partner's quirks and yours. Similarly, friends have strong trust in each other as they have been through difficult times together.
You don't have to face the awkwardness of introducing your partner to your family or friends. Also, you can directly skip awkward stages of knowing each other. The most essential foundation in any relationship is trust. And being friends, you already have a strong base for a healthy relationship.
🎯 Conclusion
Long-distance relationships can only work when both partners put their full potential to get things going. You should be so much in love to make logistical and life-rearranging commitments for love to work out. Oddly enough, long-distance relations require much more than a geographically close romance. But it also has a lot more to offer and can be eccentrically satisfying. You learn a lot about yourself, intimacy and the importance of commitments.
🧐 FAQs
How long should you be in a long-distance relationship?
There is no hard and fast rule for the duration of a long-distance relationship should last as long as it's working for both partners. However, ideally, your long-distance relationship should not be more than three months.
Practically very few people are fine with being in a long-distance relationship for extended periods. If you're not one of those, think of ways you can eliminate the distance.
Collaborate with your partner and agree that if the relationship is working, one of you will close the distance by moving closer, or you can move to a new location. Similarly, if the relationship isn't working out after a particular time, you should feel free to end it and avoid staying in a relationship that isn't suitable.
What should you not do in a long-distance relationship?
Long-distance relationships come with many challenges, and there are certain behaviours crucial communication lines that both partners should avoid to keep the relationship healthy and prosperous. Some of the things you should not do in a long-distance relationship are:
Low confidence or trust in your partner
Not giving enough space to your partner
Losing sense of individuality
Give quality time to your partner instead of spamming
Not putting effort into the relationship
Losing self-control
Not having an agreed-upon goal/joining your worlds
Don't take your partner for granted
Are long-distance relationships successful?
According to a study, long-distance relationships have more than a 58% success rate. That, in perspective, indicates that the chances of the partners making it through the long-distance phase comes down to a coin flip.
On the other hand, researchers say around one-third (37%) of the long-distance relations when reunited terminate within three months of reunion. However, in the book "Maintaining Long-Distance and Cross-Residential Relationships," Laura Stafford claims that long-distance relationships are often stable compared to geographically close relationships.
Today, around 50% of couples meet each other online. And about 27% of long-distance couples had never lived near each other.
What kills long-distance relationships?
Long-distance relationships are nowhere near easy. And if you commit any of the wrongdoings, you can kill your relationship.
Lack of communication
Long fights
Rare meetups/visits
Not making time for your partner
Not trying or giving up
Getting intimate with another person
Let your relationship get boring