Relationships require a lot of work, but things get even more complicated when distance is involved. Whether you're separated by a few hours on the road or an entire sea, staying connected isn't always easy (even if technology helps a lot). Sometimes a meaningful detail can reinforce your special bond until you meet again.
Whether it's Christmas, Valentine's Day, or you want to show how much you care; there are plenty of romantic gifts to remind your long-distance love that you're thinking of them. These creative long-distance relationship gifts are just for you, from personalised jewellery to unique stationery for writing love letters.
Do you think it is difficult to survive a long-distance relationship? Is it difficult for you to keep the flame alive for the kilometres that separate you? Do you want to surprise your partner from a distance?
Write down an essential piece of advice: bet on surprises and original gifts to surprise your partner from a distance. They will make more sense than ever because, as you know, good times are valued much more than in a conventional relationship between miles.
Buying a gift for your significant other is always stressful, but it's downright unbearable when you're in a long-distance relationship. People have been using long-distance gifts and making their remote romances work since long before COVID-19, so we surveyed some seasoned pros to determine which gifts will show your SO that you're still in this together. Here is a list of gifts for long-distance couples or socially distanced couples who are extra careful.
List Of 24 Gifts
Even when the circumstance in each case is different, having a long-distance partner can be complicated since physical contact, hugs, kisses, and caresses are lacking. This distance means that we must compensate for what is lacking with other ways of expressing affection.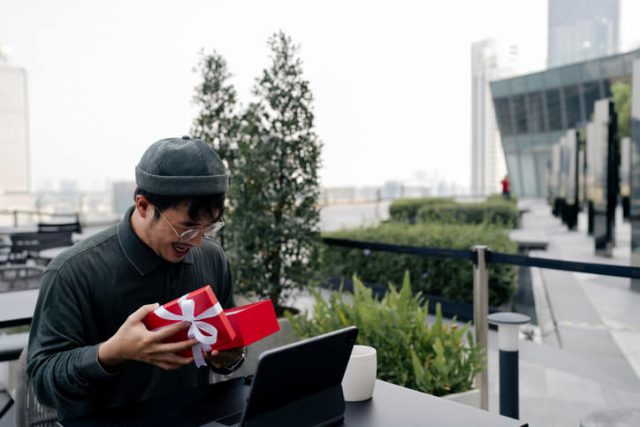 Both in face-to-face and long-distance relationships, it is necessary, from time to time, to carry out some actions to keep the flame alive. Below we will learn some tips to surprise your partner at a distance and strengthen your commitment to the other.
1- A Customised Box of Gifts
The other person is far away is not an excuse not to show how much you miss them. To let them know that an exciting option is to look for delivery companies that deliver in the city where she lives and sends her.
Send a personalised basket to your girlfriend or wife from yourself with all kinds of details from a distance. Add products that remind her of her origins, such as her favourite sweets, books, fridge magnet photos, a CD, clothes, a scrapbook of the two of you, etc. It includes some crafts to decorate the space in which you will later make video calls. It will be your corner!
Send a letter with perfume to your boyfriend or husband. In addition to telling him everything you feel for him, he will be able to touch you closer than ever through your smell. If you add a video call when you read the letter and put a song made by you in the background, made entirely by and for your partner, you will make this romantic detail even more so.
2. Our Moments
If you're super competitive, a card game like Our Moments might be a more laid-back night-time activity. It asks you and your partner to talk about things you might not think to ask and reminisce about some good times you might have forgotten. And the best part, there is no room for cheaters. (Or sore losers).
3. Love Songs
We all like to know what our loved one thinks of us. Therefore, dedicating a song is a unique and different way to surprise your partner from a distance when they least expect it.
Music is pure sentimentality and allows us to talk about words we do not express. If, in addition, it is a song personalised by you, even better.
You can even customise a love song to give your partner a long-distance romantic surprise. In just 5 minutes, you can create a song that includes your love story. And you will receive it instantly.
4. Send a Bouquet
Flowers always work. We like them because of their smells, their colours and, above all, because of what they mean: love, delicacy, joy, and feelings. We usually use them in many moments of our lives, and we all love when someone gives them to us; that your partner is away is no excuse.
First, you should contact florists or delivery companies in the flower sector to choose the bouquet or centre you want to send to your partner. The main thing is that they assure you the exact day and time when you will receive your surprise.
5. Send A Surprise Romantic Breakfast at Home
Although the idea of ​​the flower bouquet is very romantic, it is also somewhat classic. For this reason, we want to give you an equally emotional option, which will also contain a touch of originality that will make it even more special. It is a surprise breakfast at home with your favourite products; for example, it is a perfect virtual birthday gift.
Contact a friend who lives in the same city or with a parcel company that allows you to send breakfast. Let them know what your partner likes to eat the most when they wake up and ask them to deliver it.
6. A Year of Us: A Question A Day to Generate Fun And Meaningful Conversations
Long-distance relationships mean a lot of phone or video chatting, and it's easy to run out of things to discuss. A Year of Us is a book to help keep that communication fresh. You have a question or conversation text for every day of the year. You can write them in a journal, email them, or talk to them on the phone. It's good to pick up on when you feel like the two of you have nothing to talk about, and it's a great way to learn things about your partner that you might never have thought to ask.
7. Blank Message Capsule Bottle
The Infantry Bottle contains 90 adorable and colourful capsules, each with a small blank piece of paper rolled up with a metal ring to keep it tidy.
Write your customised messages, I love you, dirty notes and inside jokes on each slip of paper and then refill the capsules. Your partner has a little note from you every time they need a pick-me-up.
This bottle is a sweet gift for her when you're still in the puppy love stage; it's all about those gushing, cheesy notes to each other.
8. Try A Virtual Museum Tour
If you've been itching to show your partner your favourite museum, taking them on a virtual tour is the way. Whether you're into art museums or natural history, there's no better time to fit an online tour into your calendar.
9. Send Them Workout Clothes and Do It Together
Don't lose momentum with your New Year's fitness resolution. Stay on track by trying out a new form of exercise with your favourite training partner. Fortunately, there is no shortage of virtual fitness classes right now. In addition, you will strengthen your relationship by seeing yourself doing different things together.
Write down what happened during your days, when you have thought about that person, and what your relationship reminded you of, even though you are far apart. It is a beautiful, low, budget gift.
11. Plan A Romantic Getaway Together
Long-distance couples can get stuck in the rut of visiting each other but never travel anywhere else. Mix things up by spending a day planning a romantic getaway for the future.
Maybe you meet up in the middle or visit a new place you've both always wanted to see. Even if you're feeling a little lonely lately, planning a getaway will be a nice distraction.
12. Lovebox, A Love Box with Many Surprises
Nowadays, Lovebox is one of the best gifts for long-distance relationships for couples. Square in size, made of wood and portable, this device is the first love note messenger to work via Wi-Fi. Download the free Lovebox app from your cell phone to be able to send love messages, emojis and stickers to your partner from anywhere in the world. When the text message arrives in this unique square box, the heart will spin, signalling that a love note has come from the particular person in your life.
13. Pillow Talk
Sometimes you remember the warmth and presence of the person you always love, especially at night. Pillow Talk works through a bracelet and a wave sensor placed on the pillow, which comes from the mobile device. When you lie down, you will feel vibrations originating from the sensor, indicating the presence of your loved one. The emotion it generates is that you can imagine your heart beating, even though you are millions of miles apart.
14. Bond Touch
The lack of caress from a person you love so much and don't have close is inexplicable. Therefore, the Bond Touch is the solution to this lack. With a perfect fit for your wrist and various technological accessories, it allows you to resemble the caress of a person through the vibratory waves that it expels on your wrist. To enjoy this innovative device, you must download the Bond TouchTM app. With this, there is no longer an excuse not to face a relationship and send love long distance.
15. Wooden Postcards
Nothing is more original to give to your partner than an engraved wooden postcard. If you have a habit of sending letters every time you go out of the country, do something different this time and level up to do something new and romantic. This engraved postcard can replace a handwritten love letter, simply writing what you feel and reminding that person that what is important to you is far away from you and how much you miss it.
16. Coordinate Bracelet
Something to gift your partner when you are estranged is a coordinate bracelet. This different and innovative gift allows you to record where you had your proposal, your marriage or any other moment that was special for both of you. With this personalised gift, long-distance relationships will no longer be an excuse to forget your loved one.
17. Chequered Map
The maps in a box are among the most innovative options to give to your partner. Showing the place on a puzzle piece allows you to remember your first kiss or any moment. For many couples in a long-distance relationship, this novel and unusual gift is an excellent option to show that piece that completes the puzzle of the love story they built together in each moment they shared.
18. Star Map
A particular gift for couples in a long-distance relationship is a star map. This item is distinguished because it allows you to remember that starry night where you shared a unique moment, an adventure, proposal, wedding, or first date with your favourite person. In addition, this map can be framed in a box so that people can see it when they are alone and want to have you remember that eventful situation.
19. Long-Distance Bracelet
If you like to give something different and striking to your partner, this must be your first option. Also, if you have a long-distance relationship with that person who makes your world go round, give him a gift bracelet where you engrave the initials of each one and the map of the country where they are. This symbolic union represents the love of both before a future reunion that they may have at any time and that destiny wishes.
20. Talk More with Talk Home
Send your long-distance partner a simple top-up with Talk Home so that your communication never has a hiccup. Talk Home has exclusive deals for you to find the perfect recharge for them and brighten up their day.
21. Long-Distance Friendship Lamp
This innovative device is a pair of synchronised lamps. With just one touch, turn on your flashlight and your partner's, no matter how many miles apart you are. Colours also change with every touch, brightening your loved one's day with a simple gesture.
22. MoMoosa Personalized Couple Mug
Suppose all of you are coffee (or tea) drinkers with these personalised illustrated mugs. In that case, you can always enjoy your favourite hot beverage together as a couple, no matter the miles between you.
23. Create Your Reel Viewer
This exciting throwback gift allows you to personalise your reel viewer, turning your most treasured photographic memories into an incredibly unique offering.
24. Personalised Printed Photo Socks
These cute socks are sure to get a laugh and will soon become their favourite accessory, because why wouldn't they want socks covered in your face. Oh, and they come in 23 other delicious colours.
Conclusion
If all else fails, the least you can do is call them up without the hassle of worrying about the internet or faulty connections. This issue is where Talk Home is your steadfast companion. To keep the flame alive in your long-distance relationship, we offer exclusive discounts on international minutes/SMS and international top-ups. Even if you're both in the UK and still live a long way away, Talk Home gives you affordable deals that keep the conversation going.