Ultimate Guide to Lower Your Cell Phone Bill
Your cell phone, undoubtedly, is an essential item. At the same time, it is one of the most costly items impacting your monthly budget. Once you get a notification that your bill is due. If you're like most of us, panic sets in, wondering what it will be this month. Fortunately, you're not alone.
Mobile bills are increasingly going upwards, with data charges rising or your last business trip abroad cost you a hefty sum of roaming charges. So, how to lower your cell phone bill? Get rid of it?
Not likely. Practically we're inseparable from our mobile phones. So, we need to put your cell phone bill through a shrinking boot camp. Stay with us for a few minutes to follow one of the actionable techniques. Be on the way to save money.
Monthly Average Phone Charge in the UK?
According to Ofcom, the United Kingdom's telecommunications regulatory authority, the average UK mobile phone bill is £46.50 a month.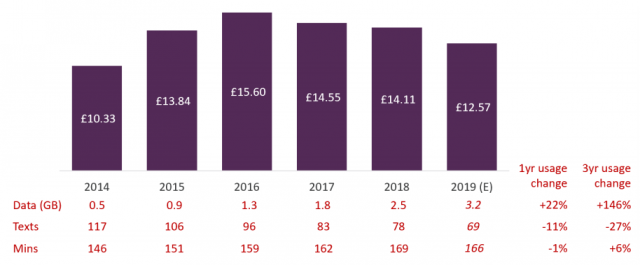 Source: Ofcom, based on prices excluding handset costs.
The report highlights that most customers are paying for services they don't need or use. Which is costing them, such as around 70% of mobile charges offer over 5GB of data each month. However, only 10% of people use more than 5GB of data. It will be better to switch to a fitting plan that suits your needs and save you a lot of money.
Why Is My Cell Phone Bill So High?
Most of the time, the main reason for a hefty cell phone bill is overpaying. If you're like many users, you won't exactly know what they're paying for; for example, you can be paying for call minutes or data that you don't even use.
Therefore, before you plan to switch your network or to wonder how you can lower the cell phone bill, the first step should be to look at your current plan and see what you're paying for and what you actually need.
How Much Should Your Phone Bill Be?
Ideally, your phone bill should depict your phone usage over the month. However, when you see your phone bill, there are packages and add-ons that you once subscribed to and are not using anymore.
In reality, it entirely depends on your current plan, data usage, the number of phones on your plan, and any extras or add-ons you've subscribed to. Similarly, if you have mobile insurance, it will add up to your monthly phone bill.
How to Lower Your Cell Phone Bill?
We'll follow several techniques to start lowering your cellphone bill. You might need to go hunting to find cheaper plans or just tweak a few settings on your phone. Whichever method works for your frugal exercise, the first thing you need to do is list all the things you need. Once you've jotted down what you're looking for, it becomes easier to shop and trim the extras of your phone bill.
Inspect Your Cell Phone Bill
Indeed, smartphones are must-have utilities in our lives. Everyone, including teens and even the grandma, has it. Every month when the bill arrives, you pay it regardless of its ransom-like hefty sum. You need to stop it!
You need to sit down and analyse each bill thoroughly. Not a mere "look at numbers on the first page" while tossing the rest of the bill. We're stressing an in-depth and honest review of the usage and associated charges.
Take note of any extras you encounter that you never use, like enhanced voicemail or roadside assistance. Once you're done reviewing everything on the bill, determine if you need everything listed on there.
Initially, it might seem daunting to go through the 15-pages long bill. But, if you succeed in shaving even 50 quid off, your time is well spent.
Check What's Included in Your Plan – Quit Stockpiling
Find out what's included in your plan and what services you may be paying for without even using them. How we use our mobile for communication has seen some dramatic changes. In the old times, we only used to make regular voice calls.
But now the trends have changed. Your mobile is a mini-computer with a constant internet connection. The voice and text messaging have moved a bit to the backseat. Though the affection involved in a voice call can not be ruled out, why not text, tweet, Skype, email, or Snapchat?
This general shift and some personal preferences might determine that you're paying more for voice minutes than you use. You need to call your network and ask them to review your calling history for the last three months. If you're averaging far fewer minutes than are included in your package, consider changing plans.
Use VoIP Apps to Cut Back Your International Calling Cost
Calling your spouse in the old country may sound fun, but international calling can get expensive quickly. It's better not to use the local carrier for international calling in the first place; using a VoIP (Voice Over Internet Protocol) app can be much beneficial.
If you often use your cell phone to make international calls, using a VoIP app will allow you to make calls over Wi-Fi or a mobile network. Popular VoIP-based calling (also known as over-the-top application) apps include Skype, Viber, WhatsApp, Google Duo.
These internet-based apps might be the perfect solution when both the caller and receiver have functional and high-quality internet connectivity. But if we tell you, some apps can give you a high-quality and cheap calling experience like VoIP apps. Using these apps, your receiver will not need an active internet connection and will receive the call on the local network.
Apps like Talk Home App combine the essence of both the classic local phone lines and the advanced VoIP technology. Combining these two technologies will give you access to crisp voice quality at comparatively cheap rates than using traditional networks.
If you don't have mobile data or don't want to use the VoIP app, you can use an international Sim card. These third-party long-distance providers give you comprehensive international calling options at cheap rates. They offer affordable monthly plans or pay-as-you-go per-minute rates for almost any country in the world.
Break the Phone Upgrade Cycle – Should Stay or Switch?
It's a usual drill. As our smartphone plan nears its end, we start getting seductive siren songs of available upgrade options. Whether you are looking for a faster phone, bigger screen or a better camera, you will find plenty of choices. Your current provider will try hard to keep you, but the first thing you need to do is evaluate your options.
In mobile financing deals, you shoulder the bulk of the cost, though subdued in less intimidating monthly payments.
Instead, you can get much better value with used mobiles. You can get a gently used mobile set with a relatively reduced contract commitment. You can even find deals offering extra cash to back your upgrade budget. Some of the famous websites to find high-quality used or refurbished mobiles are:
Should You Stay or Switch?
Ask your current provider about the best packages they're offering and compare them with your normal usage. Once you get all the information, it will help you compare deals. Also, it will warn your provider that you might switch, and the retention department will do everything to keep you by offering deals and discounts.
Ofcom has accredited a list of price comparison websites that allow customers in the UK to shop with confidence, get all the information about deals and make informed choices.
If you get a good deal from the current provider, you might think of staying on the network. But before you make the final decision, see what other providers are offering and are they more suitable for your current usage pattern.
Don't Insure your Phone.
No one would like to see their mobile facedown on the pavement. As it can shell out hundreds of pounds unexpectedly. It is natural to be worried that it might accidentally break or get lost. But is it worth insuring your mobile? There are three things when it comes to insuring your mobile phone:
Value of the phone and if you own it completely
If you have a contract, the repayments you have to do
How inconvenient it is to replace a lost or damaged phone
Mobile phone insurance might have been a great idea once, but not anymore. Paying a small monthly fee and if anything happens to your mobile, you can call and get a new one. But mostly, that isn't the case. First, insurance claims come with a hefty deductible, and even after shelling out the enormous sum, you're likely to get a refurbished replacement.
Moreover, there is a limit on the number of claims that you can file in a year. Which usually is limited to either two or three. Considering all these aspects, the benefits of having insurance are far less than not opting for it.
Alternatively, you can invest in a protective and high-end secure mobile case. That might not look very good but can potentially save you from wasting your money when you can just buy a phone case.
International Roaming can Smack you to Misery.
Using your local phone carrier to make out of country calls can end up costing you a lot. Whether you're enjoying a holiday in another country or calling your friends and family outside the country. International calls or using data generally known as international roaming is way expensive than you might comprehend.
There are a few options you can utilise to save up yourself from unpleasant roaming charges.
Contact your network to know their roaming fees in the countries you'll be travelling to. It is the most expensive option, but you can keep your number while travelling. Select a roaming tariff or special package designed to assist in these types of situations. And can still offer huge savings over paying outright roaming fees.
Another option is using an international Sim, specially designed for these purposes. You can use a Sim that will allow you the facility to call back home without having to worry about a heavy bill. Talk Home Mobile offers comparatively cheap roaming charges to roam across more than 200 countries and networks.
Another option can be buying a local Sim in each country you visit. You have to buy a prepaid Sim from one of the local networks to make local calls at cheap rates. The downside in this scenario is that you'll have to buy a Sim for every country you visit.
Keep in mind; you will have a different number, so make sure to update anyone who might need to contact you. Similarly, buying local Sim will further complicate things as you'll have to swap them often.
Consider Pre-Paid Plans
According to the Ofcom "Pricing trends for communications services in the UK" report, pre-pay tends to be cheaper for low data users. The majority of pre-paying tariffs are 'hybrid, enabling users to buy a pack of inclusive calls, texts, and data for a set monthly fee.
Switching to a pre-paid plan is among the fastest ways to reduce your monthly cellphone bill. With a pre-paid or no-contract plan, you pay upfront for a certain number of monthly call minutes, text messages, and data. It gives you the power to control your usage, and if you run out, you can either pay for additional use or wait for the next month.
Prepaid phone plans are generally more flexible as you pay month-to-month. Therefore, you don't need to worry about getting stuck with an overpriced carrier or plan you no longer need.
Negotiate your Phone Plan
Many of you might not know about this, but you can negotiate your cell phone bill. It sounds good, right? Let's get cracking.
There are many service providers and stiff competition between networks to retain as many customers as possible. Therefore, networks are always ready to go over your phone plan, giving you incredible negotiating power.
If you've been a long time customer and have paid your bills on time, you have the upper hand. Your credit score can also play a part in the process, so do check that as well. The retention department is built explicitly for keeping users on the network.
You need to take a look at other telecommunication companies and their offers for a similar package.
Call your network customer service and intimidate them you are considering switching to another network.
Your call will be diverted to the retention department to convince you and negotiate anything that can keep you on the network.
Most likely, you'll get a better deal on the current service without having to go through the hassle of switching.
Extra Help from Carriers – UK Citizens
In collaboration with Ofcom, the United Kingdom government has agreed to support and protect vulnerable consumers in the Covid-19 pandemic. Some major providers include BT/EE, Virgin, Sky, TalkTalk, O2, Vodafone, and Three. All have committed to:
Work with customers having difficulty paying their bills and ensure they're treated reasonably and supported accordingly.
Will offer generous mobile and landline packages, for example, free calls from landline or mobile and data boost.
How to Lower Your Cell Phone Data Bill?
Following are some of the methods which help you lower your cell phone data bill.
Understand your Data Usage
In today's world, without data, our phones wouldn't be very useful. You can keep track of how much data you're using throughout the month. Log in to your account via computer or using the network's customer app.
Once you're inside, you'll be able to see how much data you've used so far or in the previous months. From that information, you can analyse if you're often left with lots of unused data and paying for data that you're not using.
Set up a Spend Cap
Carriers like EE in the UK offer a spend cap service, where you can choose to restrict your data usage outside of your monthly data allowance. You can add a spending cap to limit use on specific services like roaming and MMS. This way, you stay in control of your monthly bill.
Also, you'll get a notification when you get close to your cap. You need to be the account holder to manage or change the spend cap at any time.
Use Wi-Fi – Available Everywhere If You Know Where to Look
You can quickly slash your cell phone bill by cutting on the data charges. The best option is using Wi-Fi. Finding a nearby Wi-Fi hotspot can be very easy if you're not living in a remote cabin or backpacking the world.
Many places around the UK have free Wi-Fi hotspots.  You can take advantage of the locally available Wi-Fi networks, like coffee shops, internet cafes, restaurants, which all have free Wi-Fi. Similarly, many businesses are offering Wi-Fi on their premises.
You just have to look for open networks in the Wi-Fi settings of your mobile handset. Also, make sure to have the settings to remember networks and connect automatically when in range. If you take a little time to save all the available networks in the areas you eat, shop or work, it can save you tons of mobile data.
It will just be like hopping from one network to another while you go about your day. Most of the major carriers in the UK offer Wi-Fi hotspots including, BT, O2, Virgin Media, and Sky/The Cloud that might charge some quids.
Some popular websites to look for nearby open Wi-Fi are OpenWifiSpots, WiFiFreeSpot, and WiFiMap.io.
Utilise Data Compression to Lower Your Bandwidth Usage
Wi-Fi is more prevalent. There is often a time when you're out of range of one and need to use your mobile data.
While you might have calculated how much data you need and tweaked everything you think might reduce your mobile data usage, you can still find yourself using data faster than you'd like. There's another trick you can use to optimise your data usage.
If the bulk of your data is used browsing the web, using data compression or switching browsers might help you reduce your data usage. Google Chrome and Opera Mini browsers allow you to compress data to lower bandwidth usage.
Activate Data Saver on Google Chrome
Google Chrome browser on any smartphone allows you to compress the data transferred to squeeze every byte. You can enable it from the settings.
Open Google Chrome browser and head over to "Settings" by tapping the three-dotted button at the top-right corner.
Inside the Settings, scroll down to "Advanced" and tap the "Data Saver" to turn it on.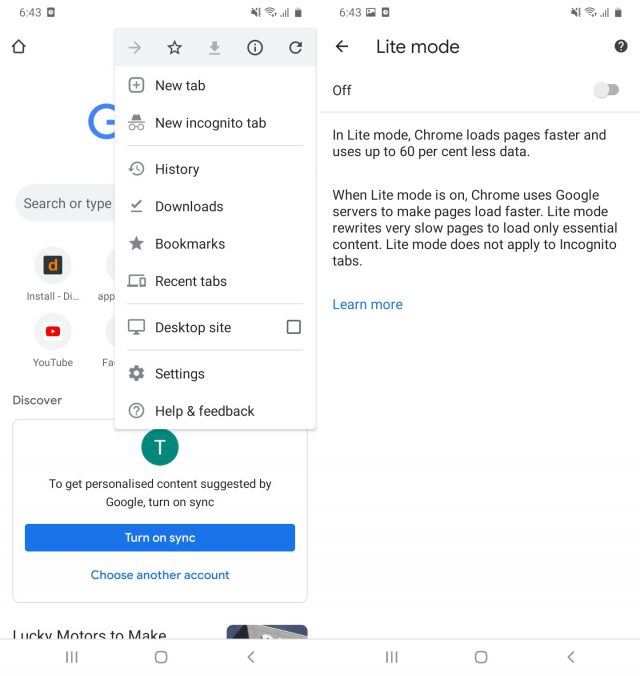 Activate Data Saving on Opera
Opera browser also comes with a data saver option to squash the bandwidth and save data usage.
Launch the Opera browser and head over to settings. Click the Opera log in the bottom right corner.
Select the "Data Savings" settings to see the options. You will find multiple configurations to choose from depending on how much data you would like to save.
The app comes pre-loaded with an ad blocker that can save you data while reducing annoying ads.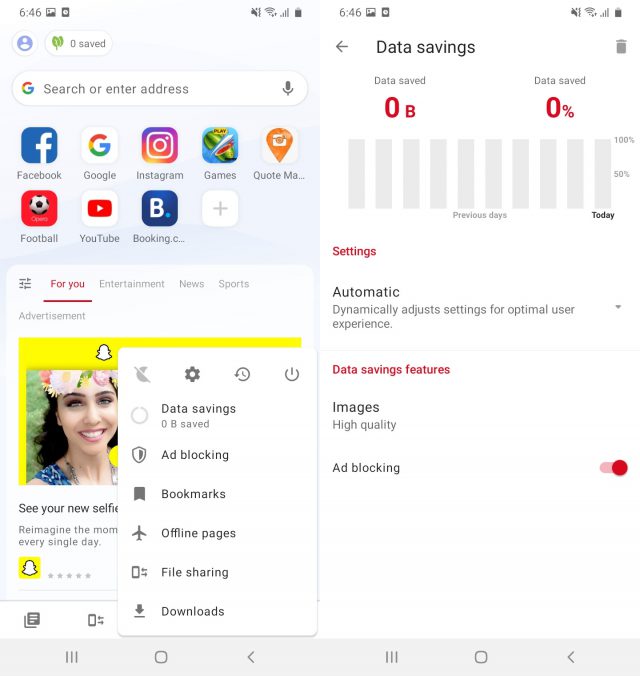 Conclusion
Got this far! Hopefully, you've realised how easy it is to lower your cell phone bill. We've tried to chop down every aspect and technique that can help you lower your cell phone bill significantly. These little efforts, like picking a suitable plan, can save a lot in the long run. We hope you're able to slash your bill and enjoy all the services without any hassle.