International Social Media Day 2022 – What's The Hype About?
With all the hype around World Social Media Day 2022, let's begin with when it's being actually celebrated this year (or every year, for that matter), who started it and what's it all about.
But before we do that, why not have a look at some interesting social media stats. For instance: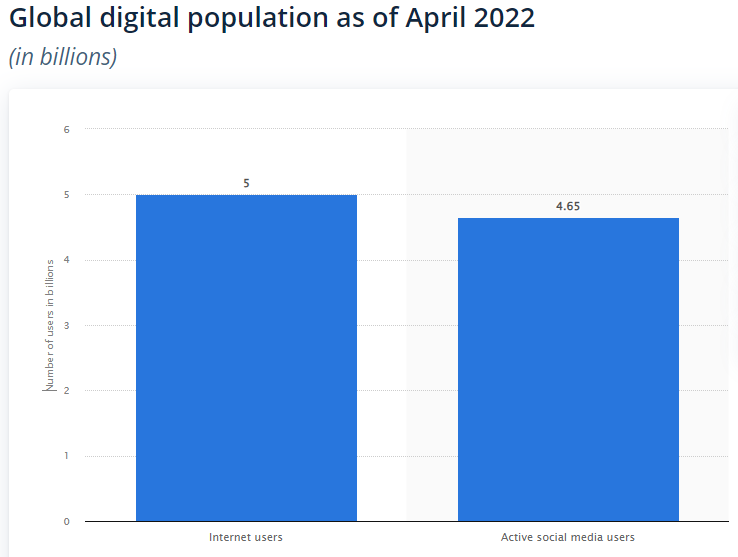 Source: Statista
If you thought we'd be oblivious to those who feel nauseated in having a second look at things like graphs, think again. We have come up with the summary of the information reflected within the graphical image above:
With the world current population (according to Worldometer) at a little above 7.8 billion, about 60% (4.66 billion) can be considered as active internet users.
4.32 billion out of 7.8 billion people in the world (about 55% of the world population) fall under the category of active mobile internet users.
Of 4.32 billion active mobile internet users, 4.2 billion (53.85% of the total population) use social media actively.
Last but not least, 4.15 billion (53.21% of the globe dwellers) not only use the internet on their mobile devices but also actively use social media on them, i.e., they are active mobile social media users.
Fun Fact # 1
Social Network User Penetration in the UK

Another Statista report reveals that the share of monthly active social network users in the UK is expected to go as high as 73.47 per cent of the total population by 2025. This reflects an increase of 4.56 per cent as compared to 2017 when the social network user penetration stood at 68.87 per cent.
What Is Social Media Day?
You wouldn't be wrong in rephrasing this question as to who started the social media day in the first place. Well, the honour goes to Mashable, a U.S based digital publisher who introduced the concept of acknowledging something that has impacted our lives in countless ways, social media.
When Is Social Media Day?
If you were wondering whether international social media day and social media day UK celebrations fall on the same day, here is your answer; yes. The whole world, including the UK, will celebrate social media day on 30 June 2022, and 30th June of every year has been reserved to celebrate this day ever since it started about a decade ago.
Fun Fact # 2
First Social Media

"Six Degrees" was the very first social media website developed by Andrew Weinreich in 1997, though many people consider "MySpace" to be the pioneer in this regard. However, MySpace was launched in 2003, though it played a significant role in making social media mainstream.
The Influence Of Social Media In Day To Day Life
Our life in general, and communication in particular, have undergone immense changes ever since the inception of the internet, and more recently, the emergence of social media. Everything seems to be on wings now, spreading through the whole world in seconds.
The insane growth of the telecom industry has further added fuel to the fire in terms of the influence of social media in day to day life. People like to stay online, and more so on their mobile devices because these devices empower people to connect anywhere around the globe any time they feel like.
All these factors, along with a host of others, have contributed collectively to the evolution of social networks. They have transformed from a convenient platform of staying in touch with family and friends to a means of impacting society on multiple levels.
So, let's have a look at:
How Is It Impacting Society?
With 2.7 billion monthly active users of Facebook worldwide, the UK alone boasts of 44.84 million people who use Facebook, with the average user spending about 23 minutes on the network daily.
Since social networks are designed to leverage the interactions among people, they become more powerful as the number of people joining them and interacting with them increases.
While this helps people find and join in on mutual causes with added ease and convenience, it also helps people with marginal views realise and nurture the fact that they too are not alone. So, they use this to their advantage in bonding with them.
That's why many believe that the visibility of a variety of social, political, ethical and environmental vices would have been minimal in absence of social media. Moreover, this kind of visibility of issues is also resulting in shifting the balance of power to the masses from the hands of those in power corridors.
Fun Fact # 3
Social Media UK Users Stats

With 44.84 million Facebook users in the UK, the ratio of male users is 48% and the ratio of female users is 52%. There are 11.2 million users between the age group 25 – 34 years, making it the largest group. The average user spends about 23 minutes on Facebook browsing every single day.
How Is It Impacting The Business World?
Do you (still) think social media is for fun? Of course, it is. But the more important question is, is it only for fun? Turns out it's not! According to a report published by Sherpa Marketing, more people on social media are interested in following brands than celebrities. For instance, 80% of people on Instagram alone follow at least one business.
You can leverage on social media to garner a whole range of benefits for your business, some important of which are:
Increased Brand Awareness
With more than half of the world's population actively found on social media platforms, it's not strange to conclude that they can be one of the best places to reach out to new and highly targeted potential customers.  Moreover, people not only connect on social media to the brands they already know. In fact, it's quite the opposite. As evident from this study, 60 per cent of Instagram users end up discovering new products on the platform. So, it has become imperative for contemporary businesses to expand their presence on social media to exploit their true potential.
Brand Humanisation
A recent article published on the Campaign refers to a survey conducted by "Trinity Mirror Solutions" according to which more than half of the survey participants avoid trusting a brand until they see "real-world proof" reflecting its humanistic side. They only respond positively to the brand If they see it keeping its promises (or trying to keep them, to say the least).
So, when people find you actively responding to and resolving issues raised by the clients on various social media platforms, their trust in your brand improves and so does the chance of them doing business with you.
Lead Generation
Social media lends the potential customers of your brand a convenient and low-commitment way to express their interest in your products/services – one of the most effective ways of lead generation. Various social networks have already started offering advertising formats particularly aimed at collecting leads. For example, Renault Europe resorted to Facebook lead ads, enabling interested people in learning more about a new model. On top of it, they could also book a test drive directly through Facebook with just a couple of taps. As a result, they experienced a 7.9 times lower cost per lead through these ads compared to a form available on the automobile manufacturer's website.
How Is It Impacting The Norms Of Workplaces?
It's not possible to deny the profound effect of social media on recruitment and hiring. Nowadays, there are countless professional social networks, LinkedIn leading them all, without a doubt. These networks not only facilitate individuals in standing out in their professions but also help tremendously in creating and marketing personal brands. With all these advances, finding the best match for a job role has become insanely easy compared to what it used to be in their absence. A recently published survey, CareerBuilder's 2018 social media recruitment survey, reveals that 70% of employers rely on social networking sites to find the best job candidates.
Fun Fact # 4
UK Social Media Users Stats

About 28% of Brits resort to social media to research the products they want to buy from different brands.
How to Celebrate Social Media Day?
If your quest on how to celebrate social media still remains unfulfilled, here we are with a couple of ideas to help you with. The obvious one would be to give your time to different social media platforms you like.
As to what to do there, it can be anything from starting a hashtag to updating your status or uploading a photo or video. Talking of hashtags, #socialmediaday should be one of the musts for the day.
You can also try exploring some new platforms on social media day 2022. TikTok can be a great idea in particular, with the world still dying to be on it. You can also become an overnight viral sensation if others can! So, come up with a great idea for your video …. the sooner the better.
There's another great idea to make this celebration even more worth it, try reconnecting with your old friends. With so many social networks, your odds of finding your best high school buddy can be quite high.
Want To Make The Most Of Your Social Media Celebration? Let Us Help!
To conclude, there are two things you need to make the most of your social media experience, i.e. time and cost (since we are assuming most of you already have your favourite smartphone). And there's a high likelihood that you would want to splurge on one (time) and not the other (data charges). Not to worry though, we are here with a simple and great solution, the best social media data plans by Talk Home. And, if you are interested in learning a few handy tips and tricks about how to save on your data charges, go through Reduce Mobile Data Usage to Save Money & Stay Connected.